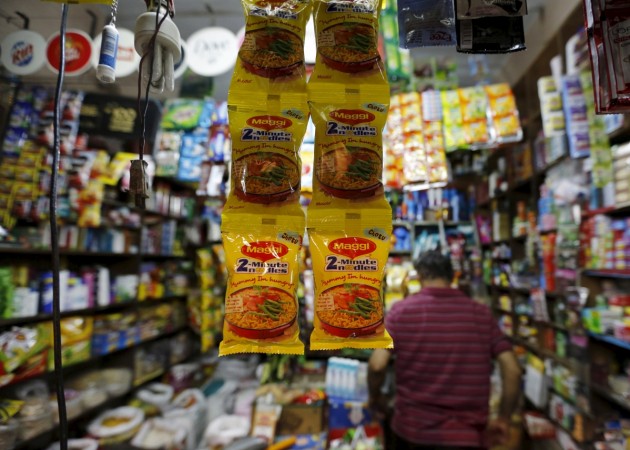 As controversy surrounding its flagship brand Maggi intensified, Nestle India has witnessed a 15 percent fall in its share prices in the past six trading sessions.
The share price of Nestle India plunged to ₹6,010.80 on 4 June from ₹7,064.85 on 27 May, with volume of shares traded on the exchanges increasing by 8 times.
Several states across the nation have started taking stern action against Maggi after they found higher than the permissible levels of lead and MSG in the samples of instant noodles.
The controversy over Nestle India's failure to follow the food safety standards grew more intense, when the Central government on Wednesday filed a complaint against the food manufacturer with the National Consumer Disputes Redressal Commission (NCDRC), IANS reported.
A drop in Maggi sales is expected to impact Nestle India's performance as they account for 15 to 20 percent of the company's overall revenues. Nestle occupies 60 percent of share in the instant noodle market in the country.
Reacting to the development, a foreign brokerage firm Barclays has downgraded its target price for shares of Nestle India to ₹5,149 from ₹5,593 previously estimated.
Barclays expects sales of Nestle India to be weighed down by a ban of Maggi in several states. It also expects actions by various state governments to negatively impact profit margins of the company.
"Sales of Maggi brand have increased by 21 per cent CAGR over the past 10 years (sales contribution rising by 1,100 basis points) but have remained weak over the past two years - a trend that is likely to persist near-term (impacted by rising competition and muted consumer environment)," Barclays told Business Today.
India's major retailers Future Retail and Kendriya Bhandar have already declared that they would not be selling Maggi noodles for the time being.
After Delhi's food safety watchdog detected high levels of lead and monosodium glutamate (MSG), a flavour enhancer, in the samples collected from across the national capital, the AAP government imposed a 15-day ban on its sale in the capital city.
The Gujarat government on Thursday banned the sale of Maggi for one month.
Bihar, Punjab, West Bengal, Himachal Pradesh, Odisha, Maharashtra, Haryana, Karnataka and Uttar Pradesh are currently testing the samples of Maggi noodles to detect chemicals that are harmful to health.
"At 35 times, 2016E EPS, Nestle India shares are trading at a 20 per cent premium to peers and above its historical average of around 30 times. We lower our earnings forecasts by around 6 per cent and our target multiple to 28 times, cutting our price target to ₹5,149," the report said.
According to the some analysts, as Nestle is a global brand, a current fall in its prices will not deter the investors from buying the company's stock from a long-term perspective.
"Indians they have a lot of tolerance, they do not really bother about lead etc in food, given the pollution that we have. So, definitely a time to buy into Nestle because it is not going out off business yet," Ashwani Gujral, Fund Manager at Ashwanigujral.com, told The Economic Times.