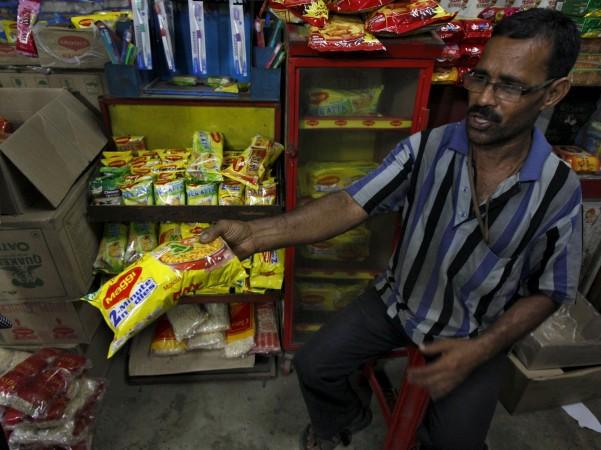 Nestle India's shares roiled after a ban was imposed on its Maggi noodles earlier this month, but it seems the impact is wearing off now.
Shares of Nestle have rebounded by about 10 percent from the lows it hit when the controversy over its flagship brand Maggi was at its peak.
Nestle India's share prices traded at ₹6,059.95 on the Bombay Stock Exchange (BSE) on Wednesday, recovering from a low ₹5,539.80 recorded on 8 June.
On 5 June, the food regulator mandated Nestle India to recall all the available stock of the poduct from the market, after it was confirmed that the 'two-minute noodles' contained harmful levels of lead and MSG.
The company is estimated to recall 27,420 tonnes of Maggi noodles, including about 1,422 tonnes of the product that are at its five factories in the country. The company pegged the loss in recalling Maggi noodles at ₹320 crore, Livemint reported.
According to Brand Finance, brand value of Maggi is expected to fall by over $200 million or nearly ₹1,300 crore due to the ban on the popular instant noodles by Indian authorities.
A drop in Maggi sales is expected to have a major impact on Nestle India's performance, as the noodles account for 20 percent of the company's overall revenues, NDTV Profit reported.
However, many analysts expect the company to tide over the crisis and recommend investors to buy the stock from a long-term perspective.
"Nestle's reputation, worldwide, is at least 100 times more than government of India itself. Nestle bonds in Europe trade at negative yield. Government of India bonds trade at 7-8 percent yield. This is the kind of reputational gap," Raamdeo Agrawal, Joint MD at Motilal Oswal Financial Services, told The Economic Times.
Analysts said that it will take one or more years for Nestle India to win back the lost consumer confidence in its products.
"I am sure the company will resolve the issues and bounce back very strongly. Nestle has built some great brands over the decades. Fundamentally it is a very strong company. If the stock declines very significantly from current levels, I will sell everything else and buy Nestle India," Raamdeo said.
Global brokerage firm Deutsche Bank forecasts the stock price of Nestle India to hit ₹7,000 in 12 months' time.
Analysts see a 50 percent decline in volume growth of Nestle India's ready-to-eat food products in 2015, before recovering to 100 percent next year.
"Nestle stock is a good long-term buy for investors as fundamentally the company has some great brands that give earnings growth visibility and cash flows," said Vinay Khattar, associate director and head of research at Edelweiss.