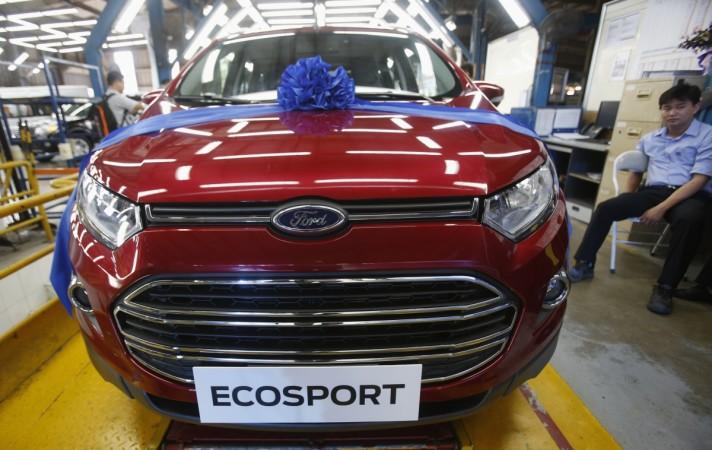 The "Made-in-India" tag has been dented in the auto sector. After India-made Renault Duster, it is now Ford EcoSport SUV that is being recalled in Australia. Ford has cited a potential problem with the wiring harness that connects the curtain airbags, seatbelt pretensioner and side impact sensor.
A report of CarAdvice reads that a total of 2,804 units of EcoSport that were manufactured between 15 June, 2013 and 26 August, 2014 in India, have been recalled in Australia. The affected vehicles will be taken back to Ford workshops to fix the problem with the wiring harness to ensure that the airbags deployed correctly during a collision.
Although the same models with side airbags are also offered in India, the company has not announced a recall here. Ford India also exports its EcoSport SUV to South Africa, Taiwan and European countries.
Apart from the defective wiring harness, Ford EcoSport in Australia is also said to be facing another issue with the models that come coupled to 6-speed dual-clutch automatic transmission.
Going by the latest reports, the drivers of the aforementioned EcoSport models complained to have experiencing excessive clutch shudder during light acceleration; a problem that is attributed to the contamination of transmission oil due to leaking seal. Ford Australia has already initiated the service for EcoSport automatic transmission and the warranty coverage of the models has been extended from 3 years/100,000 km to 5 years/160,000 km.
Ford EcoSport is the second India-made SUV to face recall in the international market in less than a month's time. Last week, Renault's low cost subsidiary Dacia in the UK recalled the popular SUV Duster due to the corrosion doors sills, bonnet and other painted areas.
However, Renault India did not issue a recall in the Indian market. Apparently, owners of Duster in India are also facing a similar issue of corrosion in the car and it is worrisome that the maker is not doing enough to solve the issue.