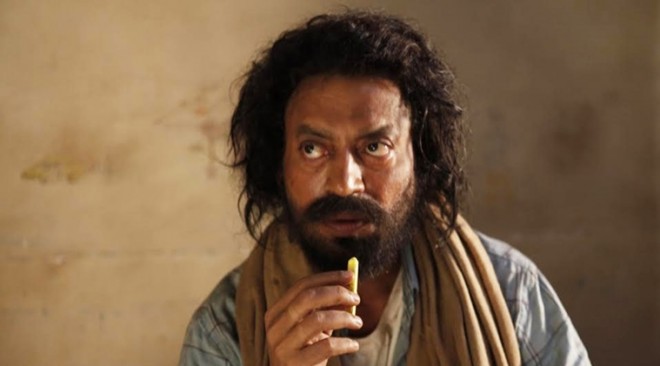 Director Nishikant Kamat's Bollywood movie "Madaari," starring Irrfan Khan, Vishesh Bansal, Jimmy Shergill, Tushar Dalvi and Nitesh Pandey, has received positive reviews from the audience.
"Madaari" is a social-thriller film, which revolves around the story of a man (Irrfan Khan), who seeks answers and accountability after losing everything in a disaster. The movie is all about how a distressed common man, who has lost his son, fights against corruption and the system. Shailja Kejriwal has written the story, while Ritesh Shah penned the screenplay and dialogues for the movie.
The audience say Nishikant has made a brilliant attempt to showcase corruption in an entertaining way in "Madaari." His gripping and convincing screenplay keep film goers engaged in the first half of the film. What is compelling about the film is the way it exposes corruption and indifferent attitude of the government. Some emotional scenes are sure to strike a chord with the viewers.
Irrfan Khan has delivered brilliant performance in "Madaari" and proved again that he is one among the finest Bollywood actors. Vishesh Bansal, Jimmy Shergill, Tushar Dalvi and Nitesh Pandey have done the jobs well and their performances are also among the assets of the movie, say the viewers.
"Madaari" has good production values and Sameer Phaterpekar's background score and Avinash Arun's picturisation are the attractions on the technical front, add the movie buffs. We bring you some viewers' verdict shared on Twitter. Here is the live update of the "Madaari" movie review by audience:
Bhushan kadam ‏@sachinislife
#Madaari is must watch for every Indian. Brilliant thriller with emotional story. As usual @irrfank roxx! @madaariofficial
Suhas Inamdar ‏@suhasinamdar
#Madaari is a beautiful concoction prepared with rich ingredients from 'A Wednesday ', 'Highway ', & 'Gabbar is back'. Irfan is excellent.
Ashish Srivastav ‏@ToAshish
@irrfank outstanding movie #Madaari Hats off to you and your team... Deeply moved, as it forced me to think abt us as a society
Akash Salman Khan ‏@1961_vikas
@irrfank #Madaari shows excellence in each scene lobed it tottaly brilliant one now m proud again to say that no body can compete u
Dr. Gunjan Rajput ‏@Rajput_K_Gunjan
#Madaari is a must watch film. Far better than any #Sultan type films. Do watch it.
Komal Chauhan ‏@komaleixil
@irrfank Watched #Madaari . Awesome Movie, Gripping Performance. Must Watch. Ur movies are always a gr8 experience #jimmysheirgill
Hussain Kuwajerwala ‏@Hussainkk12
Sir @irrfan_k Respect for you n your craft increases with every film #Madaari A emotional story driven by a strng message.Keep tissues handy
Kumar Mohan ‏@kumarmohan_Btv
The last 20 minutes are touching and engrosses you back to the screen #Madaari #Madaari sees fine performance by @actorirfankhan who is known to deliver his best. His acting is like always more than what you expect.
Bhumi pednekar ‏@psbhumi
#Madaari is a film you can't miss.Its so hard hitting @irrfan_k once again sir so inspiring.You make it look so easy @Nishikantkamat
SuperGullu ‏@gulshandevaiah
Grown men! Prepare to sob @irrfank &director #NishikantKamat will get ur taps flowing #Madaari, an emotional thriller abt a father & his son
Darshil Mandalia ‏@mariner2310
Powerful acting and story. But no one gives a damn. Not now. Not even after 15 years. @irrfank @jimmysheirgill #Madaari #NishikantKamath
Ashish R Mohan ‏@ashishrmohan
@irrfank is surely one of the finest actors we have in this country. What brilliant performance #Madaari
Akshit ‏@HukkaKing1
Watched #Madaari and the movie is very good @irrfank and @jimmysheirgill were brilliant
ABhishek Mishra ‏@mishra2112
Just watched #Madaari and the movie is very good @irrfank and @jimmysheirgill as usual you guys were brilliant .. Hats off!!!
Namrata Joshi ‏@Namrata_Joshi
On a more serious note, forget the film Irrfan is class act in #Madaari...
Arun Asthana ‏@arunasthana
Watched #Madaari, mind n soul stirring.U shud watch it once if u r an awakened Indian. Kudos to @irrfank @jimmysheirgill nishi n the kid.
Abhijeet Shrivastav ‏@abhi1128
What a film and fantabulous performance by one of the most finest actor of the industry @irrfank #Madaari
Pankaj Sabnani ‏@pankajsabnani
#Madaari might not be perfect but is definitely worth watching. @irrfank is really good.
Mukesh Tiwari ‏@MukeshT24534343
Film is great.Performances really great.Gamechanger film. Best wishes Team #Madaari @irrfank