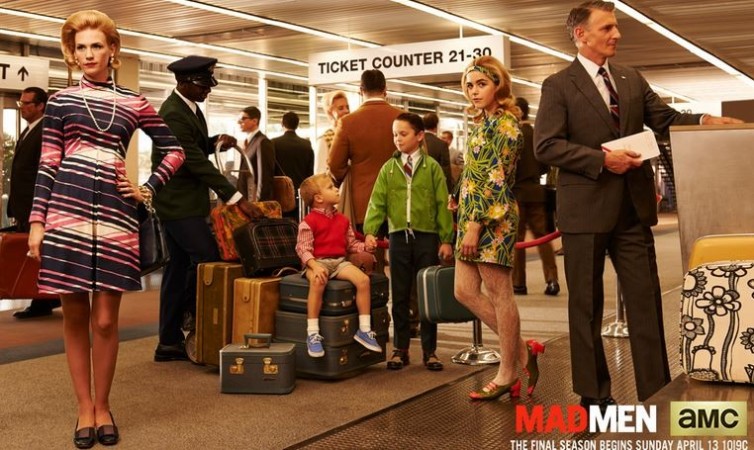 The seventh and final season of drama series "Mad Men" will premiere on television on Sunday night (13 April).
Season 7 episode 1 is titled "Time Zones" and will air on AMC, owned by AMC Networks, at 10 pm ET. "Mad Men" shows the 1960s and the time's Madison Avenue advertising executives. The show debuted on AMC Networks in 2007 and has been running successfully since then.
The episodes will also be live streamed online on the official website of AMC. Click here to check the page. Check out the full on-air schedule of the show here. One can also watch the shows instantly on iTunes, Amazon, Netflix, Google Play and Xbox.
The finale season of the drama series is divided into two parts with season episodes airing this year, while the other seven will air in 2015.
"Don makes a friend; Joan has drinks with a client; Roger receives a perplexing phone call; Peggy hears new work," read the official synopsis for episode 1, according to Christian Today.
The premiere of season 7 will show the 1969 period which will have fashion and political events.
The sixth season showed the downfall of Don Draper (Jon Hamm) and how he lost his wife Megan Calvet (Jessica Paré) and job. The premiere episode will mainly focus on Draper and Megan's relationship.
The show is created by Matthew Weiner and features an ensemble cast including Hamm, Elisabeth Moss, Vincent Kartheiser, January Jones, Christina Hendricks, Jared Harris, Bryan Batt, Michael Gladis, Aaron Staton, Rich Sommer, Maggie Siff, Kiernan Shipka, Paré, Kevin Rahm, Christopher Stanley, Jay R. Ferguson, Ben Feldman, Mason Vale Cotton, Robert Morse and John Slattery.
Pic Credit: Twitter/ @MadMen_AMC
Check out the preview trailer of the first episode of "Mad Men" season 7 below: