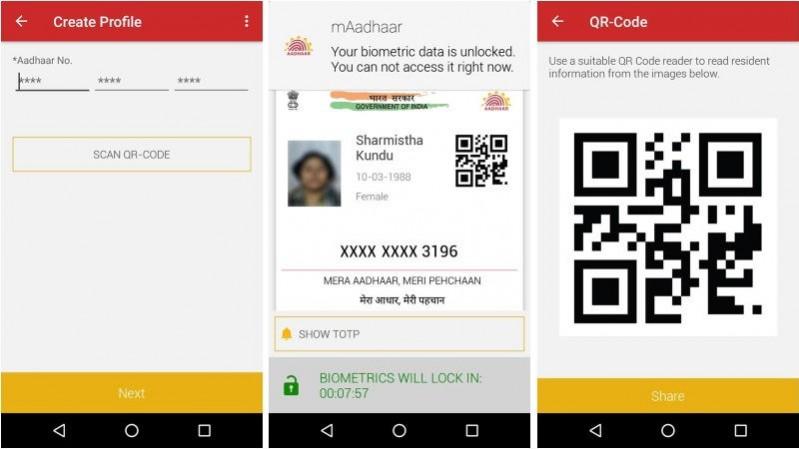 It's been more than six months since the Indian government launched the mAadhaar app for Android, which saves users the hassle of carrying the physical Aadhaar document with them at all times.
Now, UIDAI (Unique Identity Authority of India) — the statutory agency that developed and monitors the use of Aadhaar ID in the country — is finally planning to bring the mAadhaar to Apple devices soon.
The news was confirmed by Ajay Bhushan Pandey, CEO, UIDAI, during a Q&A (Question and Answer) session on Twitter with citizens. But, there is no word how soon the mAadhar app for iOS will be released.
For those unaware, mAadhaar is a small app (10.80MB ) that acts like a repository for Aadhaar cardholder info including Name, Date of Birth, Gender, and Address along with the photograph as seen in the Aadhaar card.
Some of the basic features supported by mAadhaar include biometric locking/unlocking, sharing of QR code, time-based One-Time Password generation and eKYC (electronics Know Your Customer) verification. It also lets you download Aadhaar profile.
Users can also update their Aadhaar profile such as correction of name spelling or date of birth using the mAadhaar app.
With the iOS version, mAadhaar will be available to a wider user-base. It will be particularly useful for people for quick check-in at the airport entrances or high-security checkpoints.
In a related development, UIDAI, owing to recent data leak concerns, has decided to bring virtual Aadhaar ID cards and also introduce facial recognition for verification in addition to fingerprints.
With the virtual 16-digit ID, Aadhaar cardholders can use it in lieu of their Aadhaar number to avoid sharing of the actual Aadhaar number at the time of authentication
Read more: UIDAI now authorises face recognition for Aadhaar authentication
Stay tuned. Follow us @IBTimesIN_Tech on Twitter for latest updates on technology.