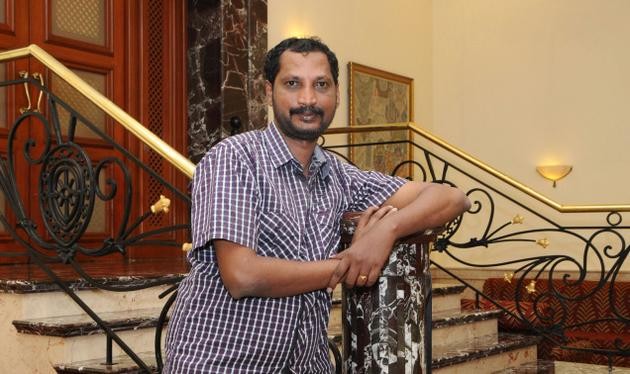 Tamil lyricist Na Muthukumar, who had won two national awards for his songs, died of jaundice at his residence in Chennai on Sunday morning. He was 41. The news of his death has shocked Kollywood.
Na Muthukumar came to Chennai to become a director and started his career as an assistant to Balu Mahendra. Later, he turned a lyricist in Seeman's "Veera Nadai." From then on, there was no looking back for this talented writer, who went on to pen lyrics for over 1000 films. He won two national awards for the songs "Ananda Yazhai Meetukiral" in "Thanga Meengal," and "Azhage Azhage" in "Saivam."
He also made his debut as dialogue writer for Ajith's "Kireedam," which has been directed by AL Vijay. He is also a poet, columnist and novelist. "Silk City" (novel), "Newton-in Moondram Vidhi," and "Ennai Sandhikka Kanavil Varathe" (collection of poems) are some of his literary works.
His sudden demise has created a void in the Tamil film industry and many celebs are saddened by his death. Some of them took to Twitter to pay tributes and offer condolences to his family. Here are their comments.
Siddharth: I cannot believe Na Muthukumar is no more. Too young to die. God give his family strength. What a loss! Sad sad day.
Kamal Haasan: Na Muthukumar died at 41. An important Tamil poet who also wrote for cinema. If he lived a little he'd have made the above intro redundant. Miss you my friend. Thanks for the words you left behind in print. Hope you enjoyed life half as much as we are going to enjoy your poems
Radikaa Sarathkumar: Again another death and a loss to Tamil Cinema Na.Muthukumar, may he rest in peace.
Dhanush: Rest in peace na.muthukumar. Very shocked and saddened. Strength to the family.
Tamannaah Bhatia: U will be missed !!! RIP to this great soul , my prayers with his family #Namuthukumar . Just can't believe this .
Chimayi: It is a terrible, terrible loss to the industry. Too soon. Na Muthukumar.
GV Prakash Kumar: Can't believe this! Na Muthukumar is no more... He's written more than 200 songs in my films. A huge loss! May god give strength to his family."
Prasanna: Shocked n saddened to know the untimely demise of lyricist Na.Muthukumar. He will be missed. RIP
Aalaap Raju: Shocking! :( no logic for anything in life.. Another proof.. RIP #NaMuthukumar sir :(
Sathish: Its very shocking to know the news of Na Muthukumar sir death. My condolences to his family. We miss you sir, Let his soul RIP
Sony Music South: We are deeply saddened by the loss of #NaMuthukumar. Our heartfelt condolences to his family. RIP Na Muthukumar
Rajesh M: Cant believe this..shocking...na.muthukumar is no more,lyrics writer of all my films,couldnt take this..RIP
RJ Balaji: Very sad to know that Na Muthukumar is no more. Too early to leave. Unbearable loss to his family and Tamil cinema
Nanditaswetha: Sad to hear the demise of na muthukumar sir. Rest in peace
ArunVijay: Saddening to hear the demise of Poet Na.Muthukumar sir.. May his soul rest in peace & his words live with us forever.. #RIP
Venkat Prabhu: Very very shocking.. Whatta talent.. Gone too soon.. Miss you brother na.muthukumar RIP
THAMAN SHIVAKUMAR: Shocking to know that #NaMuthukumar sir is no more had Worked with him more than 100 songs Great human great #Lyricist gone too soon #rip
Atharvaa Murali: It's really heart breaking to hear the sudden demise of Na.Muthukumar sir. May his soul rest in peace & all strength to his family .!
DEVI SRI PRASAD: OMG!Shocked by d sudden demise of Dear Na.Muthukumar..1 of d Most Amazing Lyricists of our times!! R.I.P Sir He gav Beautiful lyrics 4 many of my Tamil Songs! Cant believe this news! May God giv Strength to his family!:(( When I sing a tune, he used 2 spontaneously giv me d lyrics on spot!! A great Talent!!A deep loss 4 Tamil Films!!
Prem Kumar: Really shocking! National award winning lyricist #NaMuthukumar passed away. Too young to go. My deepest condolences to his family.
Nakul: Really shocked to hear that one of the most talented #Lyricist #NaMuthukumar is no more. My heart goes out to his family, May his soul #RIP
Samantha Ruth Prabhu: A terrible loss . Gone too soon . RIP Na Muthukumar
R Sarath Kumar: It sure is shocking to hear the demise of national award winning lyricist Na Muthukumar. We have lost another good soul
Ganesh Venkatram: Sad and shocking to hear the Demise of lyricist #NaMuthukumar. My deep condolences to his family and friends.. May his soul RIP..
DD Neelakandan: Very sory .... Strength to the family ... #RIP NA.MUTHUKUMAR sir...
JSK Satish: A very bad week for the entire industry! And today #NaMuthukumar sirr passed away. Such a devastating news. No words to describe him #RIP
Atlee: #NaMuthukumar Anna miss you Na RIP