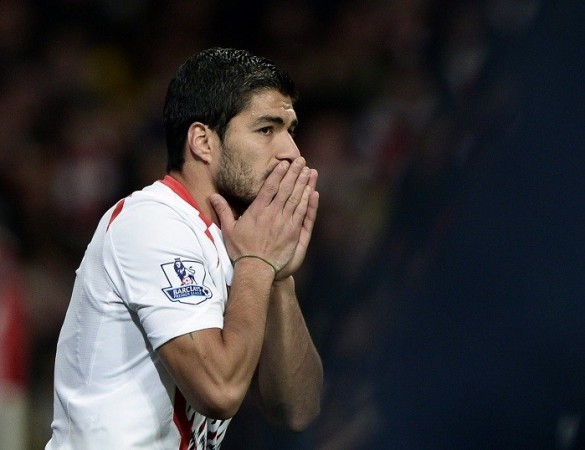 Uruguay striker Luis Suarez is likely to miss the World Cup after sustaining a serious knee injury during training.
The Liverpool star, who underwent an MRI scan, reportedly needs immediate surgery, after damaging his meniscus (a cartilage in the knee) during a practice session with his national side.
Roberto Pastoriza, team secretary with the Uruguay FA (AUF), confirmed Suarez's injury, saying that the details would be announced on Thursday.
"According to the information I have received a short while ago, they are optimistic that he can make the World Cup. [Suarez felt] a problem in his knee, so he went for some tests. It all happened very quickly, a few hours ago [Wednesday night]. The matter is being looked after by the national team's medics. I cannot say anything else. It will be announced officially by the AUF on Thursday morning," ESPN quoted Pastoriza as saying.
If Suarez is ruled out for the World Cup, it will be a big blow to Uruguay who are in a very difficult group (D) alongside England, Italy and Costa Rica.
The 27-year-old has been in excellent form this season, sweeping several awards including the PFA Player of the Year and Golden Boot, after netting 31 goals from 31 league appearances for Liverpool this season.
Though Uruguay seem confident that Suarez will recover before their first match against Costa Rica on 14 June, a meniscus injury normally takes around 4-6 weeks to heal. This means that Suarez might struggle to be fit and available for Uruguay's key games against England and Italy on 19 and 24 June respectively.
Playing Suarez before he fully recovers will be a big risk as then the player will be in danger of aggravating the injury that may sideline him for a very long period.
The absence of Suarez will hamper Uruguay's hopes of making it to the knockout stages in Brazil, though they still have the likes of Edinson Cavani (Paris Saint-Germain) and Diego Forlan (Cerezo Osaka) to lead their attack.
Now, Uruguay coach Oscar Tabarez will also need to decide on whether to include back-up strikers Gonzalo Castro (Real Sociedad) and Alvaro Fernandez (Nacional) when he announces the final 23-man squad for Brazil.
Meanwhile, Suarez's absence could prove to be very beneficial for England. Having seen the former Ajax man slam 31 Premier League goals this season, the Three Lions will be hoping that the forward does not recover before the knockout stages.