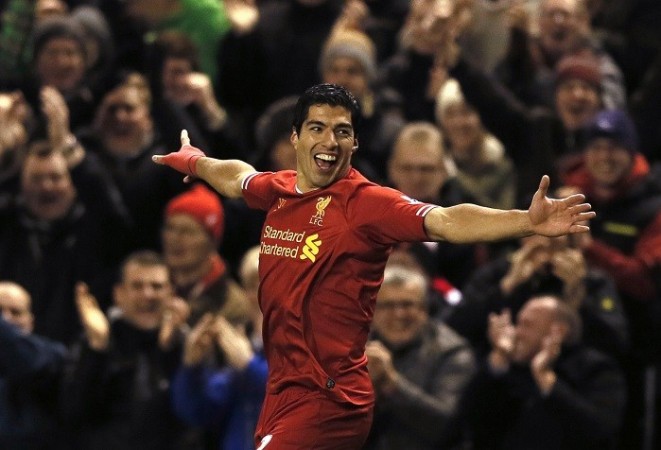 Liverpool striker Luis Suarez increased his personal accolades tally this season by winning the Barclays Premier League Player of the Year and the Golden Boot award.
The 27-year-old Uruguayan, who equalled Alan Shearer's (Newcastle United) and Cristiano Ronaldo's (Manchester United) record of 31 English League goals (in a 38 match campaign) in the 1995/96 and 2007/08 season respectively, has already been named the PFA Players' Player of the Year and Football Writers' Player of the Year after helping Liverpool score 101 goals and finish second in the Premier League.
Last season Tottenham Hotspur's Gareth Bale (currently in Real Madrid) swept all the English awards (except the Golden Boot) after single handedly helping Tottenham make a fifth place finish in the Premier League.
However, Suarez's performances has been more impressive, considering the fact that he missed the Reds first five Premier League games due to a ban (10 matches) he received for biting Chelsea's Branislav Ivanovic in the 2012/13 season.
Meanwhile, Liverpool manager Brendan Rodgers scooped the League Managers Association's Manager of the Year award after helping Liverpool make a second place finish in the Premier League.
"There can be no greater tribute to a manager and his work than a tribute awarded by his match day foes and peers. We applaud Brendan Rodgers as he receives that most valuable award," LMA Chairman Howard Wilkinson told Sky Sports.
"Liverpool's performances and results this season have provoked memories of some of those momentous years in the past when they had to contend with those two Uniteds - the first from Leeds, the second from Manchester. For Liverpool and Brendan, I'm sure we all hope this season marks the beginning of a new voyage and a new era."
However, the Northern Irishman missed out on the Premier League Manager of the Season award as the accolade went to Crystal Palace boss Tony Pulis, who catapulted the bottom placed Eagles to the 11th position in the Premier League.
"We finished sixth in the Championship last season and 11th in the Premier League this season. That's a 15 place jump! But it's not just about me. It's about Steve Parish (chairman) and three other directors, the supporters and the players," said Pulis, after collecting his award.
Manchester City's Joe Hart failed to collect his fourth successive Golden Glove award as Chelsea's Petr Cech and Arsenal's Wojciech Szczesny shared the accolade after keeping 16 clean sheets in the Premier League this season. While Cech has won the award on two occasions before (in the 2004/05 and 2009/10 season), it is the first one for Szczesny.