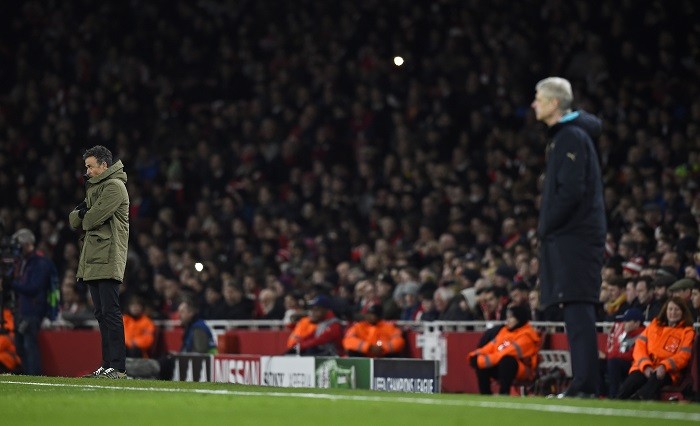 When the news of Luis Enrique announcing his departure as Barcelona manager at the end of the season broke out, some of the Arsenal fans, indeed quite a few of them, would have been filled with a little bit of hope.
Allegri to Arsenal a done deal?
That hope would have sprung along the lines of "Could it be possible that Arsene Wenger will now be approached by Barca and could he end up managing at the Nou Camp next season?"
Which, of course, would mean the Wenger era at Arsenal finally coming to an end and the English Premier League side moving on from the constant Ground Hog Day feeling they have been experiencing over the last several years.
Calls for Wenger to end his association with Arsenal after nearly 21 years have been increasing, particularly with this season looking like being the same as the previous seven or eight of them – Arsenal threatening to challenge for the Premier League title, before fading – or going on a late run after the title chances have gone completely – and the club reaching the knockout stages of the Champions League only to get dumped out in the last 16.
Time for change
Chances are that Arsenal will end up finishing inside the top four, which will, indeed, only increase that Groundhog Day feeling, but the current feeling is that, even if it ends up in a bit of a disaster and takes a while for Arsenal to come back to their usual consistency levels, it might be time for a change.
Several young, talented managers have been linked as a replacement for Wenger, including the Juventus head coach Massimiliano Allegri and the Borussia Dortmund boss Thomas Tuchel.
There is no guarantee that either of these two or any of the others that might take over will end up doing better than Wenger – indeed, when it comes to consistency over this 20-year-period, Wenger's record is second to none – but at least Arsenal will be moving away from the same-old-same-old – of finishing in the top four without really challenging for the title, of competing in the Champions League without ever looking even remotely capable of making it to the latter stages, of making a deep FA Cup run and going on a string of victories towards the end of the season, with Wenger then espousing the importance of finishing in the top four and calling it a successful season, while vowing that Arsenal will get better next.
The issue with standing still
It hasn't gotten better for Arsenal – yes, they might have finished second from third from fourth over the last three seasons, but that is without ever really challenging for the title – and there comes a point when standing still becomes a whole lot worse than bouncing up and down.
What would the Arsenal fans rather have experienced – their team, like Chelsea, winning the title in 2015 and then going through a disastrous campaign in 2015-16, before looking like romping to the title in 2016-17 or constantly doing what Arsenal have been doing under Wenger with no signs of change?
Worry over change
Change can be a scary thing, but it is better not to put it off in the fear that Arsenal might struggle like Manchester united have since Sir Alex Ferguson left than just standing still. Arsenal are one of the biggest clubs in the world and they should be doing better than getting knocked out in the last 16 of the Champions League, that too, with embarrassing scorelines.
Wenger, like a lot of the Arsenal fans, might also feel like it is time for a change and nobody will be surprised if a rejuvenated Frenchman goes on to win the La Liga title and the Champions League crown if he moves to, say PSG or Barcelona next season.
The Barcelona possibility has just opened up considerably with Enrique's announcement, and even if Wenger ends up not getting an offer from the Spanish club or decides not to accept it, if it does come, the manager needs to introspect and ask himself if signing a two-year contract with Arsenal really is the best thing for the club and, most importantly, their fans?