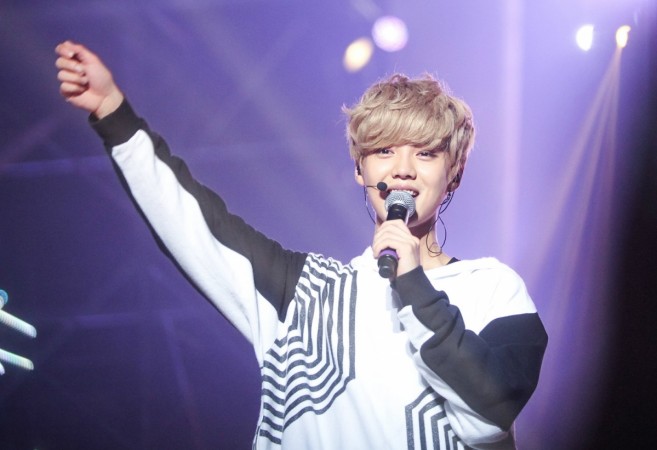 Luhan is perhaps best known for being part of SM Entertainment's band, EXO. The singer, who moved on from the K-pop band in 2014, turns 26 on Wednesday, April 20. His short but colourful life looks like a culmination of art, music and sport.
On his birthday, we take a look at some queer and endearing traits of the singer, and present a list of some lesser known facts about him.
Lu Han, a Beijing native, likes to play soccer. He used to take part in the sport along with former bandmate, Xiumin.
Luhan is known for being quiet and clam. He rarely gets angry.
The "Football Gang" singer's friendship with current EXO member Sehun is infamous. According to many, he often leaned on Sehun's shoulder. In fact, this friendship even gave rise to many fan-fiction stories about the two.
According to fan blog Luhanfanbase, the singer was scouted by SM Entertainment while he was out shopping with Myeongdong area in Seoul. He was an exchange student in Korea at the time.
Luhan's sleep habits are worth knowing. The website pointed out that the singer likes to sleep with his hand under the pillow. Apparently he even kicks people in his sleep. He was even known as the laziest member of EXO because he would wake up last.
Luhan is a big fan of video games. His other interests include water sports, baseball and basketball.
Luhan was rumoured to be dating Chinese model, Wei Qian Ya. Fans speculated if the two were dating after the model uploaded a picture of them on her Weibo account.
In 2013, Luhan broke the Guiness World Record for receiving the most comments on a Weibo post.
Although Luhan is no longer with SM Entertainment, he hasn't given up on his artistic inclinations. The singer is now pursuing a career in acting in Korea. According to the latest news, he is currently filming a Chinese variety show titled "Hurry up Brother." Apart from this, Luhan is perhaps waiting to dazzle fans with new music.
Here are some rare pictures of the singer: