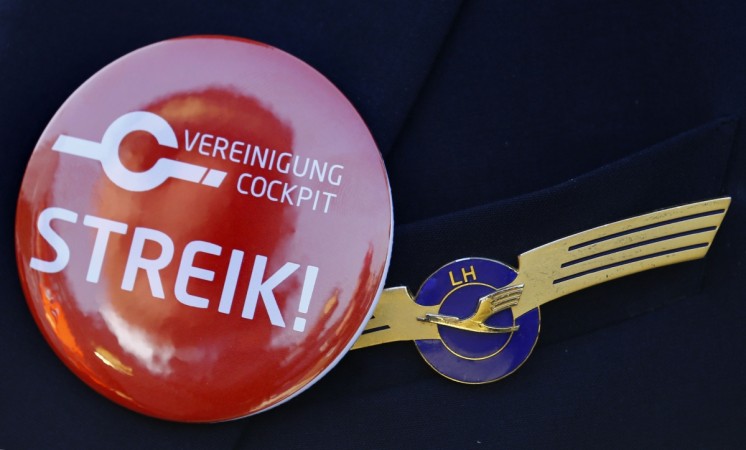 Lufthansa (LHAG.DE) canceled 876 flights, a third of it's 3,000 scheduled flights on Wednesday following a 24-hour strike by its pilots.
Although flights by Germanwings, Air Dolomiti, Austrian Airlines, SWISS and Brussels Airlines are operational, the cancellation of Lufthansa flights is estimated to hit around 100,000 passengers.
"The pilots union Cockpit–"Vereinigung Cockpit" (VC) has called for a strike for Lufthansa flights from Germany on all continental and intercontinental routes on November 23 from 00:00 - 23:59 German local time. Lufthansa regrets the inconvenience caused by the VC strike and will try to minimise the impact on its passengers," the company said in a statement on its website.
This being the 14th strike to hit the airline, the strike began after disagreements over pay hike. While the union demanded an average increase of 3.7 percent in pay for 5,400 pilots over a five-year period dating back to 2012, Lufthansa offered a 2.5 percent increase over the six years until 2019, but was not found acceptable by the union, according to Reuters.
Lufthansa said a strike "is not the right way" for crews to proceed. The company has also approached the Frankfurt labour court in an effort to avert the strike as it seeks a temporary injunction. A hearing has been scheduled for 3 pm local time (1400 GMT), the court said on Tuesday, according to Reuters.
Strikes forced Lufthansa to cancel more than 16,000 flights in 2014 and 2015, burdening operating profit by 463 million euros ($523 million), according to Bloomberg.