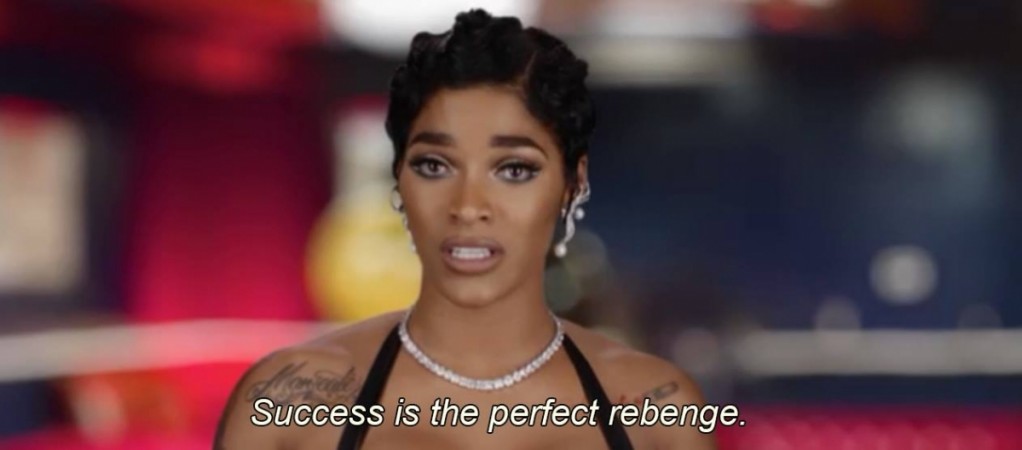 Season 5 of "Love and Hip Hop: Atlanta" has been drama-filled and most of it due to Joseline Hernandes, who has been trying to cook up unnecessary drama since the moment she landed in Atlanta. She may finally have to pay for her actions come episode 7 "Playing With Fire."
Fans have seen Joseline riling Tommie, who is already crazy jealous, by saying her boo Scrapp De Leon has a third chick that her and Scrapp's baby mama Tiarra knows nothing about. If her plan was to see Tommie go to Scrapp's apartment and make a fool of herself, then the mission was accomplished, but in episode 6 "Mother of All Problems" she shows up at Joseline's party and almost beat her up.
Joseline also happened to find some evidence that her husband Stevie J and his sister KK King had physical relations in the past. While they are not biologically related, Stevie and KK has been very close to each other for a very long time and were shocked to hear Joseline's accusations. Although both Setvie and KK denied these allegations, Joseline spread these rumours among KK's children Scrapp and Sas as well.
Also Read: Vote for Miss Congeniality in 'RuPaul's Drag Race' Season 8
In "Mother of All Problems" Stevie finds out about this and asks Joseline to apologise to the boys for spreading false rumours about their mother and him. However, she refuses but promises that she will not bring them up again. Joseline had tried to drag Mimi into the drama, telling her that KK has a long criminal past and that she should not bring her around Eva, Mimi's daughter. However, Mimi knowing Joseline, did not let her sway her.
However, Joseline did succeed in agitating Mimi's girlfriend Chris Gould by bringing up a threesome she, Mimi and Stevie had in the past. Chris did not take kindly to Joseline's disrespect, especially considering Joseline did it at her own party where the couple was her guest.
The relationship between Chris and Joseline is about to get a lot more stressful in the upcoming episode 7 "Playing with Fire." Stevie gets annoyed with Joseline's antics and threatens to leave her. After a huge fight, he heads to Mimi's house and asks her if he can stay over, leading Chris to want to break up with her.
Also Read: Watch exclusive clip from Tuesday's episode of "Friday Night Tykes"
Recent videos shared by Instagram channel tea_n_the_shade, showing Chris ranting about her time in "Love and Hip Hop: Atlanta" leads us to believe that she might have broken up with Mimi. The caption even describes her as "#mimifaust ex girlfriend."
A special preview of "Love and Hip Hop: Atlanta" episode 6 "Mother of All Problems" was aired as part of Mother's Day 2016 on Sunday night at 8 p.m. (EST). If you missed it, fear not, the episode will be aired again on Vh1 during its usual time slot at 8 p.m. (EST) on Monday, May 9.
You can stream "Mother of All Problems" online via the VH1 website. You can also watch all the clips from "Love and Hip Hop: Atlanta" Season 5 via WhipClip.