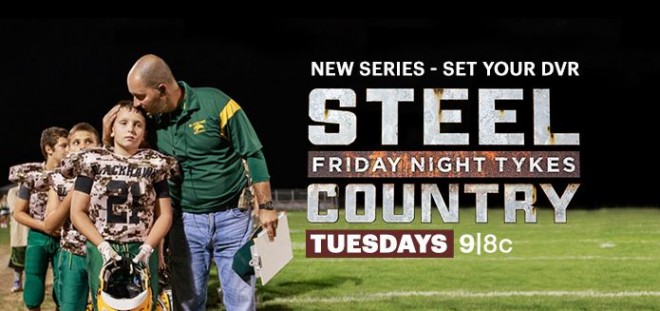 Esquire Network's "Friday Night Tykes: Steel Country," set in Western Pennsylvnia, is proof that there is almost nothing Pennsylvanians are more passionate about than American-rules football. The upcoming episode will cement this belief, when Benny Cokrlic Jr's dad picks yet another fight with the coaches of Ambridge Lil Bridgers.
As fans of the show know, Benny Cokrlic Sr has been quite agitated because he thinks the coaches aren't fully exploiting his son's potential. In the episode aired on May 4, he even yelled at the coaches while they were on the field.
While most fans agree that Cokrlic Sr is being rude and obnoxious, others concur with the parent that Benny and his talents are being overlooked. In fact, to some, it seems like the coaches, especially head coach Moses Cox, are taking out their animosity towards Cokrlic Sr on Benny.
In an exclusive clip from next week's episode of "Friday Night Tykes," Cokrlic Sr is seen creating a scene at the Ambridge post-season banquet. "Every time I came here I never really drank you know..." Cokrlic Sr tells a fellow parent in the promo. Maybe the uncharacteristic drinking is responsible for the ruckus that ensued later on.
Cokrlic Sr is angry that the coaches tried to keep him away from the banquet, but it triples when he realises that the honour of Most Valuable Player (MVP) is not given to his son. He proceeds to insult everyone and screams obscenities: "Are you f------ kidding me? Benny's a f------ beast," he screams while being dragged away.
Other parents try to explain that Benny did not win because coaches did not believe he deserved it, but Cokrlic Sr is dissatisfied by this explanation. His outburst embarrasses Benny, who asks his father to go away. Finally, assistant coach Nate Smith has to nearly drag the man out of the room.
Watch the episode when Esquire Network airs "Friday Night Tykes" at 9 p.m. (EST) on Tuesday, May 17.