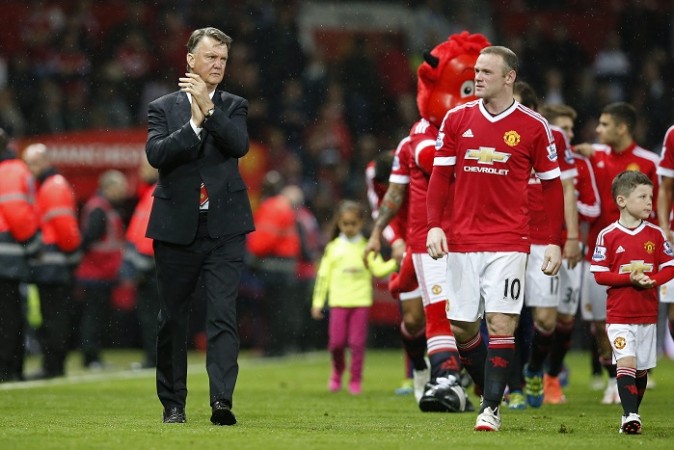 Manchester United assured themselves of a place in the Europa League, with a 3-1 victory over Bournemouth in the final English Premier League of the season on Tuesday. In a match that had to be postponed after a security scare at Old Trafford on Sunday, Louis Van Gaal's men did the job to move above Southampton and finish in fifth place.
Fifth is not what the fans were happy with, though, as Manchester United ended up level on points with Manchester City, but with a vastly inferior goal difference. The fact that they scored only 45 goals all season – that is just a little over one a game – proved to be the difference, with Manchester City scoring 71 goals in total.
Three of Manchester United's 45 goals for the season came in their final match, with Wayne Rooney opening the scoring at Old Trafford, before Marcus Rashford, who was a surprise pick in the provisional England squad for Euro 2016, and Ashley Young made it 3-0 in the second half. A Chris Smalling own goal took the clean sheet away from David De Gea, but it was the response from the crowd towards Van Gaal that stood out the most.
Speaking to the crowd before the players went on their lap of appreciation, as is the case in the final home game of the season, Van Gaal was greeted by boos, while there were banners through the game which said "Hopefully bye bye Van Gaal," and "Time to go Louis, not good enough."
"Of course, that I have also said, because their expectation is very high," Van Gaal told the club's official website when asked if he understood the fans' reaction. "We are a team in transition. That I have said when I started here at Manchester United. But maybe I have to bring over the message much clearer than I have done."
Despite the reception, however, Van Gaal remains confident he will be in charge to see out the final year of his contract. Jose Mourinho has been heavily linked with the Manchester United job, but Van Gaal believes he will be the one at the helm next season as well.
"Because I have signed a three-year contract (I will be here next season)," Van Gaal was quoted as saying by The Guardian when questioned over his future at Manchester United.
Van Gaal still has an opportunity to end the season on a high, with a trophy, when Manchester United play Crystal Palace in the FA Cup final on Saturday.