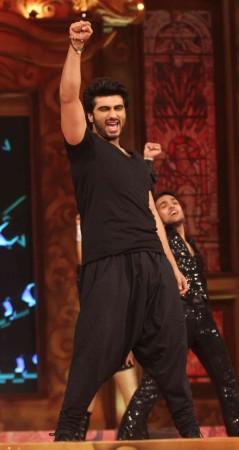 "Tevar" actor Arjun Kapoor has made his entry in Bollywood with a hit film "Ishaqzaade" opposite Parineeti Chopra. And now he has managed to make his place in the A-List of film-makers.
But the actor's life had many ups and down and nobody expected him to succeed in Bollywood. Here are a few turning points that totally changed the destiny of the Kapoor scion.
Fat-to-Fab
Having Kapoor as surname was like a golden spoon for him. But it was difficult to achieve that also with his 140kg weight. Once a casting director remarked on his looks calling him "sh*t". Apart from all these hurdles, he took it as a challenge and shredded 50kg in four years.
Relationship with Arpita Khan
Salman Khan's sister Arpita, who recently got married, was in a relationship with Kapoor. At the age of 18, "2 States" actor had an affair with her, which lasted for two years. The heartbroken lad was confused about his future, but as fate would have it, both of them seems to have a bright future ahead.
Broken Family
Arjun was too young when his father Boney Kapoor left them to marry Sridevi. It was difficult for the actor to bear the pain at that age, but he still moved on. Then, in 2011, he got a big shock of his life when his mother Mona Shourie passed away. Despite being heartbroken, he didn't lose hope and strongly looked forward to his career.
"2 States"
Unexpected success of "2 States" made Kapoor scion a superstar overnight. The film managed to make its way to the ₹100 crore club and proved the talent of both the actors.