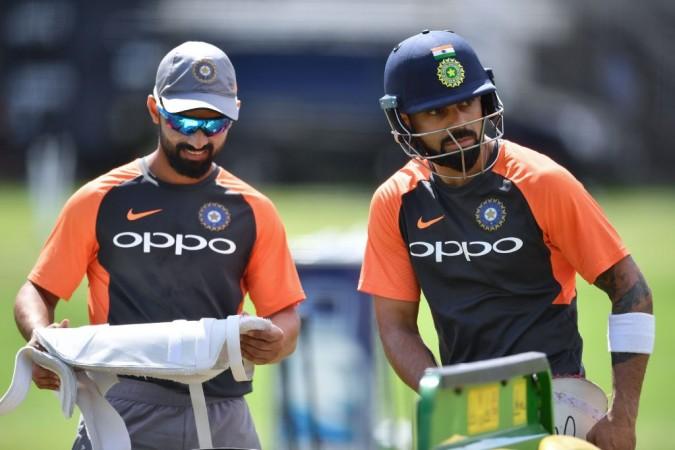 The conditions were hostile, there were clouds, there was gloom, and there was rain. England bowled first, and India struggled, against the seaming ball, against the swing, and against the persistent rain.
The much-vaunted batting line-up were winked out for 107, they could play out only 36 overs.
However, vice-captain Ajinkya Rahane does not sound too worried. He threw his support behind a beleaguered batting line-up and confessed that the conditions and the weather was tough.
'The wicket was tough'
"First of all, England bowled really well. They used the conditions really well. The wicket (was tough) because of the weather, which we cannot control. First half, when the game was on and off, it was difficult for the batting team to switch on and off," he told reporters after the day's play.
R Ashwin top-scored for the visitors with 29, while captain Kohli could only manage 23.
"But when you play at the highest level, no excuses. I would like to give credit to the English bowling team – James Anderson, Stuart Broad, they bowled really well as a unit," Rahane further added.
India included Kuldeep Yadav in place of Umesh Yadav and when the conditions are ripe for seam and swing bowling, does this decision make sense? Rahane thinks it does.
"The answer to your question will be I feel when Kuldeep gets four-five wickets tomorrow, it'll be completely different. It's about what captain and coach think. In the end, it's the captain's decision. I felt Virat is backing Kuldeep and we'll have to wait and see," the vice-captain said.
The Indian batting line-up has consistently failed in England conditions and barring a stellar effort from Virat Kohli, who scored 200 runs in Edgbaston, there are plenty of concerns for the visitors. However, Rahane does not want to go into the details and believes that the preparation has been right, it is just a matter of them clicking.
"I felt we were right there mentally, also skill-wise. But Anderson was really good. He bowled in the right areas. He didn't bowl one short delivery. But it is still a long way to go in the match," he said.