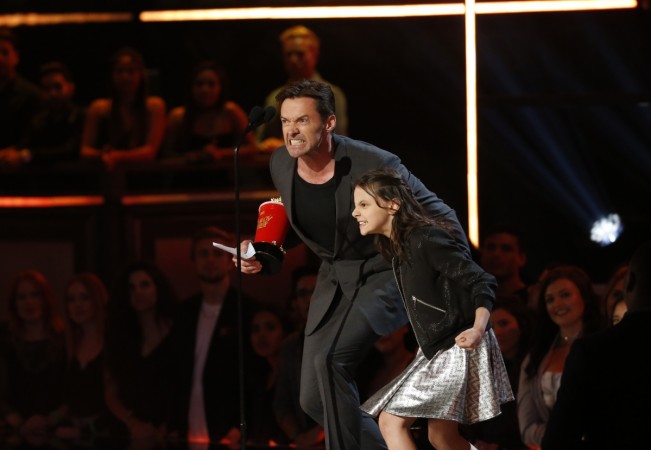 Hugh Jackman's last outing as Wolverine in Logan was a teary journey. Fans of the X-Men character prepared themselves to sit through an emotionally wrecking experience, but little did they know that their favourite actors went through the same when they saw the movie at the Berlin premiere.
While the journey from the script, to making and concluding, to the final goodbye was difficult for Jackman and Patrick Stewart, it was one particular scene and moment that brought the two to tears. Turns out, that scene went on to become a fan favourite moment as well, the scene where Laura places the X.
Logan: Watch Wolverine Hugh Jackman bruised by Dafne Keen during X-23 aka Laura audition [VIDEO]
Tissues were passed through fans in theatres when they saw Wolverine breathe his last breath. And final goodbyes were being said. But James Goldman surprised fans with his metaphorical storytelling, paying a beautiful tribute to Jackman's career as Wolverine. The scene that made fans, cast and crew cry was when Laura aka X-23 changed the cross to form an X conveying the end of X-Men's Wolverine.
Reported by CinemaBlend, Jackman revealed, "When I read it, I thought, 'That's beautiful.' It seemed very poetic on the page. And when I saw it, I cried. I sat next to Patrick Stewart. We saw it for the first time, and both of us wept." It was during that premiere that Stewart also decided to retire from the X-Men movies.
The revelation was made during the New York screening of Logan Noir, i.e. the film's black and white version. Director Mangold also explained that it was important to kill Logan and not let him ride off into an unknown future.
He said, "It was about, I think, earning the right ending. But I think we wanted it to feel over. Meaning, we wanted a sense of a curtain coming down at the end. I certainly didn't want people speculating that we had left a hole open for more moneymaking and bilking and doing. I wanted it to be like, the curtain has come down, we told the story. Just like a regular movie, we're not leaving something out there. The story is over."
For those of you who haven't watched one of 2017's biggest grosser (Logan earned more than $600 million at the worldwide box office), the movie is now available on Digital HD, and will be released on Blu-ray next Tuesday, May 23.
X-Men may have ended Jackman's Wolverine, but the franchise continues with New Mutants, Deadpool 2 and X-Men: Dark Phoenix, releasing next year.