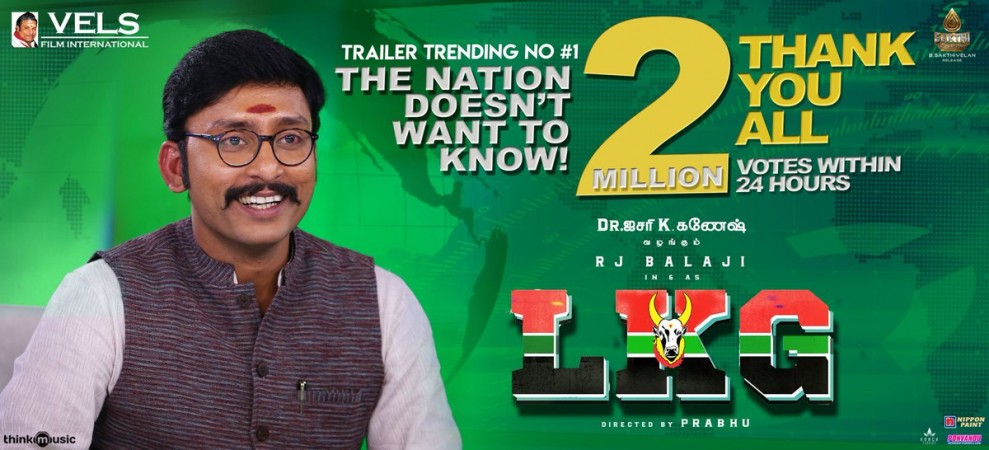 RJ Balaji and Priya Anand's LKG has garnered positive reviews from the critics and audience. His performance and the storyline have won the viewers' appreciation.
After doing supporting roles and characters of heroes' sidekicks in lot of movies, RJ Balaji has turned hero with LKG (Lalgudi Karuppiah Gandhi). He himself has written the story with his friends for this political satire in which Priya Anand plays the female lead.
Nanjil Sampath, JK Rithesh, Ananth Vaidyanathan, Santhana Bharathi, Manobala and many others are part of the supporting cast. The film has Vidhu Ayyanna's cinematography and Anthony's editing. Leon James has composed the music.
Story:
RJ Balaji plays the role of Lalgudi Karuppiah Gandhi (LKG) and the story revolves around his journey in politics. He is supported by corporate woman Sarala Munusamy. She transforms him from a councillor into an MLA.
The film begins with LKG getting ready to take oath as the Chief Minister of Tamil Nadu and a flash back takes us to reveal his journey in politics. He is a clever politician and it becomes evident when we see me in a black shirt with saffron vesthi, a combination of Dravidian and right-wing politics.
When he is a councillor, he realises that without backing from the corporates, it is difficult to reach to the top place in contemporary politics. Thus he join hands with Sarala Munusamy, who heads Cambridge Analytica. How he smartly uses this to his advantage thereafter to reach to the level of occupying the top position in the state forms the crux of the story.
Analysis:
It is not a spoof movie like Tamizh Padam, but a flick which hilariously mocks at the political system and politicians, while focusing on the hero's journey. The movie not just takes digs at the politicians, but also at journalists, media house, YouTube reviewers, Rajinikanth-Kamal Haasan politics and what not!
The movie stands out as the best movie made in this genre in the recent years as it has a neat packaging. Apart from the romance part, everything works in favour of LKG. It is indeed RJ Balaji's one man show. Check out the audience's response to the movie:
Review:
The trailer and the promos of LKG have piqued a lot of curiosity around the film. As a result, the movie, without an A-list actor in the cast, is having early morning shows in Tamil Nadu. It has not even spared Rajinikanth and Kamal Haasan, who want to be full-time politicians.
Will the film live up to the hype? Find it out in the viewers' words:
Shreyas Srinivasan: #LKG - A well-scripted political-satire! Entertaining & engaging! Spoofs are timed perfect covering all areas! IPL reference ❤️
@itisprashanth & video memes )
@RJ_Balaji Felt good that he didnt portrayed juz LKG & not a hero!
@PriyaAnand Powering BGM!
Sreedhar Pillai: #LKG @RJ_Balaji plays to his strength . His USP as a RJ and an actor has always been comedy laced with sarcasm. And the film delivers big time if you are looking for tongue in cheek humor and 2 hours of unadulterated fun. @PriyaAnand what a revelation.
Sidhu: #LKG: The organic humor in the film is smartly stitched with current affairs, the political scenario, trends and memes, and even the Thala-Thalapathy references. Such moments make the film worth a watch - the fun factor works!
#LKG: Partly funny, partly thought-provoking political satire that achieves its intent of making the audience laugh. Feels a little hurried at times but still comes out shining as a very good entertainer. @RJ_Balaji rocks!
#LKG Interval: Lot of laughs. @RJ_Balaji keeps it going with the spontaneous humor that is nicely accompanied by pop culture and trending topics. Good fun so far!
Haricharan Pudipeddi: #LKG is a very topical political satire-cum-drama that asks all the important questions and hits all the right spots. Not just mocks the state of politics in our country but actually serves as an eye-opener in highlighting the power of voting. @RJ_Balaji & co have a winner.
S Abishek: Pacing was almost perfect. Just like how @RJ_Balaji used to package his jock talk, highly relatable content is satirically told with proper end points.
In recent times, if the female lead had something meaningful to talk, which also has direct effect on the story, @PriyaAnand in #LKG
Manigandan KR: First half of #LKG is rivetting and refreshing! Sparkling screenplay and an interesting plot that takes a shot at every development, both political and otherwise, make the film a joy to watch! Eagerly awaiting the second half @RJ_Balaji @PriyaAnand @leon_james #LKG #LKGfromToday
Rajasekar: #LKG first half - Laugh riot. No one sparred in Tamil Nadu /Indian politics. References of Meme creators, media /corporate influence and Thala-Thalapathy fanatics are sure to work well with masses. @RJ_Balaji 's home ground and he hits each & every ball out of the park
VJ Dinesh: #LKG 1st half Review- Lot of trolling political ideas mixed well within the situation.RJ Balaji almost trolled everyone and at the same time comedy works out well #LKGReview #LKGfromToday #LKG
'Entertaining' so far.
Prashanth Rangaswamy: And congrats buddy @SurendharMK for being a part of a winning team. Oh well, I'm not praising the film because he has worked in it. Go, watch and correct me if I'm wrong #LKG
Neatly written and executed political satire. There are few logical loopholes and cinematic clichés but the job is done, the harsh reality of murky politics has been flawlessly portrayed.
#LKG -Quite liked @PriyaAnand's characterization, she plays a corporate political strategist. Not a typical Tamil heroine, thankfully there is no namesake romantic track.
#LKG Interval - the movie has taken lesson to all political Movies released recently. Writing at its best !!!