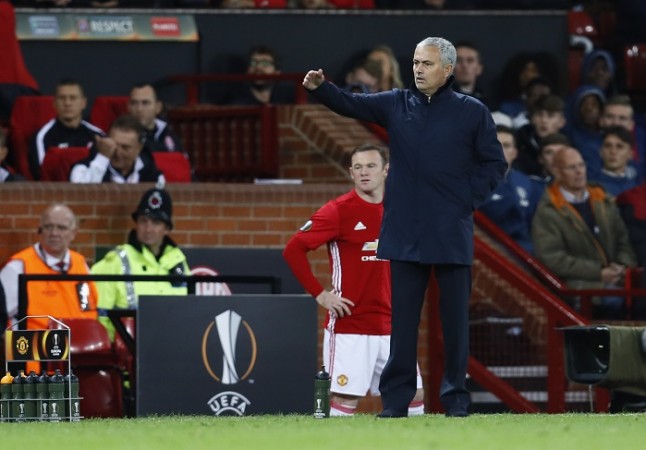 One of the more emphatically-clear things that Jose Mourinho said when he took over as the manager of Manchester United was that Wayne Rooney will not play as a midfielder under him. "He is never a 6 or 8," the Portuguese said, with the former Chelsea and Real Madrid manager seeing the club captain as a No.10, a No.9 or somewhere in between.
However, with Rooney's pace fading and his goalscoring powers also on the wane the player himself has admitted he would like to make the transition to a midfielder, with his matches for England coming in that position.
Mourinho, obviously having read and talked to Rooney about his preferred role as age catches up with the England international, seemed to go back on his "Rooney will never play in midfield" comments.
"He can play everywhere, that's no problem," the Manchester United manager was quoted as saying by The Guardian. "If somebody confused him, it was not me."
Rooney is currently going through a difficult season, where he has lost his place in the starting XI for both Manchester United and England. The Red Devils have impressed with Juan Mata in the No.10 position, with Paul Pogba and Ander Herrera making up a really good partnership in midfield, and it is likely that the veteran, who will turn 31 next week, will be on the bench again when Manchester United play Liverpool at Anfield in the Premier League on Monday.
Despite not starting any of United's last three matches, though, Mourinho insisted Rooney remains a "first-choice" player at the club. "At Man United he didn't lose his place," Mourinho said. "Not at all, for me, he's first-choice."
Mourinho revealed that Rooney was going through a hard time after being dropped by club and country, even if the Portuguese maintained his belief that the 30-year-old is now a completely different player after the criticism he received following England's game against Slovakia last month.
"I think what you could hurt you did already," Mourinho said when asked about Rooney's state of mind. "I don't think you can do more than what you did.
"So I think in this moment it is time for him to recover from what was done to him and the best place for him to do that is feeling like he feels at home here.
"I'm not saying that he is low – it's: 'OK, you can hurt me but you can't put me down.' I think he's the same."