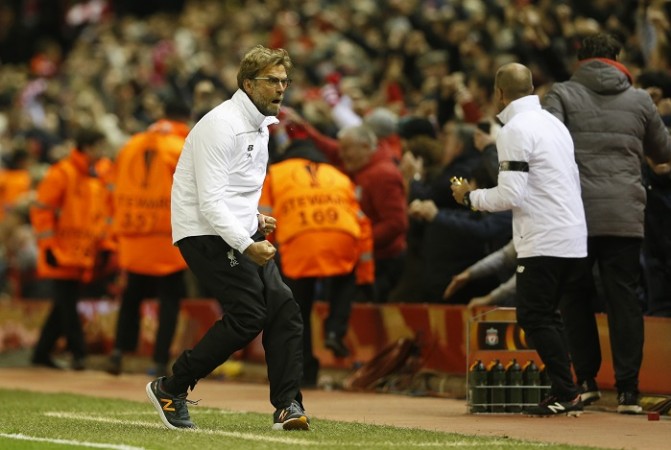 Jurgen Klopp used the "remember the Istanbul moment" tactic to inspire a comeback from his Liverpool players in the absorbing Europa League quarterfinal second leg against Borussia Dortmund. Liverpool were down and out in this encounter at Anfield, losing 3-1 with just over 20 minutes left, before three goals in 24 minutes helped them pull off a stunning comeback.
Liverpool eventually went on to win the second leg 4-3 and the tie 5-4 on aggregate, sealing their spot in the Europa League semifinals.
Klopp said he reminded his players about the Istanbul Champions League final comeback against AC Milan to try and inspire a comeback after Liverpool were 2-0 down at halftime thanks to goals from Henrikh Mkhitaryan and Pierre-Emerick Aubameyang.
"Very often in football life, a game is over (at 2-0), but not here, not with this Liverpool team and that's great to be part of," Klopp was quoted as saying by the club's official website. "In the first half of the game, we created a lot of chances, we didn't score and then it was really, really difficult to stay in the game because we are all human beings, we tried everything but nothing really worked.
"At halftime, there was a good atmosphere to be honest because I was satisfied with the game, not with the goals, but with the game in general.
"I told the lads, I was not there but a few Liverpool players who are a little bit older and work now as experts for television, they were 3-0 down at halftime, but won a Champions League final. So even when it's not really likely, it is for sure possible and we should try it."
The Liverpool comeback started, well sort of, when Divock Origi made it 2-1, before Marco Reus, who scored to give Borussia Dortmund a 3-1 lead, dealt them a body blow. Needing three goals to win the tie, Liverpool needed to invoke the spirits of Istanbul, and they did just that as Philippe Coutinho, Mamadou Sakho and Dejan Lovren, in the 91st minute, scored to edge the home team to victory.
"I think even before 2-1, we had a chance and two or three really good moments but didn't score. Then we scored and then everyone could see something happen in the stadium," Klopp added. "You could feel it, you could hear, you could smell it. But then, there was a brilliant play from Dortmund and 3-1.
"Then that was the moment in football – and in life – when you have to show character. That's what the lads did and it was pretty cool to watch."