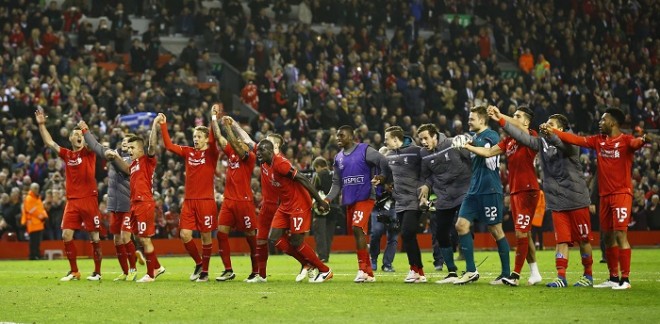 Liverpool love the big European comebacks. While nothing will ever come close to the one in Istanbul, this one at Anfield will go down as the best one so far under Jurgen Klopp, after the Reds pulled off a stunning come-from-behind 4-3 victory over Borussia Dortmund, which put them through to the Europa League semifinals 5-4 on aggregate.
Down and out after Marco Reus scored in the 57th minute to make it 3-1 on the night for Dortmund, Liverpool scored three goals in 24 minutes to keep their Europa League hopes alive and knock Dortmund, Klopp's former club, out in the quarterfinals stages.
It had all looked impossible after the first nine minutes of the match, after Henrikh Mkhitaryan and Pierre-Emerick Aubameyang scored to give Dortmund a 2-0 lead and a 3-1 advantage on aggregate. While Divock Irigi made it 2-1 with a goal on 48 minutes, it seemed irrelevant when the excellent Reus struck three minutes before the hour.
But, instead of laying down and playing dead, all the Reus goal did was pump up the Liverpool comeback juices, and hope sprung when Philippe Coutinho scored in the 66th minute. Then came the turn of the two Liverpool central defenders, with Mamadou Sakho netting on 78 minutes to level the tie – but Dortmund would have still gone through on away goals – before Dejan Lovren completed the comeback, heading in a cross from James Milner.
"It was a wonderful, wonderful night," Liverpool manager Jurgen Klopp was quoted as saying by The Guardian. "That was football at its best, a great game to experience for everyone involved.
"We wanted to be brave but that becomes more difficult when you go behind so early, though in the end I think the result was deserved. We might have got a little bit lucky but we never stopped trying and we created a lot of chances."