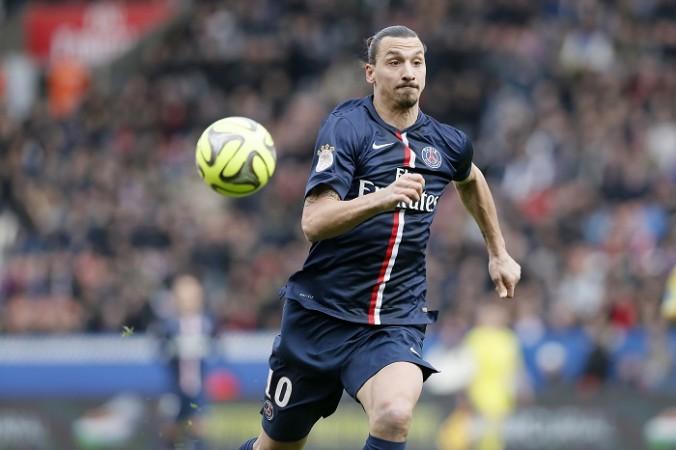 Liverpool are reportedly preparing a summer move for Paris Saint Germain star Zlatan Ibrahimovic following speculation of the Ligue 1 side wanting to offload the striker for a cut-price transfer fee £18.1 million.
The Reds have struggled due to the poor performances of their strikers this season, with Brendan Rodgers forced to use winger Raheem Sterling up front on a number of occasions.
The Merseysiders did manage to sign Mario Balotelli and Rickie Lambert following the departure of their in-form striker Luis Suarez last summer, but both players have proved to be big flops, managing to score just three goals between them in the English Premier League this season.
Their other striker Daniel Sturridge, who scored 21 goals in the Premier League last season, was expected to step up after Suarez's departure to Barcelona, but he too has failed to make an impact due to thigh and a calf injuries.
Liverpool also have another striker in Fabio Borini, but he has been disappointing as well, managing only a single goal in the Premier League so far.
As a result, manager Brendan Rodgers is reportedly looking to offload all his current attackers except Sturridge, and make a move for a new striker in the summer.
The Reds have been linked to Manchester United's Radamel Falcao and Javier Hernandez, but, according to the Metro, Rodgers has put Ibrahimovic at the top of his shopping list following reports of the Sweden international being made available for a fee of £18.1 million this summer.
The 33-year-old striker, who joined PSG from AC Milan for a transfer fee of around €20 million in the summer of 2012, has been in excellent form scoring 35 and 41 goals for the Ligue 1 side in all competitions in the last two seasons.
The Swede star has also been doing well this season, scoring 28 goals in 31 appearances in all competitions for PSG, but the Ligue 1 side are reportedly looking to cash in on him this summer.
This is because the former Barcelona striker, whose contract with PSG expires next summer, recently put his own future in doubt calling France "a s*** country" following his disagreement with the referee during his side's 3-2 defeat to Bordeaux last month.
The striker subsequently apologised for his remarks, but he was still handed a four-match ban by the French Football Federation.
PSG owner Nasser Al-Khelaifi also put Ibrahimovic's future in doubt by recently stating he likes Uruguayan striker Edinson Cavani.
"Edinson Cavani is a player I really like,' Al-Khelaifi told Le Parisien. "I can tell you that he is very much with us, and the question of his departure has not arisen. Paris loves him and he loves Paris."
Although Ibrahimovic is not getting any younger and £18.1 million is not a small asking price, the Swede will be a good signing for Liverpool as he is still capable of scoring goals and playing at the highest level.