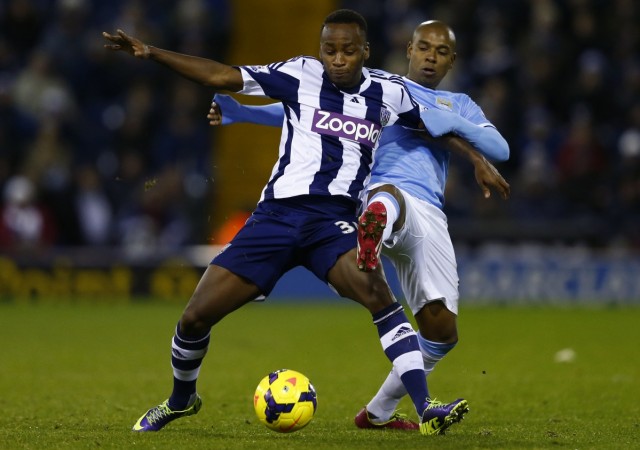 West Brom striker Saido Berahino has been linked to EPL clubs after his impressive showing in the domestic league this season, but it's Liverpool which seems likely to nab Berahino despite Tottenham Hotspur showing an interest.
Liverpool are in the market for a striker after the Reds strike force which includes Mario Balotelli, Rickie Lambert and Fabio Borini have proved to be a huge disappointment for the club.
Daniel Sturridge has been absent from Liverpool's squad for some time now because of injury.
Along with Wilfried Bony, Berahino has been dominating headlines all across the English Premier League as far as the transfer window is concerned.
West Brom are ready to triple Berahino's wages to around £65,000 a week but might still not be able to stop him.
The England under-21 striker is said to have been reluctant on signing a new contract with the thought that Brendan Rodgers would bid for £20 million, reported Daily Mirror.
Berahino has been one of the finest players for West Brom and has helped the team fight it out in the relegation zone. They are currently at 14th place on the points table.
On Saturday it was Saido Berahino's goal which helped the team beat Hull City.
Tony Pulis, the West Brom manager, has already expressed an interest in keeping the player at the Hawthorns.
According to a Daily Star report, Pulis said, "The most important thing is for this club to stay in the Premier League.
"Obviously if a club came in with an enormous amount of money to offer then it's difficult, but that's something the club would have to look at.
"But he's got a wonderful talent. Do I want to sell him? Not at all.
"He's been first class since the day I walked through the door.
"He's first in at the training ground and last out. He's got a God-given talent and it's important that he makes the most of it.
"He's got to understand that. He's got a natural gift and has a great future in front of him."
With pace on his side, an eye for goal and great finishing skills, he ticks all the boxes for Liverpool and Brendan Rodgers.
But Berahino is not the only striker linked to Liverpool, a number of others including Christian Benteke and Gonzalo Higuain are also been considered in the transfer window.