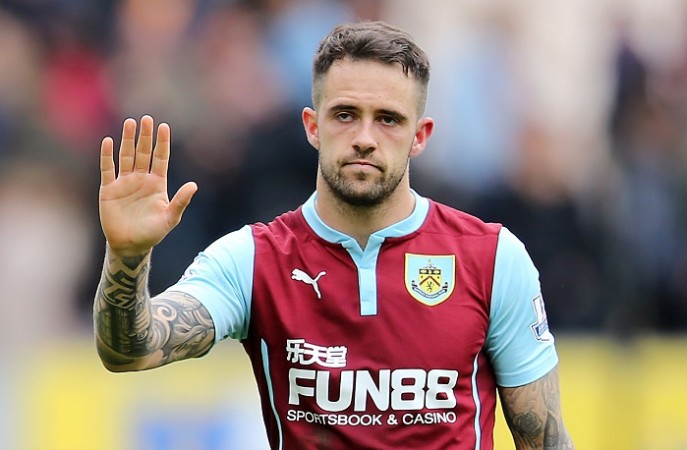 Burnley striker Danny Ings is reportedly set to make his decision to join either Liverpool or Tottenham Hotspur in the next 10 days, before travelling to the Czech Republic with England under-21s ahead of the UEFA Euro U21 Championships scheduled to start on 17 June.
The 22-year-old striker, who has been impressive this season scoring 11 goals in the Premier League, is set to leave Burnley, who have been relegated to the English League Championships, this summer due to his current contract expiring in June.
Liverpool were believed to be leading the race to sign Ings this summer, with there being reports of the Reds already agreeing to pay a £5 million tribunal transfer fee to Burnley (as Clarets are entitled to a compensation fee due to the striker still being under the age of 24 years).
However, Tottenham Hotspur are now believed to be in the pole position to sign Ings due to them reportedly offering £12 million for the former Bournemouth striker.
Ings is understood to be interested in sealing a move to Liverpool, but Burnley may want to conduct business with the Spurs due to north London side reportedly offering £7 million more than Liverpool.
However, the final decision will lie on Ings' hand and, according to the Telegraph, he will reportedly be deciding on whether to move to Anfield or White Hart Lane in the next 10 days.
Meanwhile, Mario Balotelli's agent Mino Raiola says that his client will not be leaving Liverpool this summer.
Balotelli, who completed a £16 million switch from AC Milan to Liverpool last summer, has been very disappointing this season, scoring only one goal in the Premier League.
As a result, there have been many reports of the Reds looking to offload the 24-year-old this summer, but the player's manager Raiola insists that he will remaining at the Anfield this summer.
"We had talks with Liverpool and he will definitely stay," Raiola told the BBC.
Earlier, Liverpool manager Brendan Rodgers had said that Balotelli needed to work harder in training to adapt to the Merseyside club. But Raiola feels that his client has managed to adapt this season.
"I think Mario did adapt," Raiola added. "I can't talk about Brendan Rodgers, obviously that is something for Brendan, but I think Mario did. I have spoken at various times to the club and they were happy with his input and professionalism."
Finally Raiola, who admits that the former Manchester City striker's performances needs to improve, is confident that Balotelli will be doing much better next season.
"Obviously we have to improve the performance but I am really confident that will happen this year."