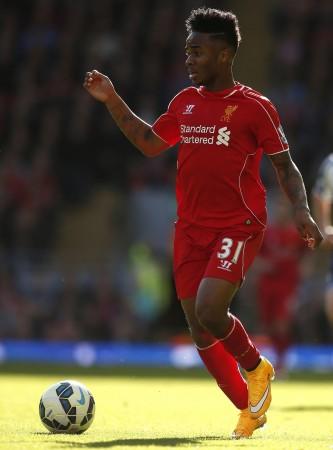 Liverpool boss Brendan Rodgers has revealed that Liverpool are in talks with Raheem Sterling's representatives over a new improved deal.
Although earlier there were speculations that the 19-year-old old winger could leave Liverpool in search of better prospects, Rodgers insists that the Merseyside club are not worried about Sterling's future.
On the contrary, Rodgers has revealed that the Reds are close to offering a new contract to Sterling.
"It is not a big issue for us," Rodgers told Liverpool Echo."[Chief executive] Ian Ayre has spoken to his representatives and is quite relaxed. The club is dealing with the agent, so everything is calm."
The former Swansea boss, who has not had the best start to the new season, insists that Sterling is very happy at Liverpool and he is not thinking about moving to other clubs.
"The boy is remarkably happy here and there are no secondary thoughts about anything else other than continuing to play for Liverpool and he still has a lot of growth and for that the best place for him to be is here."
"His representatives know that and we as a club respect that so that will get sorted out with time. His agent is a good agent and understands that this is the perfect place for him."
Although Sterling has been one of the only few consistent players in Liverpool this season, he was benched by Rodgers during Liverpool's 0-1 home defeat to Aston Villa on 13 September.
The Northern Irishman, who was heavily criticised for leaving out Sterling during that game, explained his actions, insisting that the youngster needs rest from time to time.
"As a coach and a manager, I get accused of leaving him out against Aston Villa but I'm trying to protect the kid from not just performances but from headlines," added Rodgers.
"People are trying to write him off because he's tired. On Saturday, he put in an incredible shift and he kept going and persevering. This is a boy who just needs to be left to concentrate on his football.
"He is going to have good games and there will be games where he doesn't set the world alight. But one thing I know with Raheem is that he will always give 100 percent and do his best."