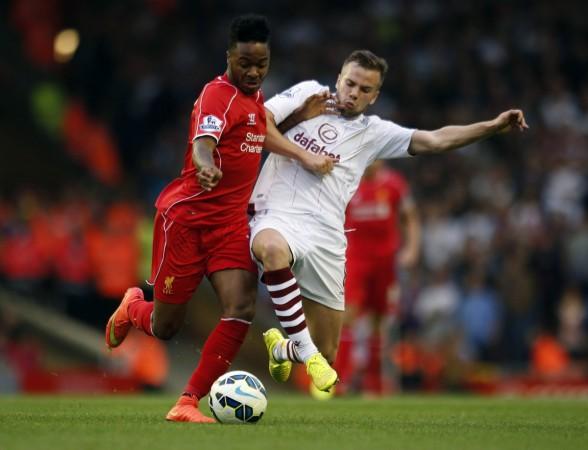 Liverpool are set to reward Raheem Sterling with a new contract amidst speculation linking the twinkle-toed playmaker to Real Madrid.
Sterling has been one of the standout performers for Liverpool over the past year or so, with the 19-year-old, time and again, showing his wonderful talent on the big stage.
Such has been Sterling's rise, that Luis Suarez-bereft Liverpool look a little lost in the attacking third without the teenager.
Sterling's performances have inevitably led to him being linked with some of the big clubs, with Real Madrid reportedly keeping a close eye on proceedings.
Rodgers and Liverpool, though, are ready to stop any interest that might come from Florentino Perez and co. by offering Sterling a new contract, worth over £100,000 a week, according to the Daily Express.
Having lost Suarez to Barcelona, Liverpool will not want to see another big name leave Anfield anytime soon, and Rodgers will be well aware of the importance that Sterling holds to this team at the moment.
The manager, last week, when questioned about the interest from Real Madrid, insisted Sterling remains happy at Liverpool, while also hinting at a possible new contract offer.
"I think it [the Real Madrid interest] shows that he is playing very well," said Rodgers on Thursday. "You could link him with every club in the world. I sit easy with the speculation. Him and his representatives know how comfortable he is here.
"At some point in the future he will be rewarded for his performance but he still has three years left on his contract. There is no rush."
Indeed, such is Sterling's importance to Liverpool right now that Rodgers wants to protect the diminutive playmaker from burn out.
"We certainly have to be aware of it," said Rodgers. "It's easy just to turn around and say: 'He is 19 and can play every day of the week.' But it doesn't work like that.
"There will be periods when they need to rest. And, of course, when you give them the rest because you are planning ahead, you get accused of picking the wrong team.
"He is a big talent. The key is to try and nurture it, while also understanding the best players want to play in the games. And he will certainly have enough games this season."
The Liverpool manager also wants England boss Roy Hodgson to consider resting Sterling during the international break which will come in next week.
"I think Roy and his staff would have to look at that," added Rodgers. "He'll want to ensure the games are won but I'm sure resting players will be the objective, especially when you're winning the game comfortably.
"We lost Emre Can when they [Germany Under-21s] were 6-0 up on a pitch which was awful. But I'm not here to tell the England staff how to do their job."
England host San Marino on 9 October, before travelling to Estonia three days later. Before that, Liverpool face FC Basel in the Champions League on Wednesday, while entertaining West Brom in the English Premier League on Saturday.