India were completely outplayed in the Champions Trophy final in London on Sunday, To be fair, Virat Kohli's men were outdone by the brilliant Pakistan batsmen upfront, and the Men in Green bowlers did their job later to beat arch-rivals India by 180 runs.
It was a solid team effort from Pakistan, who have won their maiden Champions Trophy title.
It was not only about the final. Pakistan fought back in the competition after their initial loss to India in the group stages, and deservedly won the title.
They defeated two huge favourites in the knockout stages to win the title. First it was England in the semifinals, and then India in the finals.
PAKISTAN ARE CHAMPIONS TROPHY 2017 WINNERS
9:29: Bumrah is OUT as Sarfraz catches the ball. India are all out for 158 runs. Pakistan win by 180 runs.
9:25: After playing a number of dot balls, Bhuvi finally plays a shot, with an attempt to score, but hits it straight to the fielder. He goes for another shot, and it the ball is up in the air, but it lands safely. Bumrah also opens his account. India 158/9, 30 overs (Bhuvneshwar 1, Bumrah 1)
9:22: Just a matter of balls before Pakistan are crowned champions. Hassan bowls a maiden over. India 156/9, 29 overs (Bhuvneshwar 0, Bumrah 0)
9:18: WICKET: Hasan Ali sends Ashwin back, edges the ball to Sarfraz. India 156/9
9:17: Bhuvneshwar Kumar - he is at the middle, meaning the match is coming close to the end. He plays three dot balls. India 156/8, 28 overs (Ashwin 1, Bhuvneshwar 0)
9:15: Pakistan are going for the kill. Junaid back into the attack. Ashwin gets off the mark with a single, dab down the third man. Junaid strikes again, Jadeja edges the ball to first slip. India 156/8
9:12: Unfortunate as Pandya was striking it clean and Jadeja should have gone for suicidal run, just for team's sake. India 154/7 (Jadeja 16, Ashwin 0)
9:11: Are we up to something special? Too early to say anything at this moment. Pakistan are overwhelming favourites. Hassan back into attack, and Pandya is OUT. Big mix up and Pandya is run out. He is frustrated with Jadeja, rightly so. India 152/7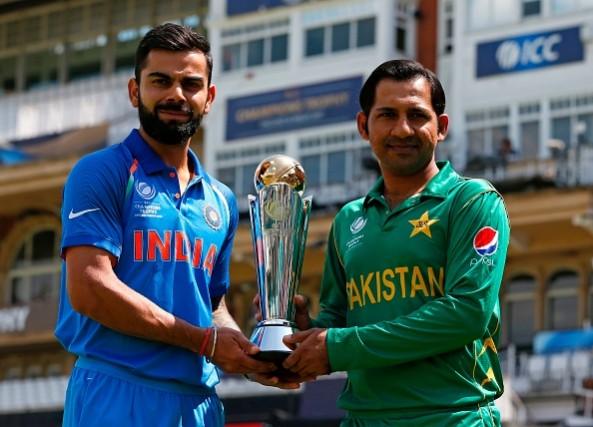 9:08: Jadeja starts the over with a single. Will Pandya attack Fakhar? No, he just takes a single. Jadeja gives him strike, and Pandya unleashes his big shot for a six. Another six, goes down on one leg and slogs sweep. India 152/6, 26 overs (Pandya 76, Jadeja 13)
9:05: Shadab starts with three dot balls to Jadeja, who manages to take a single in the fourth ball of the over. Single - Pandya just drops it in the off side for one run. India 137/6, 25 overs (Pandya 63, Jadeja 11)
9:03: Three balls and three runs from Fakhar's bowling. Slower in the air, and Jadeja just takes another single. Overall, six singles in the over. India 134/6, 24 overs (Pandya 62, Jadeja 9)
8:58: Pandya is turning it on. Two sixes on a trot. Is Shadab under pressure? How will he respond? This is awesome batting from Pandya, who hits another six, completes his 50 from just 32 balls. Dot ball. Next ball, over extra cover for four runs. India 128/6, 23 overs (Pandya 59, Jadeja 6)
8:56: Fakhar starts with two dot balls, and Pandya takes him for a single in the next ball. India are dealing in singles. What can do they do too !!! India 105/6, 22 overs (Pandya 36, Jadeja 6)
8:52: Shadab concedes two runs in his first two balls. So far, the way Pandya has batted. He has been hitting the ball clean. Short and it is punished by Pandya - four. India 102/6, 21 overs (Pandya 34, Jadeja 5)
8:48: Imad Wasim to roll his arm over, and first three balls - he is done, it seems. Some medical problem.
Fakhar to complete Imad's over. Pandya plays a straight drive, one run. India 93/6, 20 overs (Pandya 27, Jadeja 3)
In other India vs Pakistan news, something to cheer for India fans
8:41: Jadeja opens his account with a single. Shadad to Pandya, who is quite comfortable. He hits an incredible six in the top tier. Jadeja, again another single. There is some mix up in the middle, but the batsman is safely inside the crease. Third umpire says not out. India 89/6, 19 overs (Pandya 24, Jadeja 2)
8:37: Hardik Pandya runs the ball over the wicketkeeper for four runs. Was it intentional? Does it really matter now? However, Pandya is middling the ball to perfection. India 80/6, 18 overs (Pandya 17, Jadeja)
8:33: Shadab to bowl. Pandya slashes hard, and splits the gap open in short third man area for a four. He plays the ball straight for a single. Shadab strikes - KEDAR IS GONE. He tries to play the pull shot, but it is not too short for that shot. India 72/6, 17 overs (Pandya 9)
8:30: This pair looks busy. But they have a lot to do - score runs, that too at a decent rate and not give their wicket. First four balls and just one run. Hassan bowling quick and there is some chin music. Flick, and that is a boundary from nowhere. Jadhav is looking decent. India 67/5, 16 overs (Jadhav 9, Pandya 4)
8:26: Pandya starts with a single, and Jadhav gives back the strike with a push on the off-side. Jadhav plays a brilliant shot for a boundary, and plants his front foot to the next ball for a dot. India 62/5, 15 overs (Jadhav 5, Pandya 3)
8:22: Hardik Pandya and Jadhav, and the former gets off the mark. India 55/5, 14 overs (Jadhav 0, Pandya 1)
8:18: MS Dhoni is gone. He plays the pull shot in the air, and Dhoni is caught in the deep. India will need SUPERMAN to win it for India. Is Kedar Jadhav the SUPERMAN of India? India 54/5
8:16: Shadab is getting ready and Yuvraj on strike. The left-hander could fancy this leg-spinner, takes a single. Dhoni, couple after coming down the track, but that was inside edge. Dhoni steers the ball for a single, next. There is a huge appeal for LBW, umpire says not out, but Pakistan wants a review. The third umpire only had to make sure that it was pad first, and Shadab, who forced his captain to take the review, was right. Replays suggest that it is out. BIG LOSS FOR INDIA. YUVRAJ IS GONE. India 54/4, 13 overs (Dhoni 4)
8:09: Hassan Ali, Pakistan's best bowler this Champions Trophy, to Yuvraj Singh. This is an important phase for India. Yuvraj plays a confident looking shot in the leg side for a couple. He follows it with a single, next. India 50/3, 12 overs (Yuvraj 21, Dhoni 1)
8:05: Amir is still bowling for Pakistan. This is his sixth over, and Pakistan can have the game in their bag if they break this partnership, while India will hope to play out this over. Dhoni plays a maiden over. India 47/3, 11 overs (Yuvraj 18, Dhoni 1)
8:01: MS Dhoni walks to the batting crease. Yuvi on strike and he comes down the track, and hits his first four. Dhoni opens his account, with a single. Yuvi, again, another four, converts the ball to a full toss and hits it straight. He ends the over with a wonderful four, punshed off the backfoot. India 47/3, 10 overs (Yuvraj 18, Dhoni 1)
7:57: Amir to Shikhar - this is an interesting battle. Three dot balls, and Shikhar seems to be unfazed at the moment. Quite calm!!! He pushes the ball straight, and completes the single. Yuvraj glides the ball to third man for a single. WICKET...India are three down as Shikhar edges the ball to the wicketkeeper. India 33/3, 9 overs (Yuvraj 6)
7:53: Shikhar powers the ball to the cover boundary. He has looked good. Another four, on top of bounce to split the gap for four runs in the off-side. Sensible as Shikhar takes a single, next. Yuvi ends the over with two dot balls. India 31/2, 8 overs (Shikhar 20, Yuvraj 5)
7:49: Leg-bye to India and Yuvraj back on strike to Amir, who has been bowling a tight line. He is not giving any room to Yuvi, who has showed a straight bat, most of the times. Yuvi can turn it on later even if he plays a series of dot balls. India 22/2, 7 overs (Shikhar 11, Yuvraj 5)
7:45: Shikhar plays the ball on the leg side for a single. Yuvraj has played a few dot balls, and there was pressure on him, which brings his pull shot out - top edge, boundary. LUCKY. Junaid is generating some good pace. India 21/2, 6 overs (Shikhar 11, Yuvraj 5)
7:40: Let me try to recollect....hmm...have Pakistan bowled a single loose ball? No, I do not think so. They are pumped. Finally, something for India fans to cheer. Shikhar pulls Amir for a four. Another four. Lovely drive - on the up from Shikhar. India 16/2, 5 overs (Shikhar 10, Yuvraj 1)
7:36: Two left-handers -- Yuvraj and Shikhar -- from India will have to play a long, long, long innings for India to inch closer to that......339 runs....Five dot balls on a trot from Junaid to Yuvraj, and the last ball is a dot ball as well. Maiden over. India 7/2, 4 overs (Shikhar 1, Yuvraj 1)
7:32: Pakistan bowlers have been amazing so far. It is simply great bowling, more than poor batting. Yuvi gets off the mark. India 7/2, 3 overs (Shikhar 1, Yuvraj 1)
7:30: Amir squares up Kohli, and gets the outside, thickish edge for two runs. DROPPED AT FIRST SLIP. Kohli is lucky. Will Pakistan pay for that???NO, they won't. Kohli is GONE the next ball as he is caught at point. India looking down the hill. India 6/2, 2.4 overs (Shikhar 1)
7:25: Junaid Khan to Shikhar - Left-arm pacer is on the money with his first three balls. Pakistan have their tails up, at the moment, and why not! Shikhar opens his account with a hook shot for a single. The awaited battle between Junaid and Kohli is on. Junaid has dismissed him thrice in the past. Kohli keeps strike with a glide down the fine leg for a single. India 4/1, 2 overs (Shikhar 1, Kohli 3)
7:20: Without a run on the board, and Virat Kohli is in the middle. India on the backfoot, early on. Kohli is beaten outside the off stump. India under pressure. Virat off the mark with a flick. India 2/1, 1 over (Shikhar 0, Kohli 2)
7:17: Mohammad Amir to Rohit, who pushes at the ball. The first ball is played for dot. DISASTER...India lose Rohit, who is trapped LBW. India 0/1, 0.3 over.
7:15: Can India do it? Well, well, certainly, they can, but India's big guns have to fire. India openers are there in the middle. A cracker of a second innings is set to follow. Keep you popcorns ready! So here we go.......
7:10pm: India have always been a good chasing side. With Virat Kohli being a wonderful second innings man for India in the past, the captain has to led from the front, but if India are to have any chances of winning, Shikhar Dhawan and Rohit Sharma have to start well.
India, no matter the strong batting side they are, have a huge task in their hand. India are looking for their record chase in England.
7 pm: Hello folks, I, Ashim, will bring you the last 50 overs of Champions Trophy 2017. Let us first give credit, where it is due. Well played Fakhar! He scored an amazing ton, and with good contribution from Azhar and Hafeez, they have piled up an impressive 338 runs from 50 overs.
Now, India batsmen will hope to come all guns blazing in the second innings.
That's it from me ladies and gentleman. My colleague Ashim will be taking you through the second innings as India look to defend their Champions Trophy title or will it be a first title for Pakistan after an outstanding first innings.
All eyes will be on Hasan Ali to see if he can continue his impressive balling this tournament or will the the India batting line up prove to be too much for them. Enjoy the rest of the match.
What a superb first innings from Pakistan espicially by Azhar Ali, Fakhar Zaman, Babar Azam and Mohammad Hafeez as they guided Pakistan to an amazing and a very much defendable total of 339 for India to chase. Did Kohli make a mistake in choosing to bowl first or will Rohit Sharma and Shikhar Dhawan get India to a superb start once again.
6:41 - Hafeez hits another six and is now 56 from just 36 balls. Excellent innings from him. And the final ball of the first innings ends with a single. 338/4, 50 overs (Hafeez 57, Imad 25)
6:36 - Bumrah's delivery to Hafeez hits the stumps but the bails do not come off. What a let off for Pakistan. And Hafeez get's his 50 and Bumrah with two no-balls this over. 11 runs from this over. 329/4, 49 overs (Hafeez 50, Imad 23)
6:30 - Decent over from Bhuvi as he restricts Hafeez and Imad to singles. Five from it 318/4, 48 overs (Hafeez 46, Imad 21)
6:25 - Imad getting into the action now as he hits a four straight down the field. Eight from the over. 313/4, 47 overs (Hafeez 44, Imad 18)
6:21 - And Hafeez is not holding back at all as he hits another six and brings up Pakistan's 300. Expensive over from Bhuvi as he goes for 11. India need a wicket now. 305/4, 46 overs (Hafeez 42, Imad 12)
6:16 - Hafeez going all out to ensure Pakistan reach 300 as he hits Hadhav for two sixes. Big over for Pakistan as Jahvad gives 16 from this over. 294/4, 45 overs (Hafeez 32, Imad 11)
6:12 - And Hafeez finds the boundary again. Despite those wickets he could still get Pakistan to 300 if he stays till the end. Eight runs from Bumrah's seventh. 277/4, 44 overs (Hafeez 24, Imad 2)
6:08 - Good over from Jadhav as he picks up a wicket and gives away just four runs. 270/4, 43 overs (Hafeez 18, Imad 1)
6:05 - And Jadhav get the wicket and it's the dangerous Babar Azam. He tries to go for a big shot but does not put enough power on it and Yuvraj catches him. 267/4, 42.3 overs (Hafeez 15)
6:03 - And Hafeez continues as he hits another four. Nine runs from Bhuvi's seventh over. Pakistan 266/3, 42 overs (Babar 46, Hafeez 15)
5:59 - Hafeez wasting no time settling in as he hits his first ball for a four and hits another four. Those wickets are certainly not making any difference to Pakistan. 10 runs from that Jadeja over. Pakistan 257/3, 41 overs (Babar 44, Hafeez 9)
5:55 - Mohammad Hafeez is the next batsman in and an excellent over from Bhuvi. Just one from it and a much needed wicket. Pakistan 247/3, 40 overs (Babar 43, Hafeez 0)
5:53 - And Bhuvi does exactly what was asked of him as he gets Malik out and India are right back into the game. Pakistan 247/3, 39.4 overs (Babar 43)
5:49 Bhuvi is back into the attack.
5:48 - Malik now batting without a helmet and that is a really bad first over from Jadhav as he bowls to wides and gives away seven runs. Pakistan 246/2, 39 overs (Babar 42, Malik 12)
5:45 - Change in bowling as Kedar Jadhav come in. Hopefully he can get a few wickets.
5:43 - And Babar is continuing where Fakhar and Ali left off as he hits two continuous fours. Expensive last over from Pandya as he goes for 13. Pakistan 239/2, 38 overs (Babar 39, Malik 10)
5:41 - And Malik get's into the action too as he hist his first six and a much needed boundary for Pakistan. If Pakistan continue this way a score of 300+ is vert much possible. Pakistan 227/2, 37 overs (Babar 28, Malik 10)
5:36 - Babar seems to have settled in as he hits another four. Despite going for seven this over Pandya has been one of Indis's better bowlers so far. Pakistan 216/2, 36 overs (Babar 25, Malik 2)
5:33 - Babar and Malik just taking it slow at the moment running between the wickets as they get used to the pitch and Bumrah misses his yorker completely and Babar hits a four. Seven runs from the over. Pakistan 209/2, 35 overs (Babar 18, Malik 2)
5:28 - India need to take a few more quick wickets before Babar and Malik settle in. Very good over from Pandya just two from it and the all important wicket of Fakhar. Pakistan 202/2, 34 overs (Babar 12, Malik 1)
5:25 - And Fakhar is out. FInally India get another wicket and they really needed but what an innings for Fakhar Zaman, getting his first 100 in the Champions Trophy 2017 final against India. Pandya gets the wicket with Jadeja catching the ball. Malik is the next batsmen in. Pakistan 200/2, 33.1 overs (Babar 11, Malik )
5:22 - Fakhar is on fire. Hits Ashwin for a six in the first ball of his last over as Pakistan's 200 comes up. India are in big troule and they need wickets now or Pakistan could reach 300. Pakistan 200/1, 33 overs (Fakhar 114, Babar 11)
5:19 - Five from the over as Pakistan slow things down a bit after the drinks break. Pakistan 191/1, 32 overs (Fakhar 106, Babar 10)
5:10 - And Fakhar Zaman gets his first ever ODI 100 with a four and he has certainly made India pay for not getting him out early on. Bumrah must be killing himself over that no-ball. Eight runs from Ashwin's ninth over. Pakistan 186/1, 31 overs (Fakhar 103, Babar 8)
5:06 - Pandya puts in a decent over giving away just three runs but at this point it wont make much of a difference if India cannot get a wicket. Pakistan 179/1, 30 overs (Fakhar 96, Babar 8)
5:02 - Much much better over from Ashwin as he for just one run. Pakistan 176/1, 29 overs (Fakhar 95, Babar 7)
5:00 - Fakhar continues his hard hittng as he hits another four. Pandya gives away eight runs. Pakistan 175/1, 28 overs (Fakhar 94, Babar 7)
4:55 - Fakhar Zaman is in fine form as he hits another six. He is certainly making up for getting Ali out. Expensive over from Ashwin as he goes for 17 in his seventh over. Fakhar ends the over with a four. India need to get him out ASAP. Pakistan 167/1, 27 overs (Fakhar 89, Babar 4)
4:50 - Fakhar starts Jadeja's sixth over with a six and follows that up with a four. Babar Azam taking things slow at the moment but once he settles in he too can cause India a lot of problems and Fakhar ends the over with another four. Pakistan 150/1, 26 overs (Fakhar 76, Babar 2)
4:47 - That was certainly a bad way for Pakistan to lose their first wicket but they cannot let that get to them. Good over from Ashwin as he gives away just five runs. Pakistan 134/1, 25 overs (Fakhar 61, Babar 1)
4:43 - Just one from the over as Babar Azam comes in next. Pakistan 129/1, 24 overs (Fakhar 55, Babar 0)
4:40 - And India finally get their first wicket as Ali goes for a run but Fakhar does not move from his crease. Pakistan 128/1, 23 overs (Fakhar 55)
4:36 - Ashwin is back into the attack. Kohli trying all sorts of things to get a break through.
4:35 - Ali with another four. India just cant seem to get a wicket at this point. That Bumrah no-ball could have changed the course of the match had it not been a no-ball. Seven from the over Pakistan 125/0, 22 overs (Ali 58, Fakhar 54)
4:31 - India need a wicket and they need it now or Pakistan could end up with a huge total for India to chase. Decent over from Pandya as he gives away just four runs but India need wickets at this point. Pakistan 118/0, 21 overs (Ali 52, Fakhar 53)
4:27 - Fakhar finds the boundary and Ali get another 50 against India this Champions Trophy 2017 with a single and Fakhar reaches his to too with a four. India in all sorts of trouble at this point. Pakistan 114/0, 20 overs (Ali 50, Fakhar 51)
4:24 - India just dont know how to get these Pakistani batsmen out. Nothing seems to be working. Pandya goes for three from his hird over. Pakistan 103/0, 19 overs (Ali 48, Fakhar 42)
4:19 - Good second over from Jedeja until the last ball as Fakhar brings up Pakistan's 100 with a four. Pakistan 100/0, 18 overs (Ali 46, Fakhar 41)
4:12 - Better second over from Pandya and there was a chance for a wicket but Ali's shot lands in no man's land. Good over just three from it. Pakistan 93/0, 17 overs (Ali 44, Fakhar 36)
4:09 - Ali and Fakhar now have the best opening partnership in an India-Pakistan ICC tournament.
4:08 - Decent start from Jadeja. Just four from it. Pakistan 90/0, 16 overs (Ali 42, Fakhar 35)
4:06 - Kohli trying everything he possibly can as he brings in Jadeja as his search for a wicket continues.
4:05 - This is a really good start from Pakistan after 15 overs as Pandya goes for eight in his first over. Bumrah must be dredding his no-ball against Fakhar early on. Pakistan 86/0, 15 overs (Ali 40, Fakhar 33)
4:01 - As India look for a wicket Kohli brings in Pandya.
4:00 - India really do need a wicket. They cannot let Ali and Fakhar settle in and that is a much better over from Ashwin. Just four from it. Pakistan 78/0, 14 overs (Ali 35, Fakhar 31)
3:57 - An interesting fact for all you cricket geeks out there. The only time in which the team batting first won the Champions Trophy final was in 2013. The other 5 finals have been won by the chasing team.
3:56 - Bumrah with yet another wide. Kohli has a word with him. Five from the over. Pakistan 74/0, 13 overs (Ali 33, Fakhar 29)
3:52 - It was a decent over until Fakhar hit a four in the final ball. Pakistan 69/0, 12 overs (Ali 31, Fakhar 27)
3:48 - Another chance for a runout but Rohit misses the wickets completely. Pakistan seem to be growing in confidence at the moment as Fakhar hits another four. Good two finals balls from Bumrah to finish the over. Pakistan 63/0, 11 overs (Ali 30, Fakhar 22)
3:45 - Bumrah is back into the attack as India look to get a first wicket break this opening partnership.
3:45 - Ali brings up Pakistan's 50 with a four. Eight from Ashwin's second over. Pakistan 56/0, 10 overs (Ali 29, Fakhar 16)
3:40 - Finally a good over for India as Bhuvi concedes zero runs from his fifth over. Pakistan 48/0, 9 overs (Ali 23, Fakhar 14)
3:37 - Not a good first over from Ashwin at all. 10 runs from the over as Ashwin gives away two wides and Ali get's Pakistan's first six of the innings. Pakistan 48/0, 8 overs (Ali 23, Fakhar 14)
3:33 - Change of bowling for India as Ashwin comes in.
3:32 - Better over from Bhuvi. Just two from the over. Pakistan 38/0, 7 overs (Ali 16, Fakhar 13)
3:28 - Pakistan have gotten off to a really good start. Ali with another four to start Bumrah's third over. Bumrah not at his best in these early overs as he bowls another wide. Ali with another four. Pakistan 36/0, 6 overs (Ali 15, Fakhar 12)

3:24 - Another four for Pakistan. It's been given as a leg bye. Fakhar with another four. Eight from the over. Pakistan 27/0, 5 over (Ali 7, Fakhar 12)
3:20 - Bumrah with another wide to start off his second over and he follows hat up with a wicket. Fakhar is out. And it is a no ball. Fakhar is back. What is going on???? Fakhar gets the first four of the match. Ali also finds the boundary. Will that no-ball from Bumrah come to haunt team India later on??? Not a good over from Bumrah. Three extras conceded. 12 from the over Pakistan 19/0, 4 over (Ali 7, Fakhar 8)
3:13 - Chance for a runout as Fakhar goes for a quick single but Kedhar misses the wickets. He would have been out had it connected. Pakistan need to relax a little bit. Just four from the over Pakistan 7/0, 3 over (Ali 3, Fakhar 3)
3:09 - Just three runs from the second over. Pakistan 3/0, 2 over (Ali 1, Fakhar 1)
3:05 - Jasprit Bumrah with the next over
3:04 - Maiden over from Bhuvneshwar Kumar to get the Champions Trophy 2017 final underway. Pakistan 0/0, 1 over (Ali 0 , Fakhar 0)
3:00 - Azhar Ali and Fakhar Zaman to open for Pakistan and Bhuvneshwar Kumar has been given the ball.
2:55 - We are just minutes away from the start of the Champions Trophy 2017 final between India and Pakistan and both the teams make their way to the ground for the national anthem.
2:45 - With the team news announced, here is a look at which player from both teams would make a India-Pakistan combined 11 based on their performance in the Champions Trophy 2017 so far.
2:39 - Here is a look at the at starting 11 for both teams. Kohli said during the toss that the Indian team is unchanged and for Pakistan Amir comes back in.
India - Rohit Sharma, Shikhar Dhawan, Virat Kohli(c), Yuvraj Singh, MS Dhoni(w), Hardik Pandya, Kedar Jadhav, Ravindra Jadeja, Ravichandran Ashwin, Bhuvneshwar Kumar, Jasprit Bumrah
Pakistan- Azhar Ali, Fakhar Zaman, Babar Azam, Mohammad Hafeez, Shoaib Malik, Sarfraz Ahmed(w/c), Imad Wasim, Mohammad Amir, Shadab Khan, Hasan Ali, Junaid Khan
2:33 - India have won the toss and have decided to bowl first.
2:32 - The captains are walking out for the toss with the team sheet in hand.
2:20 - India are definitely the favourites to defeat Pakistan and retain their Champions Trophy today and here is a detailed look at why the men in blue will do exactly that.
2:05 - The latest team news coming in for Pakistan is that there is going to be only one change as Mohammad Amir comes in for Rumman Raees. And for India there is some slight concern as R Ashwin was seen limping during practice and had and ice pack on his knee. Let's see what happens.
1:51 - There is still a long time to go for the start of the match and with both India and Pakistan tied at 2-2 in the head to head record in Champions Trophy, who will take the lead today?? Based on history India could lose today.
Whenever India have defeated Bangladesh in a major tournament they have gone on to lose the next match as many as 10 times. Could history repeat itself today in the Champions Trophy 2017 final??
What a perfect way to conclude the Champions Trophy 2017 tournament by seeing two of the biggest cricketing rivals in India and Pakistan facing off in the final. I, Bryan Rodrigues, will be bringing you all the live updates and happenings from the Champions Trophy 2017 final right here so just sit back an enjoy an amazing day of cricket.