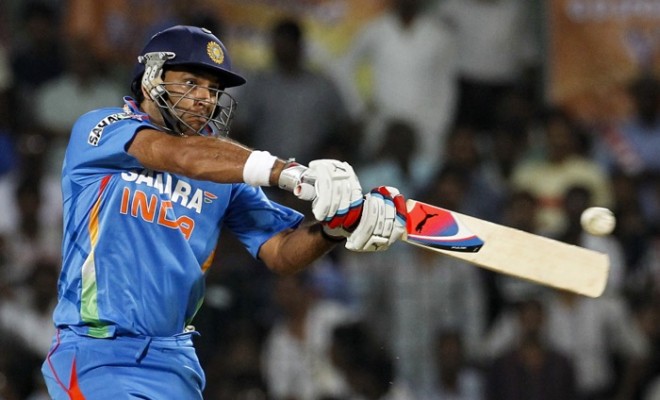 That is all from me (Rajarshi Majumdar) ladies and gentlemen and I hope to entertain you real soon. Good night all!
Kasun Rajitha has been adjudged the man of the match for outstanding spell that toppled the Indian top order.
10:37: Sri Lanka have managed to win this nervy encounter by 5 wickets against India, here at the Mahrashtra Cricket Association Stadium in Pune on Tuesday.
Dinesh Chandimal and Chamara Kapugedera batted sensibly and helped to ease that pressure off that the Indian bowlers exerted early on during the run chase. Milinda Siriwardana finished things off in a hurry at the end.
MS Dhoni will think that he had one seamer short. And probably they were 20-30 runs short as well. That could have made a difference.
Nonetheless, some reckless batting from the Indians and outstanding bowling from Kasun Ranjitha, Shanaka and Chameera helped Sri Lanka register an impressive victory in the first T20.
It was a humiliating loss for India when you think about the thrashing of Australia.
Sri Lanka are 1-0 up in the series. India will have to play their best cricket in order to win this series from here. This loss is definitely an eye opener for India ahead of two big-ticket tournaments.
It is all over! Sri Lanka have won this contest by 5 wickets.
Suresh Raina pulled off a screamer. Sri Lanka lose their 5th. Ashwin is the man with the man who adds one more wicket to his name. India have fought hard here. Even if they are staring at a defeat here, they will be thinking their bowlers extremely well. Sri Lanka 92/5 in 17 overs. 10 more needed.
10:20: Pandya was brought back into the attack. However it is looking like this Sri Lanka's game but we never know as this is a funny game. But one might feel the last two wickets came a little too late. Sri Lanka 90/4 in 16 overs. 12 more needed.
Chandimal is GONE! Raina strikes. How often have we seen that a wicket falls immediately after a break. Sri Lanka 84/4 in 15 overs. 18 more needed.
10:14: Dhoni should ideally call back one of his strike bowlers. May be Bumrah or Nehra in the next over as Spin is not helping India's cause. The spirit seems to be deflating among Indian fielders. Chandimal has played sensibly here and at the moment it looks like he is going to take his side over the line quite comfortably.
10:08: At this moment it is rather easy for the Lankans. Their captain is still out there in the middle. They need just 26 more runs to win. Sri Lanka 76/3 in 14 overs. 26 more needed.
10:06: Someone has to bowl a magical spell here from India. Meanwhile Raina was called to bowl an over here to pick another wicket may be. It was a decent over otherwise. 5 runs caem from that Raina over. Sri Lanka 69/3 in 13 overs. 33 more needed.
10:02: Wicket is the need of the hour and Ashwin has produced one here and that to an important one of the set Chamara. India need couple of of more wickets here. Milinda Siriwardana is out in the middle now. Sri Lanka 64/3 in 12 overs. 38 more needed.
GONE! Kapugedara is out LBW by Ashwin in his first over.
9:59: Things are becoming easy here for Sri Lanka. This partnership between Chandimal and Kapugedara are hurting the hosts. India need to break this pair immediately to get back into this match. Sri Lanka getting closer and closer to the target. Sri Lanka 60/2 in 11 overs. 42 more needed.
9:56: Still no Ashwin as Pandya continued quite obviously because the ball is seaming around. Did Dhoni drop Chandimal there? I think it did not carry. Nonetheless, Pandya has bowled yet another good over but two boundaries spoilt it at the end. Nine runs came from that. Sri Lanka 48/2 in 10 overs. 54 more needed.
9:52: Jadeja has bowled brilliantly as well. This is superb stuff from the left-arm all rounder. Just 3 runs from that over. India need wickets here. Singles are going to hurt them as well. Sri Lanka 39/2 in 9 overs. 63 more needed.
9:50: Pandya is into the attack now and he has to hit the same line and length that Bumrah and Nehra has bowled so far. Things are getting pretty much tight here in Pune. Indian fielders have been exceptional so far. Kapugedara and Chandimal will look to guide Sri Lanka over the line here. Sri Lanka 36/2 in 8 overs.
9:46: Sri Lanka batsmen are clearly under pressure here. They are finding it difficult to score singles as well. Jadeja's over produced just three runs. This match is likely going down the wire. Sri Lanka 31/2 in 7 overs. 71 more needed.
Jadeja is into the attack and dot ball straightaway!
9:43: How often do we get to see such kind of a wicket here in India. The seamers have bowled brilliantly here from both sides. Dhoni probably will be feeling he has one seamer less here as the wicket is not going to help the spinners much. However Jadeja's spell can be crucial here. Bumrah now has bowled three overs and has conceded just 6 runs. The powerplay overs are done. Sri Lanka 28/2 in 6 overs. 74 more needed.
9:39: This is just the kind of stuff Dhoni probably had asked his bowlers to bowl. Sri Lanka are in some sort of trouble here. Sri Lanka 26/2 in 5 overs.
Gunathilaka is GONE! Nehra picks his second. Dhawan takes his second catch of the match. Yet again Gunathilaka going for that big heave but mistimes the ball and it lands safely in the hands of Dhawan who was placed at mid-on.
9:33: India need nothing but wickets here. Bumrah has been oustanding so far. This youngster has been a real revelation for India. Sri Lanka cannot let the pressure get to them. Sri Lanka 21/1 in 4 overs. 81 more needed.
9:29: This has been superb stuff from Nehra and Bumrah so far. They have bowled just the kind of line and length they were expected to bowl. Chandimal and Gunathilaka are struggling out there in the middle just like the Indian batsmen did. Yet another eventful over comes to an end. Sri Lanka 17/1 in 3 overs.
9:24: Bumrah has bowled an outstanding over. India are pumped up at this moment. The crowd are right behind the home side as well. Pressure situation. Sri Lankan batsmen are feeling the heat. A maiden over from the youngster. Sri Lanka 10/1 in 2 overs. 92 more needed.
9:19: What an eventful first over it was. Nehra has hit the right line and length. Last ball of that over almost got India another wicket as Chandimal tried to cut one and it flew over the first slip for a lucky boundary. However, India cannot afford to leak easy runs at this stage. Sri Lanka 10/1 in 1 over.
Dickwella is gone! First wicket for India and Nehra.
Boundary! The intentions is very clear. Dickwella slams one to the cover boundary.
Here's the first ball from Nehra abd Dickwella defends it.
Sri Lanka need 102 runs to win here. Can India thwart the visitors or the latter will cruise to a comfortable victory? We will have to wait and watch.
9:04: India have been shocked here by a young inexperienced side here. The hosts have been bundled out for a meagre of 101.
Top class performance, especially from Dashun Shanaka and Rajitha. The two picked up 6 wickets between them. Dushmantha Chameera picked up wickets as well.
Ashwin top scored with 31 runs for India. Raina also chipped in 20 runs. No other batsmen could stay out there in the middle for very long as they kept on playing rash shots and gifted their wickets at regular intervals.
India bundled out for 101!
Nehra has been dismissed! India lose their 9th.
Chameera bowled the 19th over. India have finally touched the 100-run mark. Now the bowlers will have something to play with. the crowd bursts ib cheer.
8:53: Ashwin has played a brilliant innings here. These runs can turn out to be very very crucial at the end. If India has reached this far and this is because of one man and that is Ravichandran Ashwin. India 97/8 in 18 overs.
8:50: Ashish Nehra is supporting Ashwin pretty well here. Nehra is looking to get behind the line of the ball. The other batsmen have failed to do so and thus they have gifted their wickets to the Sri Lankan bowlers. What an impressive debut this is for Rajitha! Welcome to international cricket lad. India 90/8 in 17 overs.
Rajitha is back to bowl his last over here!
Can India cross that 100 run mark?
8:45: Seekkuge Prasanna is into the attack now. It is game on and now it looks like 110 runs will be enough! What a wicket this has been so far. Incredible game this is. Every dot ball Nehra is defending the crowd is cheering. India 84/8 in 16 overs.
8:42: Thisara Perera was brought back into the attack and it seems nothing can go wrong for these Sri Lanka seamers at this moment. They are bowling this impeccable line and length. India 80/8 in 15 overs.
8:38: Sunny G's pitch report has turned out to be wrong here. He said there will be a lot of boundaries and run scored but at the moment India have crumbled like a house of cards. Jadeja was dismissed by Senanayake in that over. Nehra is out in the middle now. Ashwin will look to score a few more his side. India 78/8 in 14 overs.
Jadeja is GONE! India 72/8.
8:34: Ashwin and Jadeja have played the best shots in this innings so far as they did not involve much risk. India have played 45 dot balls so far in this match and that is almost eight overs. Seven of those have produced wickets. India 72/7 in 13 overs.
8:29: 160 is a far-fetched idea now for India as they are in total shambles. How wonderfully these Sri Lankan bowlers have bowled here. The wicket is not going to change much. India seamers will be adviced to use the pitch as muchas possible. Meanwhile, Ashwin and Jadeja will look to give Indian bowlers something to play with. India 64/7 in 12 overs.
Ashwin times one superbly to the mid-wicket boundary for a boundary!
Pandya is GONE as well! Shanaka picks up his 3rd. India 58/7. Nice and straight again and Pandya could not get his pads out of the way and was adjudged LBW.
8:24: Sri Lanka bowlers have looked to bowl straight and that has what troubled all the batsmen. Superb bowling from these young Sri Lankan seamers. The length ball is back in action as we did not get to see much of it in Australia recently.
8:20: At this moment, I am really struggling to figure out which team is inexperienced. The kind of shots all the Indian batsmen have played here shows they have a lot to ponder about. Ravindra Jadeja and Hardik Pandya is out in the middle. Will India reach 100? India 54/6 in 10 overs.
Chameera has picked up YUVRAJ now! Poor shot selection again. India 53/6
DHONI is gone too! India are in absolute shambles here. India 51/5. Danusha Shanaka has now picked up two wickets in his first over as well.
Raina Bowled! India lose their 4th. The hosts are in all sorts of trouble. Danusha Sanaka is the bowler this time. Poor shot selection from the southpaw. No feet movement whatsoever and the ball went throught the gap between bat and the pad. Raina could only add 20 runs to the total. MS Dhoni is out in the middle now.
Raina has been dropped again! It is all happening here in Pune.
8:08: India cannot afford to play to many dot ball as it will hurt them later. Sensible cricket will be to rotate the strike. Meanwhile, Sri Lanka bowlers have bowled a beautiful line and length. There is a little bit of turn on this surface as well. Just 4 runs from the eighth over. India 47/3 in 8 overs.
8:04: If India will want to reach a total of around 160 then Yuvraj and Raina will have to stay there at least till the 15th over. The average score batting first here at the MCA Stadium is 151. It looks like 160 will be a very challenging total in this tricky wicket. At the moment, Yuvi and Raina will have to rotate their strike well so the scoreboard keeps ticking. A good over from Chameera comes to an end. Just 3 runs from that. India 43/3 in 7 overs.
Dushmantha Chameera is into the attack now. This one can bowl at a serious pace!
8:00: Spin was introduced for the first time in this match and Yuvi smashed Senanayake for a six and that was his second delivery that he faced. That will take some pressure off the Indian batsmen. India need a partnership here and that too a big one. 8 runs came from that over. The powerplay overs are done. The field will spread now. India 40/3 in 6 overs.
Yuvi welcomes Senanayake with a huge six over the bowler's head. Welcome back Yuvi!
Dhawan is gone! India lose their 3rd. Dear-o-dear, what an awful start for India. India 32/3 in 5 overs. What a spell of bowling this is from the yooungster Ranjitha.
7:55: Raina is showing Ranjitha what international cricket is all about and why the former is termed as one of the best T20 cricketer India has ever produced. A four and a humongous six in that Ranjitha over. Yet another good over for India. 13 runs came from that over.
Ranjitha has been asked to bowl his 3rd over here. Raina was nearly knocked over. This lad is bowling well!
7:49: Raina and Dhawan are trying to make a move here. That six from the first ball of the over gave Dhawan a lot of confidence after a horrific start that Team India made. A good over for India this was as 9 runs came off that. India 19/2 in 4 overs.
First SIX of the match! Dhawan smokes one out of the field.
7:44: Raina and Dhawan are playing their shots but they are not coming from the middle of the bat. Raina was dropped in that over by Danushka Gunathilaka at the thrid man boundary. How important that will turn out to be at the end of this innings. India 10/2 in 3 overs.
Raina has been dropped. Gunathilaka has dropped a sitter.
Ranjitha to continue and he starts his second over with peach of a delivery.
7:40: Sri Lanka is off to a superb start here. At the moment Indian batsmen are finding it difficult to score runs. Two quality batsmen are back int he pavilion. Meanwhile Thisara Perera has bowled a brilliant over as well. India in all sorts of trouble here right from the start. A maiden over from Perera. India 5/2 in 2 overs.
Thisara Perera to share the new ball with Rajitha.
Suresh Raina is out in the middle now.
7:34: What a start to the international career for Rajitha! A couple of wickets in the first over and that too of Rohit Sharma and Ajinkya Rahane. This is a cracking start for Sri Lanka. India on the back foot straight away. The ball is clearly doing a lot here. A fantastic over to kickstart Rajitha's career. India 5/2 in 1 over.
Rahane is gone!
Rahane hits the first boundary. The crowd has already gone ballistic here in Pune.
GONE! Rohit Sharma is out for a duck.
Here's the first ball and Rohit defends it with precision.
Kasun Rajitha will bowl the first over for Sri Lanka.
The Indian opening batsmen are walking out in the middle. The crows are right behind the home side. Are you ready for the live action guys?
Sri Lanka will field a team without Lasith Malinga, Angelo Mathews and Rangana Herath.
Rohit Sharma and Shikhar Dhawan will open the batting for India.
The live action is just minutes away. The weather is as usual pleasant in the beautiful city of Pune.
Here are the teams for you ladies and gentlemen, take a close look at it:
Team list is on its way guys.
Check out the Team India huddle ahead of the first T20 against Sri Lanka:
Ajinkya Rahane comes in place of Virat Kohli. That is the only change India have made.
Sri Lanka have won the toss and they will bowl first!
It is toss time ladies and gentlemen, are you ready for yet another riveting T20 encounter?
Sunny G says there will be movement off the deck. The grass will help the ball to come on to the bat. Expect it to be run feast guys.
Here's the pitch report Ladies and Gentlemen!
The tone for the season is set as Team India come into this series after they thumped Australia 3-0 recently. Spin-to-win, the experts say, so are we going to see Harbhajan Singh as well tonight?
Much has spoken about the slowness of this outfield in Pune, the dew will be a crucial factor as well. It will be interesting to see how the captains chalk out their tactics in this first game of the three-match series.
The toss will be at 7pm and the pitch report is on its way ahead of it. So don't go anywhere folks. Stay tuned.
The live action will begin at 7:30 IST sharp. So guys, go get your popcorns, soft drinks and coffeees, because you will not be able to move from the front of the television nor from this live blog!
The upbeat Team India take on a depleted Sri Lanka side in the first T20 of the series, which will serve as the perfect stage to prepare for the Asia Cup T20 and the big ticket event - ICC World T20 2016.
This is Rajarshi Majumdar and I will be bringing you the live updates of the action from the 1st T20 of three-match series between India and Sri Lanka.
Good evening ladies and gentlemen! Hello and welcome to the live blog coverage of the first T20 between India and Sri Lanka which is being held at the Maharashtra Cricket Association Stadium in Pune.