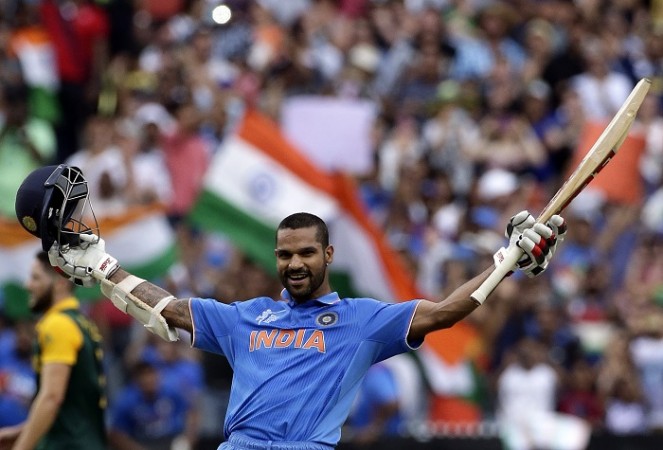 4.31 pm: This was another near-perfect performance from India, with the only question mark being their finishing with the bat. But up top and then with the ball, they were quite outstanding, overwhelming a strong South Africa side to cruise to their first ever World Cup victory over their opponents.
Get the Full Scorecard of the match HERE
For South Africa, the thing to ponder upon is are they too reliant on Hashim Amla and AB De Villiers, and who do they play at No.7,
The sooner they forget this the better for South Africa, while India will just want to carry that momentum forward.
That's it from me and IBTimes India. It's been a blast, and catch you soon.
4.27 pm: What a performance this from India again. The same recipe for success as the one against Pakistan. Win the toss, bat first, put up a big score, and then bowl and field like superstars. Dhawan is the man of the match and he says: "It was a very important century for me, more than that it was important that the partnerships have been going great for us, and that is what was pleasing.
"We lost an early wicket today, and then we just wanted to stay in the wicket. I was relaxed as I knew once I was set I could get the rate up again."
Dhawan also takes time out to support the MCG crowd, who, it goes without saying, were fabulous.
4.23 pm: Jadeja back, and Tahir is caught in front lbw, Match over. South Africa 177 all out in 40.2 overs, India win by 130 runs. A typical quick, straight ball from Jadeja and it is too good for Tahir, who cannot get his bat around in time. Easy decision for the umpire, and India are ecstatic after a second straight assured victory. The crowd, no need to say it, are going crazy at the MCG. A big party in Melbourne, India and all the other India-supporting countries tonight!
4.20 pm: Ashwin can't get the final wicket and South Africa survive for another over. South Africa 175/9 in 40 overs.
Get the Live Scorecard HERE
4.17 pm: Just waiting for the end here, as Parnell scores a few runs with a nice couple of shots. South Africa 170/9 in 39 overs.
4.10 pm: Morkel gone! South Africa now 161/9 in 37.2 overs, just a wicket away India from a massive victory. Ashwin bowls it nice and straight, Morne Morkel goes for a big heave, and misses and the ball duly crashed into the stumps. The stumps light up, but the lights have gone off South Africa completely.
4.06 pm: Just a matter of time now, and South Africa looking to delay the inevitable. Shami back into the attack, after a quiet Ashwin over. And the quickie takes a wicket off his second delivery as Steyn cuts straight to Dhawan at point. Almost there India. South Africa 158/8 in 36.2 overs.
4.00 pm: Suresh Raina now surprisingly. A quick no-nonsense over and South Africa manage to go an over without more drama. South Africa 156/7 in 35 overs.
3.55 pm: Philander given out and there is a review. Philander goes for a review after being given put lbw off a nice off-spinner from Ashwin. And the review shows no inside edge and the ball goes onto hit the top of middle. South Africa now reeling at 153/7 in 34 overs as the crowd goes bonkers.
Get the Live Scorecard HERE
3.54 pm: India have been ridiculous in the field and this time it is Umesh Yadav who fires in a bullet from the deep with Dhoni again doing the rest. Miller (22, 23b) falls shot by an inch, and that is all it takes. India almost there now, South Africa 153/6 in 33.4 overs.
3.52 pm: A really good shout from India here as Ashwin raps Parnell on the pads. Umpire's call it would have been and then there is a run out, Miller gone!
3.47 pm: Dhoni loves having five pure bowlers in his side doesn't he. Another attacking change, and he brings in Mohammad Shami. But it is the South African running that nearly produces a wicket, though, as Miller just makes it at the non-striker's after going for a quick two, and that too after the initial throw came in at the striker's end. Had Dhoni hit the stumps direct, Miller was a goner and so were South Africa. Tight enough over from Shami, South Africa 151/5 in 33 overs and it is drinks.
Get the Live Scorecard HERE
3.40 pm: Duminy out! Brilliant bowling from Ashwin. Put Duminy under pressure with two really good deliveries, and then he goes for an expansive reverse-sweep, but only manages to get a gloive to Suresh Raina in the slips. South Africa in big trouble at 147/5 in 31.3 overs.
3.37 pm: Mohit has been so impressive here, full tilt at every ball, and really good bowling at that. Five runs off the over, South Africa 147/4 in 31 overs.
3.32 pm: Miller looking good, even in this pressure cooker situation. Another sweep, this time behind square, gets him a boundary, with Ashwin just erring in line. That early four and four singles in the over. South Africa 142/4 in 30 overs.
3.28 pm: The duo who put on that record stand are now in together. Duminy and Miller need to pull a few more rabbits out of the hat here for South Africa, especially with Wayne Parnell and the rest of the bowlers to come after this. South Africa 134/4 in 29 overs.
Get the Live Scorecard HERE
3.22 pm: Du Plessis (55, 71b, 5x4) out! Spin twins session overand Mohit Sharma gets a wicket of the first ball. Du Plessis goes for a tennis forehand over mid-off, but mistimes it and hits it straight to Shikhar Dhawan. South Africa 133/4 in 28.1 overs, needing another 175.
3.21 pm: A decent over from Ashwin, only two off it. South Africa 133/3 in 28 overs.
3.18 pm: Miller sweeping to good effect. Pummels one to the midwicket boundary off Jadeja early in the over to release the pressure and then it is easy as ten runs comes off it. South Africa 131/3 in 27 overs.
Get the Live Scorecard HERE
3.15 pm: Close call for Di Plessis, as an Ashwin ball spins, takes his pad and lobs up. Dhoni completed the catch and India went for a big appeal, but it was only off the pad with umpire Richard Kettleborough unmoved. Du Plessis also gets to his 50 with a push to the onside, after David Miller had swept one for a three. Ashwin has still not quite found his zone here. South Africa 121/3 in 26 overs.
3.12 pm: Jadeja at his pressure creating best here. Just two off the over, South Africa 115/3 in 25 overs.
3.10 pm: Ashwin needs to step up now and increase the pressure. He was pretty impressive against Pakistan in doing just that, and he needs to do it again, just tighten that noose. Five singles in the over, South Africa 113/3 in 24 overs.
3.04 pm: All spin now as India look to tighten things up. And jackpot for India, De Villiers run out! Brilliant fielding for Mohit in the deep, throws a bullet from the offside boundary, and De Villiers, who is quicker than lightning, cannot make it in time to complete the second as Dhoni whips off the bails in a flash.
Hardly need say how big this wicket is for India. South Africa 108/3 in 23 overs.
3.02 pm: Ashwin finally comes in. Crucial spell this from the off-spinner as South Africa threaten to take the game by the scruff of the neck. A good couple of deliveries, and then the four comes as Du Plessis lifts one over the covers. Du Plessis is becoming the edging master here, as he edges one past short third for another four. South Africa 107/2 in 22 overs.
Get the Live Scorecard HERE
2.57 pm: That freedom factor iswithSouth Africa at the moment. De Villiers and Du Plessis both looking good here. India need a wicket, time for Ashwin maybe. South Africa 97/2 in 21 overs.
2.54 pm: De Villiers looking scary good now. A sweep goes like a bullet to the boundary, and South Africa are now motoring at 92/2 in 20 overs. The partnership is looking really good, as it crosses the half-century mark.
2.51 pm: Runs coming a touch easier now. Five runs off the Jadeja over, three singles and a two, and then Yadav bowls a bit better, even if he gives away a four off the last ball, albeit a luck one as Du Plessis top-edges one over Dhoni. South Africa 84/2 in 19 overs.
2.45 pm: South Africa getting a move on. Both batsmen have had enough time in the middle, and they are taking some chances now, not letting the India bowlers settle again. Du Plessis comes down the track to Yadav and pummels the ball straight back for a four, and then a top-edge earns him the same result. It is a good over, South Africa 74/2 in 17 overs.
2.39 pm: Jadeja gets another quick over in, just two runs off it, South Africa 63/2 in 16 overs, and it is drinks.
Get the Live Scorecard HERE
2.36 pm: The 15-over mark now for South Africa, at 61/2. AB De Villiers gets his first couple of boundaries of the day, Mohit bowls short and bang the ball goes past midwicket for a boundary, and then the ridiculously good right-hander steps out and slaps the ball through the covers. De Villiers getting in the mood, ominous for India.
2.31 pm: Fifty up for South Africa in the 14th over. Jadeja doing a good holding job, and also comes close to an lbw, with the ball just hitting Du Plessis outside the line. South Africa 52/2 in 14 overs.
2.28 pm: Can India get De Villiers early. The superstar is already looking quite comfortable, and the longer he stays, the more dangerous for the opponents. Singles now the order of the day, South Africa 49/2 in 13 overs.
Get the Live Scorecard HERE
2.24 pm: Ravindra Jadeja bowls for the first time. A neat one first up, four singles off it. South Africa 47/2 in 12 overs.
2.20 pm: It doesn't get any easier for India as the world's best batsman walks in. De Villiers takes a single first ball, and another one after that from Du Plessis. The MCG is rocking now after that Amla wicket. South Africa 43/2 in 11 overs.
2.16 pm: Amla (22, 28b, 2x4) gone, biggie! Mohit strikes as Amla pulls a good short delivery to Shami at fine-leg. A brilliant catch from the fast bowler, who runs back to pouch it calmly as the entire MCG held its breath. Pandemonium reigned, though, after the catch. Big, big wicket this for India. South Africa 40/2 in 10.2 overs. AB De Villiers now in.
2.13 pm: India already ruing that missed run out chance to dismiss Amla as the opener pulls Shami to the boundary to break the pressure. South Africa 38/1 in 10 overs. First Powerplay is now done.
2.08 pm: Mohitalso bowls a neat and tidy over, just two runs off it, and a run out, well, nearly. Miscommunication between the two batsmen, and a calamitous run out it should have been, but India miss the stumps, first Rahane, after some brilliant fielding, and then Raina, who should have hit the stumps from a couple of yards out. South Africa 30/1 in 9 overs.
2.03 pm: Shami bowling really well here. Another goof over, South Africa 28/1 in 8 overs.
Get the Live Scorecard HERE
1.59 pm: Mohit Sharma gets his first crack and starts well, even has time to throw the ball at his CSK teammate Faf Du Plessis. Nice over from Mohit, and should have had a wicket too as Amla edges one through Dhoni and wide slip. South Africa 26/1 in 7 overs.
1.54 pm: Amla a little lucky as a glove off a rising delivery from Shami falls away from the fielders behind square. Shami is bowling very well here, keeping it nice and simple outside off, with the odd surprise delivery with extra pace. The rhythm is there, and he needs to cash in with a couple more wickets (or so India will hope). South Africa 19/1 in 6 overs.
1.50 pm: Umesh Yadav working up some good pace, averaging at 145, and going near the 150 mark as well. A three off the first ball from Amla (India need his wicket!), just eases the pressure in the over. South Africa 17/1 in 5 overs.
Get the Live Scorecard HERE
1.46 pm: Shami bowling well again. Nice lines and lengths and waiting for the batsman to make the mistake. Du Plessis gets a couple of good outswingers after coming in. South Africa 12/1 in 4 overs.
1.42 pm: De Kock out! A delivery outside off and going away, De Kock only manages to lob the ball to Kohli in the covers. India strike first, and while it is not the one they want, they will certainly take it. South Africa 12/1 in 3.3 overs.
1.40 pm: India bowling well here, without troubling the batsmen too much. A two and a leg-bye, an uncomfortable one for De Kock as he got smashed on his hip, in the over. South Africa 12/0 in 3 overs.
1.36 pm: Good first over from Shami. Only three runs off it, South Africa 9/0 in 2 overs.
1.34 pm: Amla is the key here for South Africa. If he stays for a while and sets that platform, with the hitters that the Proteas have down the order, it will be game over. Shami and Umesh need to ensure they don't get too excited by the bounce and pace at thus MCG pitch, though. Patience and tight lines are the key.
1.31 pm: Hashim Amla gets off the mark first ball with a clip to the onside. Quinton De Kock, then gets a lucky four as he top-edges a short delivery from Umesh Yadav. Decent first over for South Africa 6/0 in 1 over.
1.26 pm: Welcome back. The players are out in the middle and it is second innings time. Umesh Yadav to start
12.59 pm: Another outstanding batting innings from India. It was eerily similar to the one against Pakistan too, with Dhawan this time the star of the show with a brilliant hundred. Kohli played well again, but it was Rahane who changed India's innings with a wonderful 79 off 60.
South Africa came back, like Pakistan did, in the final overs, as India managed just 80 runs in the last ten overs, pretty good considering the opponents had eight wickets in hand at that time.
Break now, be back in about 20 minutes.
12.57 pm: Innings over, India finish on 307/7 in 50 overs. Ashwin swinging and missing quite often now, as India's charge has its air taken off. Steyn bowls a really good final over, only runs off it, and that is thanks to a tonk from Mohammad Shami for four to square-leg.
12.52 pm: India go past 300. Ashwin the man who mistimes one over the leg side for three. Morkel bowls a good penultimate over, though, as Dhoni is dismissed! India 302/7 in 49 overs. A slow short ball from Morkel, Dhoni looks to paddle it along, but the height is just too much and he gets a little nick through to De Kock.
12.47 pm: Dhoni gets that boundary hitting groove going, though, with three straight boundaries – one to fine leg, another a club straight, and the third a help past short fine. India 297/6 in 48 overs.
12.41 pm: Jadeja run out! De Villiers again, hits direct as Jadeja falls short of the crease going for a quick single to mid-off. India really struggling for momentum here, it is déjà vu from their Pakistan game. India 284/6 in 47.2 overs.
12.39 pm: Tahir bowls his final over. Decent one, as Dhoni belts a few, but can't find the gaps. South Africa fighting back here, India 284/5 in 47 overs.
12.36 pm: Are India losing their way in the final five overs again? Steyn bowls a splendid first four balls, which goes for only one, but then Rahane connects a full delivery flush and it goes straight back over mid-off for six. Steyn comes back, though, and traps Rahane in front. Plumb lbw, gone. India 278/5 in 46 overs.
Get the Live Scorecard HERE
12.31 pm: Not sensible batting from Raina, as he looks to hit every ball for four, with over five overs remaining. Dhoni time maybe now? It's been a while since the skipper has found his zone. India 271 4 in 45 overs.
12.29 pm: Drop by substitute fielder Rilee Rossouw, as the ball flies to him at deep midwicket off a pull from Raina. Need to hand on to those, Morkel's not a happy man. Raina just trying to hit the ball too hard, his timing needs to come to the fore more. Morkel bowls it short again, and Raina goes as he finds Rossouw perfectly. India 269/4 in 44.5 overs.
Get the Live Scorecard HERE
12.26 pm: Raina comes in, not Dhoni. Raina smashes one for four first ball. India 266/3 in 44 overs.
12.23 pm: Parnell is completely losing it here. Has no rhythm, and bowls a no-ball to gift a free hit to Rahane. Only a single, though, and then Dhawan (137, 146b) goes as Parnell bowls a short one and the catch goes to Amla. India 261/3 in 43.4 overs.
12.16 pm: With Philander out of bowling contention, De Villiers continues to struggle to negotiate his bowlers. Tahir is back, he has two overs to go, including this one. Rahane plays a short, and then some, to loft one over long-on for six. Runs keep coming quick, India 254/2 in 43 overs.
12.13 pm: Parnell, who has been so expensive, comes in. Rahane cannot get him away for the first two deliveries and then he pulls Parnell for a massive six – huge boundaries here in Melbourne, but Rahane hits the ropes on the full. Dhawan, on 135, btw now has the highest score ever against South Africa in World Cup history, and he wants a few more too. India 245/2 in 42 overs.
12.09 pm: Dhawan going crazy here. At home away from home, Dhawan's found his groove, and how. A flick for a couple later, another flick sails over the fine-leg fielder for a huge six off Morkel. These are Steyn and Morkel that Dhawan and Rahane are smashing here, really good batting this. Dhawan just needs to make sure he does not carried away, and pick his balls to hit as he swings at a couple and misses after that six. Hundred partnership comes up, off just 83 balls and Rahane gets to his 50. India 237/2 in 41 overs.
Get the Live Scorecard HERE
12.04 pm: First six folks! And off Steyn too. A full ball and bang goes Dhawan over mid-on for a maximum. Then what does Dhawan do, Steyn drops it short and he just waits for the ball and glides it over the slips for a four. The last Batting Powerplay over goes for 13 runs. India 227/2 in 40 overs.
12 pm: All out pace now as Morkel is brought in, and the bowling has just been cranked up a bit. With the atmosphere perhaps making a difference as well as the ball is nipping through now. After a couple of snorters, Rahane decides he has had enough as he smacks (and he smacked that) it straight back for four. The faster it is coming from Morkel, the quicker it is going back, as Rahane then slaps one through the covers for another boundary. Just the two fours in that Morkel over, India 214/2 in 39 overs.
Get the Live Scorecard HERE
11.54 am: South Africa's two best bowlers in action. Steyn is back and he starts with a ripper, which beats Dhawan's bat outside off. Excellent over from Steyn, just what South Africa needed. Only two runs off it. India 206/2 in 38 overs.
11.49 am: Insearch of another wicket, De Villiers bring Tahir on. Even Tahir can't stop the India juggernaut at the moment, not with only three men out. Dhawan smacks him for four over short fine-leg, and there are plenty of singles in the over as well. India 204/2 in 37 overs.
11.45 am: No throwing away the wicket here, at least not early. Singles, and then a smash past mid-off and a flick past fine-leg from Rahane off Duminy in the first Batting Powerplay over, India cruising along 195/2 in 36 overs.
11.40 am: Rahane taking a liking to Parnell, hits him for another four, this time off a cut behind point. Rahane looks to take the single to get Dhawan on strike, but it just gets a little more prolonged. Plenty of unnecessary tension here, just because he is on 99. Rahane going along his merry way, racing to 28 from 23. Dhawan gets the final ball to get to his hundred and he gets it with a square-drive through the offside for four. Brilliant century from Dhawan in 122 balls, outstanding comeback to form. He does his trademark celebration as well, with both hands aloft. India 183/2 in 35 overs.
11.36 am: Dhawan gets all nervy on 99, goes for a single that was never there and nearly gets run out. Doesn't get it, as Duminy bowls well. India 172/2 in 34 overs.
11.32 am: Parnell returns after a sub-par first spell. Quite a few on leg stump in his first over, and then a short one gets the treatment from Rahane, who pulls it perfectly past midwicket for four. Rahane then gets lucky as an outside edge, which probably did not carry to De Kock, squirts past him and runs away for another four. India 170/2 in 33 overs.
11.24 am: Morkel bowls a good over, no loose balls this time around. Only three runs off it, India 156/2 in 32 overs. Drinks it is.
11.21 am: Sri Lanka have beaten Afghanistan by four wickets in Dunedin.
Get the Scorecard of Sri Lanka vs Afghanistan HERE
11.19 am: Rahane looking in good touch, hitting the middle of the bat right from the off. Three twos and a single and the score goes past 150. India 153/2 in 31 overs.
Get the Live Scorecard HERE
11.16 am: Five singles from the Tahir over, India 146/2 in 30 overs. Duminy now.
11.12 am: Ajinkya Rahane does well coming in, with a couple of singles. No problems in the Morkel over, India 141/2 in 29 overs.
11.08 am: Quite rest of the over from Tahir after the big Kohli wicket. India 138/2 in 28 overs.
Get the Live Scorecard HERE
11.01 am: Kohli out! Tahir strikes, even if his bowling had little to do with it. A short ball, Kohli goes for the pull over or just wide of midwicket, but finds Du Plessis smash-bang perfectly. Kohli (46, 60b, 3x4) is livid with himself, but has to go. Huge wicket this for South Africa, India 136/2 in 27.1 overs.
11.02 am: Kohli hits a beautiful on-drive for four off Steyn which only makes the big fast bowler madder and a couple of short ones follows, which the Indian does well to negotiate. Things getting just a touch heated up here. Kohli closing in on his half-century, four more to go. India 136/1 in 27 overs.
10.57 am: Tahir is back and he induces an outside edge off Dhawan. The ball flies past short third man and goes for a four, though, and he again gets Dhawan in trouble as he finds the outside edge again after the batsman came down the wicket. Dhawan itching to go big, but he needs to bat sensibly here. Plenty more overs to go. India 127/1 in 26 overs.
Get the Live Scorecard HERE
10.54 am: A quick single, which could have been run out, turns into a two and then Dhawan guides one past fine-leg for a four. Man he is looking good here. India get another overthrow as Du Plessis hits the stumps and India take a single off it, and Steyn goes berserk. Not a happy man. India 123/1 in 25 overs.
10.49 am: South Africa need a wicket and De Villiers brings Steyn back.
10.47 am: Really nice four from Dhawan, as he guides one over the keeper for four, and then bangs Parnell past mid-off for a crunching boundary. Dhawan in the mood, and the big, big crowd at the MCG is going nuts. Partnership goes over a hundred as well. India 114/1 in 24 overs.
10.43 am: Woah, someclouds coming up here. Could be some rain. Meanwhile, Duminy goes about his business even if Dhawan finally gets him away for a boundary, via a pull to backward square. India get their hundred in the over as well, 103/1 in 23 overs.
Get the Live Scorecard HERE
10.39 am: First free hit. Parnell oversteps, or at least Aleem Dar deems it even if it is never a no-ball. Kohli gives a catch to Miller at midwicket, and takes a two off a pull shot. Singles other than that free hit in the over, India 94/1 in 22 overs.
10.34 am: Duminy keeping it really tight here, and nearly pulls off a run out to send Dhawan packing. India 87/1 in 21 overs.
10.31 am: Dropped catch. Short and wide and Dhawan throws his bat at it. The ball goes to the right of Amla at very backward point/gully and the fielder grasses it. Huge life for Dhawan this, no more drama in the over. India 83/1 in 20 overs.
10.27 am: Duminy replaces Tahir. He might need to bowl a few, with Philander out injured. The off-spinner bowls a good over, just two runs off it. India 79/1 in 19 overs.
10.25 am: Parnell for the first time. The left-armer has been brought in to add a little extra bowling strength to the attack. The ball goes off the bat quicker, and in some speed too as he smashes, murders one past point for four to get to his half-century. India 77/1 in 18 overs.
10.19 am: Tahir is bowling well here, India not able to put him away. Singles in the first over after drinks, and then Quinton de Kock goes up for a big appeal for a bat-pad. Umpire gives it not out much to Dhawan's relief, and De Villiers decides not to go for the review. Replays show only contact with the pad there. India 70/1 in 17 overs.
10.14 am IST: Over in Dunedin, Sri Lanka are inching to victory courtesy a big partnership from the peerless Mahela Jayawaerdene and Angelo Mathews.
Get the Live Scorecard of Sri Lanka vs Afghanistan HERE
10.12 am IST: Apparently Vernon Philander has a tight hamstring and is therefore off the field, probably explains the spin control for South Africa so early in the innings. The short ball is catching Dhawan here. A snorter from Morkel hits Dhawan on the fingers, and then the batsman answers back with a ripper of a pull shot to square leg for four. Interesting stuff at the last delivery, as Morkel pulls away from his stride as he saw Dhawan make a move, then a tap down to fine leg nearly falls into the lap of the fielder. India 67/1 in 16 overs and it is drinks.
Get the Live Scorecard HERE
10.07 am IST: The 50 partnership comes up between Dhawan and Kohli, India nice and easy and 61/1 in 15 overs.
10.04 am IST: Dhawan and Kohli put on a big partnership against Pakistan. Are we seeing a repeat here? Both looking comfortable enough with Dhawan getting another four, this time with a on-drive through mid-on, India 56/1 in 14 overs.
9.59 am IST: Kohli flicks one for a boundary in the Morkel over, before singles and two become the order of the day. India slowly but surely setting that platform, 49/1 in 13 overs.
Get the Live Scorecard HERE
9.51 am IST: And immediately Imran Tahir comes. South Africa will want him to take a few wickets with his leg-spinner, but India usually do not show too much respect to the spinners. So it will be an interesting contest.
Immediately Kohli looks to score off Tahir, misses out with a sweep, then slaps one to long-off for a single. Only that single in the over, though. South Africa keeping it tight, India 37/1 in 11 overs.
Get the Live Scorecard HERE
9.47 am IST: Morne Morkel for the first time. Bowls three dots, and then Dhawan cuts him for a boundary. India 36/1 in 10 overs. The Powerplay is done.
9.42 am IST: First over of spin in this match as JP Duminy is brought in by De Villiers. India will certainly prefer him to Steyn, won't they. Singles taken without too much fuss, three of them. India 32/1 in 9 overs.
9.38 am IST: A nice drive through the covers gives Kohli his first four, and that cheer just keeps getting louder and louder as they shown Sachin Tendulkar, who gives a little wave as well, on the screen again. First World Cup for India without the little big man since 1992, don't forget.
Dhawan then gets another four through the offside, a nice shot off a delivery that just ahd enough width to throw his bat at. India 29/1 in 8 overs.
9.34 am IST: Steyn vs Kohli a sight to behold here. The pacer not giving anything away with those outswingers, but Kohli in no mood to edge it either. Dhawan finally gets a cover drive through the gap, and it is a third boundary. India 19/1 in 7 overs.
Sachin Tendulkar at the MCG, sitting along with Dave Richardson. a humongous cheer goes through the crowd as they show the batting legend on the big screen.
9.29 am IST: Kohli off the mark after eight deliveries. Dhawan the scorer here so far for India, and looking pretty decent. A few cover drives have come out, but he hasn't been able to pierce the gap often enough. India 14/1 in 6 overs.
9.24 am IST: A short delivery like only Steyn can, smashes into the elbow guard of his Sunrisers Hyderabad teammate Dhawan, and then another short delivery nearly gets a wicket as the left-hander mistimes a pull shot with the ball just dropping short of square-leg. India struggling here against some outstanding bowling from South Africa, 10/1 in 5 overs.
9.19 am IST: Kohli comes in, gets a few corkers outside off from Vernon Philander, but no harm done yet. Another maiden over, India 9/1 in 4 overs.
Get the Live Scorecard HERE
9.14 am IST: Steyn working up some pace here. Getting near the 150 mark now. Dhawan likes it coming on and he flays one to the backward point boundary with a gorgeous shot, but....
First wicket, Rohit gone, run out! Rohit takes off for a single from the non-striker's end after Dhawan's cover drive, hesitation, misunderstanding and Dhawan sends him back. Too late, not with this brilliant fielding South Africa side. AB De Villiers, who else, takes aim and hits the bulls eye with Rohit well short, despite a desperate dive.
The last thing India needed this. India 9/1 in 3 overs.
9.14 am IST: Steyn working up some pace here. Getting near the 150 mark now. Dhawan likes it coming on and he flays one to the backward point boundary with a gorgeous shot.
First wicket, Rohit gone, run out!
9.09 am IST: Good tight stuff from South Africa. India openers happy to take their time, and it is paramount they stay patient till that ball stops moving around and the pace just comes down a touch. Dhawan's turn to defend the first three deliveries, and then a flick through square leg gets India's their first runs and boundary. India 5/0 in 2 overs.
9.06 am IST: Dhoni had mentioned the importance of keeping wickets in hand, and a nice no-fuss first over with Rohit defending a couple and leaving a few after that as Steyn got that outswinger working. Right on the money from the world's best bowler, but Rohit does well too even if he was beaten off the last ball. India 0/0 in 1 over.
9.02 am IST: Really good ball first up, right on the mark and Rohit defends it well.
9.01 am IST: Steyn first up, Rohit to face andthat countdown begins.
9 am IST: Yup, it's that time finally. Shikhar Dhawan and Rohit Sharma are at the crease, with the South Africa pacers raring to go no doubt.
8.58 am IST: The crowd's pouring in, and it is all Indian supporters. Not as loud as the Adelaide supporters yet, but the Indian crowd belts out the National Anthem with great vigour and passion. That should get the juices flowing! No crying ala Brazil, though, so no worries.
8.54 am IST: Five minutes to go, the umpires have walked out and so have the players. Time for the National Anthems.
8.48 am IST: Shane Warne's pitch also being shown here. The Australia legend believes there is something in it for everyone, but eventually good for batting. The spinner that he is, Warne believes there will be something there for the tweakers as well.
8.47 am IST: Graeme Smith, the former Proteas skipper, is in the MCG crowd, with a whole bunch of South African supporters. Nice that.
8.45 am IST: There is another match going on, well into its second innings now. Sri Lanka in a bit of trouble at 51/4 in 12 overs, chasing 233 against "minnow" Afghanistan.
Get the Live Scorecard of Sri Lanka vs Afghanistan HERE
8.42 am IST: They have a Bing predictor now, does Star Sports (yay!) and Bing gives South Africa a 57 percent chance of a win. Ganguly is not too happy with that and insists it is a 50-50 game to start with.
8.38 am IST: The South Africa side: Quinton De Kock, Hashim Amla, Faf Du Plessis, AB De Villiers, David Miller, JP Duminy, Wayne Parnell, Vernon Philander, Dale Steyn, Morne Morkel, Imran Tahir. Parnell comes in for Farhaan Behardien.
8.34 am IST: South Africa's team confirmation soon.
Here is India's: Shikhar Dhawan, Rohit Sharma, Virat Kohli, Ajinkya Rahane, Suresh Raina, MS Dhoni, Ravindra Jadeja, R Ashwin, Mohammad Shami, Mohit Sharma, Umesh Yadav.
8.33 am IST: Dhoni says the same team to the one that played Pakistan. So three fast bowlers and two spinners. De Villiers says he would have also batted first.
8.31 am IST: The toss is here, with Mark Nicholas talking to the two captains. AB De Villiers says he is excited, and Dhoni is his usual close self. The India captain does say he is looking forward to playing in front of the big MCG crowd.
India win the toss and bat first!
8.28 am IST: Plenty of pace on the surface, going to be good for the fast bowlers, says Sourav Ganguly and Pommie Mbangwa. They feel the track will help South Africa more.
Ganguly does not see too much help for the spinners (oh c'mon now, India are the home team!), except maybe some bounce.
Win the toss and bat first concurs both the former players.
8.26 am IST: Swathes of blue coming in to the MCG, definitely going to be another home match for India!
8.25 am IST: Toss about five minutes away. How important is winning it today at the MCG, I wonder?
8.15 am IST: Welcome oh India, South Africa and cricket fans to the IBTimes India Live Blog for the India vs South Africa ICC Cricket World Cup 2015 match.
So much to look forward to in this Pool B encounter, with all signs pointing to the winner taking top spot in the group.
So, will it be AB De Villiers or Hashim Amla who takes the plaudits or will Virat Kohli or MS Dhoni trump them. The bowling superstars are obviously in South Africa's side with Morne Morkel, Vernon Philander and that man Dale Steyn, but can the India bowlers, who did so well against Pakistan do the business?
We'll find out soon (or well, in a few hours).