9.40: So that is all folks! No match to speak of and I wonder how many runs Rohit Sharma would have scored had there been those 20 overs to play for the right-hander. Either way, India now have three days to recuperate, plan and figure out a way to find their mojo, with the 1st ODI of the five-match series beginning on Sunday. South Africa will be happy, with momentum firmly on their side.
That is is from me and IBTimes India then, see you on Sunday.
9.30: And that is that. No play, no match, T20 series done. South Africa win it 2-0 after the final match at Eden Gardens is called off. Sad!
9.14: Remember the cutoff time is 10.15 if we are to get at least a five-overs-a-side game. And as I say that, here is Shaun Pollock.
8:55: BCCI confirms next inspection at 9:30pm
8:50: As of now, the umpires are not satisfied with the outfield, which is still not in great shape for the game to start. Hence, another inspection at 9:30pm IST. One wonders, if the game will even take place at Eden Gardens. Don't be surprised if the third T20 match of the series stands abandoned.
8:30: Umpires have come out in the middle to inspect the conditions.
8:15: You all must be bored waiting for the final T20 match of the series to kickstart, but till then, watch one of the greatest ODI innings played at Eden Gardens, where Rohit Sharma smashed an amazing 264 runs against Sri Lanka last year.
7:57: I know many of you going through my blog must be wondering -- no rain, but still no play. Yes, there has been no rain of late, but the outfield is still wet and the umpires are not going to take any risk and allow the game to take shape under such circumstances as the chances of fielders getting injured are high.
7:45: Sorry people. I am coming with all the bad news, but can't help it. The match and the toss have been delayed once again.
Another inspection at 8:30pm. The umpires, who strolled in the middle 15 minutes ago, were not happy with the conditions, hence the delay. The ground staff are putting their best feet forward to improve the outfield, which seems to be wet due to afternoon rain.
7:30: Ground inspection. Umpires walk onto the middle and supersoppers can be spotted in the background.
Fingers crossed for an early start, best possible start - 8pm. We will get you all the details soon regarding the current status of the third T20 at Eden Gardens.
7:10pm: The pitch inspection is 20 minutes away and if the umpires decide to start the game at 8pm IST, 20 over-a-side is possible. Let's wait till then.
6:55: Indian players are on the field, gearing up for the final T20, playing some football. The stands look quite empty, but expect the crowd to pour out in numbers when the game starts.
6:37: Virat Kohli and the entire team are quite hurt with their loss in the series, but he believes they need to learn from these games and be prepared for the T20 World Cup.
"As a team it hurts you because you are playing at home. We are more used to the conditions than South Africa are. But we have not played too many T20 games since the World Cup last year. We have a lot of T20 games now, going forward into the World T20. The key is to not be too hard on ourselves, and we just need to learn from these games. It is actually a blessing in disguise working out our combination before the big event," said Virat Kohli.
6:29: Frustrating times at Eden Gardens with India eager to win their first match of the series after losing the first and second T20, while South Africa are aiming for clean sweep. If the visitors register a win at Eden Gardens as well, imagine their level of confidence going into the upcoming ODI series, which starts on 11 October.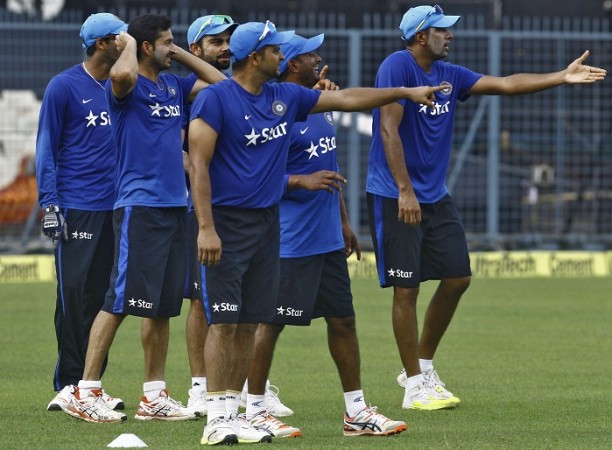 6:20: The ground is waterlogged as a result of which the toss has also been delayed. Ground inspection at 7:30pm.
6:10: However, cricket experts present in the studio namely Harsha Bhogle, VVS Laxman, Aakash Chopra and Shaun Pollock are talking about India's best combination for the 2016 T20 World Cup, which is scheduled in March in India.
6:05pm: Huge setback for cricket fans in India as the third T20 match will not start as schedule at 7pm. Umpires are expected to inspect the ground before taking any call. Though covers might be coming off gradually, the ground conditions are not looking too great.
5:55: As of now, there is no rain, but it looks absolutely dark and covers have not been removed. One hopes that the rain stays away and quality cricket is played between the two heavyweights of world cricket.
5:41: However, nice to see umpires in the middle, most probably, talking about the match conditions, though, we still have 1 hour and 20 minutes to start.
5:40: Sorry -- How sad to start off my blog with the word 'sorry' as covers are on at Eden Gardens. As expected, it has been raining since afternoon and at present, it may only be a slight drizzle, big enough reason for cricket fans in Kolkata to feel disappointed.
Hi, this is Ashim Sunam and I will bring you all the highs and lows from the third and final match of the T20 series between India and South Africa at Eden Gardens. The men in blue, who have been completely outclassed in the series, will be playing for pride as they are not used to losing at home.
The pitch at Eden Gardens is expected to assist batsmen and with stroke-makers such as AB de Villiers, JP Duminy, MS Dhoni and Rohit Sharma, cricket fans in Kolkata can expect a run feast, with India, hopefully, coming out on top.
We are just 90 minutes away from the first ball of the innings; till then, hang on to this blog, which will keep you updated with all the important happenings before the match, which starts at 7pm IST.