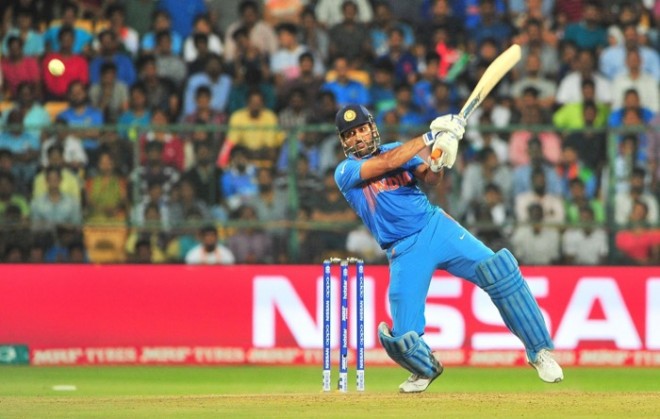 That is all from me ladies and gentlemen! Have a good night and see you soon.
To no one's surprise, Kohli has been adjudged as the man of the match for his match-winning knock. He has always been a big-match player and he proved his mettle yet again for his nation.
11:05: I could not imagine a better finish to this game in my wildest dreams. India are through to the semi-finals of the ICC World T20 2016 and will face West Indies at the Wankhede Stadium.
This has been an absolute spectacle from Virat Kohli. His 82 from 51 balls clearly took the game from Australia, who has been knocked out of the tournament.
Yuvraj Singh played a good hand in the middle. That partnership between Yuvi and Kohli was good under those circumstances.
Dhoni and Kohli finished things off in style. At the end, India won this game comfortably and comprehensively by 6 wickets.
ITS over! DHONI FINISHES IT OFF IN STYLE. India win by 6 wickets.
FOUR to end the over. Take a bow VIRAT KOHLI. India need 4 off the last over. India 157/4 in 19 overs.
DOT ball
Three in a row! KOHLI IS IN THE HOUSE!
FOUR MORE!
FOUR! KOHLI
Play and a miss. Dot ball.
19 runs from that Faulkner over. India need 20 off the last 2. India 141/4 in 18 overs.
Single off that.
TWO off that. Game on here. Kohli is in control here.
SIX! KOHLI IS HERE
FOUR more!
FOUR! Kohli lashes on to one
10:41: This is superb stuff from Watson. He has conceded just 5 runs from that over. Watson is giving in everything. He bowled fast and straight. India still need 39 runs from the last three overs. India 122/3 in 17 overs.
50 comes up for Virat Kohli!
10:35: Kohli has to be there right till the end. Dhoni-Kohli partnership has to take India home or else there is no other way. Kohli is playing a good innings here. This was that over which these two were eyeing. Good over for India as 12 runs came from that over. India 114/4 in 16 overs. 47 more needed off 24 balls.
10:31: Pressure is mounting on India now. The required run rate has crossed 11. Dhoni and Kohli has to do it for India now. There is now way out for India. They need nothing but boundaries. India 102/4 in 15 overs. 59 more needed.
Yuvraj is out! Watson has taken a brilliant catch out there. India 94/4 in 14 overs. 67 more needed from 36 balls.
10:25: Faulkner was brought back into the attack by Smith. Yuvraj has done fairly well here. These two out there are absolutely crucial for India. What a contest we have in our hands. India need a boundary or two in every over from now on. The run rate is on the climb. It has crossed the 10 run mark.
10:22: Yet another good over for India under the circumstances. Nine runs came from that. India now have picked up 21 from the last 2 overs. This is good stuff from these two batsmen at the crease. India 89/3 in 13 overs. 72 more needed.
SIX! Yuvraj is in the game. This is too good.
10:18: A good over from India's perspective. Maxwell is the man these two are targeting. 12 runs came from the Maxi over. Kohli is looking to put the foot on the accelerator here. India 80/3 in 12 overs. 82 needed.
SIX! Kohli into the act.
10:14: Adam Zampa was introduced into the attack. Yuvraj is struggling. If he cannot run he has to go for those boundaries. India need boundaries as they have dried up. Meanwhile, the leggie ahs bowled well in his first over. India 68/3 in 11 overs. 94 more needed.
10:10: Maxwell is into the attack now. India need to make a move on now. The required rate has gone up to almost 10 runs an over. Pressure on Kohli as he is not being able to play his natural game. India 66/3 in 10 overs. 96 more needed
10:05: Yuvraj is clearly struggling out there with that injury that he sustained in that over. He can hardly convert those one's into twos. This is not a good news for the Indian fans. Yuvraj is hobbling out there. May be he should let MS Dhoni to come in now and take a look at his ankle. India 59/3 in 9 overs. 103 more needed.
He seems to be ok now, back on his feet.
Yuvraj seems to have pulled a hamstring here. This is not good signs for India.
9:58: India are certainly in a spot of bother now. They have lost 3 wickets in quick succesions. Raina has been bounced out again. Brilliant from Shane Watson. He has conceded just 8 runs and picked up the wickets of Rohit and Raina. Can Yuvraj Singh make it count? India 50/3 in 8 overs. 112 more needed.
Raina has gloved the ball! The southpaw is gone. Watson has his second. India 49/3.
9:51: James Faulkner was introduced by Smith here. His four overs will be absolutely crucial in these circumstances. His change of pace will be the key in these conditions. Indian openers have not been able to assert their form. Raina finished that over with a boundary. A risky shot though. Good over for India. 8 from that. India 45/2 in 7 overs. 117 more needed.
9:48: What an over from Watson that was! 3 runs and the massive wicket of Rohit Sharma. Suresh Raina is out in the middle now. India need a partnership here and nothing else. Virat Kohli has to play a match-winning innings here. India 37/2 in 6 overs. 125 more needed.
Watson cleans up Rohit Sharma! Huge wicket for Australia. Rohit departs for 12. India 37/2.
9:41: Kohli is out in the middle now and he has immediately announced himself in this game after hitting two back-to-back boundaries in that over. 10 runs from that over of Hazlewood. This is good stuff from India. India 34/1 in 5 overs. 128 more needed.
FOUR more! This man can do no wrong.
FOUR! Kohli is here ladies and gentlement. Straying on to the pads.
Dhawan is gone for 13 from 12 balls. Coulter Nile strikes. Massive wicket for Australia. Skies one and Khawaja takes it safely. India 24/1 in 4 overs. 138 more needed.
FOUR! Rohit gets into the act now.
9:33: This is good batting from Rohit and Dhawan. The ball is not doing much so that means the bowlers cannot bowl wayward length. They have to be spot on with their line and length. Hazlewood has not bowled in bad areas but Dhawan has been really good so far. India 18/0 in 3 overs. 143 more needed.
SIX! Dhawan picks one up.
9:27: Coulter Nile has bowled a decent over here. He has to be tight with his line and legnth. Meanwhile, he has bowled a decent line in that over. India need to captitalise on these powerplay overs. Just 2 runs from that over. India 9/0 in 2 overs. 152 more needed.
Nathan Coulter Nile is sharing the new ball!
9:24: The ball is coming on to the bat really nicely. India have to keep a check on their nerve. A decent start for India. The openers have middled the bat so far and these are good signs for the home side. 7 runs came from the first over. India 7/0 in 1 over. 154 more needed.
FOUR! Dhawan smashes one down the covers. There you go.
Here is Hazlewood with the new ball and Rohit takes a single.
The run chase is about to begin. Here is Rohit and Dhawan.
India need 161 runs to win. The run chase will begin soon. Do not go anywhere lasies and gentlemen, we will be back with the live cricket score in some time.
9:03: Australia got off to a flier. They were going at 13 run per over. But the way MS Dhoni and co. pulled things back, it was incredible an effort.
The last 16 overs the Aussies could only score 107 runs. Pandya, Jadeja, Nehra, Yuvi and Bumrah were brilliant.
Ashwin was wayward and it was not expected from someone like him.
India now need to bat well to get those runs.
Last ball coming up, SIX to finish. Australia 160/6 in 20 overs.
Four! Nevill guides one down to fine leg.
Single and 150 comes up for Australia
Outside edge and four! Lucky Watson.
Swing and a miss! Dot ball, gold dust.
OUT! Faulkner is gone, Kohli takes a catch at long on. Faulkner goes for 10. Australia 145/6.
Three runs saved definitely by Rohit. Australia 145/5 in 19 overs.
one more to the total, this is good stuff from Bumrah
1 run down to long on
single down to mid wicket
single down to long on
Boundary to start with! faulkner it is.
8:49: Nehra has been superb against Australia. He is one of the Indian bowlers who has not gone for plenty of runs. This is incredible from the Indian bowlers. Just four runs from that over. Nehra finishes off with the figures of 20 for 1 in his four overs. Australia 136/5 in 18 overs.
Nehra is into his final over now! What a turn around this has been from India.
8:45: What an over this has been from Jasprit Bumrah! This is what he is known for. just three runs from that over and a big wicket of Glen Maxwell. Australia 132/5 in 17 overs.
Maxwell BOWLED! Bumrah does him. Maxwell gone for 31 from 28 balls. Australia 130/5
8:39: Australia have really struggled the moment the bowlers took the pace off the ball. Meanwhile Maxwell and Watson have not been able to cut lose when it came to other bowlers. However, a boundary and a six did come from that over but at this moment the Aussies will need more. A terrific switch hit from Maxi went for a six. Australia 129/4 in 16 overs.
Jadeja with the ball now.
8:34: This has been a beautiful spell from Hardik Pandya. Leaving Dhoni with plenty of options towards the end. Five more overs to go after this. Pandya has not bowled anything in good length area or full. He has bowled back of a length and the Aussies have not able to take him on. Australia 115/4 in 15 overs.
Four! Watson pounces on one short ball.
Pandya is into his 3rd over.
8:30: Dhoni has now sneaked in three overs from Yuvraj and he has plenty of ammunition left in his bank. Yuvi has bowled well, no doubt about that. Maxwell has not been able to cut lose here. Yuvi has not spun the ball at all. Australia 104/4 in 14 overs.
Pandya strikes! Finch is gone for 43 off 34 balls. Shikhar Dhawan takes the catch in the deep. Huge blow. Australia 100/4.
8:25: Pandya has bowled wonderfully in this match unlike the other matches so to say he has he has been economical. Meanwhile, Finch has moved into tghe 40's and Australia have also brought up their 100 in the 13th over.
8:22: Brilliant fielding from Raina. Saved a certain boundary. The fielding has been spot on from India in this game unlike the one against Bangladesh. The way Indian bowlers have pulled things up is orth mentioning. The boundaries have dried up. Australia 93/3 in 12 overs.
8:18: Australia were going at 13 runs per over during the powerplay and now India have pulled it back to under 8 runs an over. Pandya has bowled beautifully so far as the ball is keeping low. Just 4 runs from that Pandya over. Australia 85/3 in 11 overs.
Hardik Pandya has the ball now and beats Maxwell straight away.
8:13: Yuvi struck from his first ball of the tournament. A controversial decision so to say but that is just what India needed. A happening over from Yuvi in front home his home crowd. What a way to anouunce his presence in the match. This has been a brilliant turnaround from India. Australia 81/3 in 10 overs.
YUVI strikes! Steve Smith walking back for 2. Caught behind! Australia 74/3.
8:08: What an over from Jadeja that was. Just the kind of over MS Dhoni was looking for. This is really good stuff from India. Just one run came from that over. India need more of such overs. Australia 74/2 in 9 overs.
Ashwin strikes finally. David Warner is stumped by Dhoni! Australia 73/2 in 8 overs. Warner departs for 6.
India cannot let Finch and Warner take the game away from them. Ashwin has been awful tonight. His two overs have cost India more than 30 runs now. This is probably his one of the most expensive spell in T20 cricket.
Ashwin is back into the attack after his super expensive over.
8:01: That was a good over from Jadeja. This has been a good recovery so far from india. Just 5 runs came from that over and all in singles. Australia 64/1 in 7 overs.
Jadeja is into the attack now!
7:56: This has been a good comeback from India. The powerplay overs have comes to an end now and the field can spread. Bumrah just came back and bowled fast and straight. Another good over for India as just 4 came from it. Australia 59/1 in 6 overs.
7:52: Nehra is backing his ability out there. He has been an experienced campaigner. He just bowled his third over. Jeez India needed that breakthrough or else Khawaja and Finch would have taken this game away from India pretty easily. Nehra meanwhile has bowled a brilliant over under the circumstances. Just 2 runs and the huge wicket of Usman Khawaja. Australia 55/1 in 5 overs.
David Warner is out in the middle now.
GONE! Khawaja is out! What a catch from MS Dhoni behind the stumps. Nehra strikes. Khawaja departs for 26 from 15 balls.
O Lord! Luck is in Finch's pocket now. Chip and falls safely.
7:48: 50 came up for Australia in the fourth over. This is superb stuff from Finch and Khawaja. This is what they have missed throughout the tournament. What a start this is for the Aussies. 22 runs came from that Ashwin over. Australia 53/0 in 4 overs.
FOUR WIDES! This is poor from Ashwin.
SIX MORE!
SIX! First one of the night from Finch. Nothing is working for the Indians at the moment
Ravi Ashwin! Spin time
7:43: Another big over for the Aussies. They are off to a flying start now. India have a problem here. Khawaja has hit six boundaries so far. This is ridiculous stuff from the Indian bowlers. And they are going on bowling short at these two batsmen. 10 runs came from that over. Australia 31/0 in 3 overs.
Boundary again. Khawaja is running riot here. Sixth for him.
Finch frees his arms. Gets his first boundary. Australia are off to a flier now.
How close was that to that leg stump! Finch survives again. Good bowling from Nehra
7:38: Usman Khawaja is cashing in on these powerplay overs. A terrible start for Bumrah as he was hit for three boundaries in a row. Khawaja hit another one through the third man - making it four boundaries from that over. Huge over -17 runs came from it. Australia 21/0 in 2 overs.
Three in a row!
Another one through the mid on. Back-to-back boundaries.
And the very next ball Khwaja smashes one for a boundary. Bumrah on the back foot straight away.
Dear o dear! Almost a run out, but Finch made it.
7:33: Nehra made a wonderful comeback after being hit for a boundary off the first ball. Khawaja has tried to cut lose but got beaten four times in that first over. A decent start so far for India and Nehra proving his mettle. Australia 4/0 in 1 over.
Here is the first ball and Khawaja smashes one for a boundary!
Ashish Nehra will bowl the first over.
Usman Khawaja and Aaron Finch will open the batting for Australia.
Plenty of emotions involved! Are you ready ladies and gentlemen?
Here we are as the two teams set for the national anthems!
Are you ready guys for this epic battle? Let's see who prevails at the end.
Right, the game starts in another 20 minutes, do not even think about going anywhere guys!
India too have gone unchanged. Still no game for Harbhajan Singh. How many of you feel sad for the veteran.
Australia have gone with the same team as they played against Pakistan!
MS Dhoni says he would have loved to bat first as well but now we have a game on in hand.
The Toss! Australia have won the toss and they will bat first!
Whenever it is an India vs Australia clash - there is one man who always steps up whether he is in form or not - Yuvraj Singh! What will be his role tonight? Yes, we all are waiting in great anticipation.
A gladiatorial battle this is going to be, will spin be the x-factor? or will the batsmen rule the roost? We will have to wait and watch.
Pretty interseting banters we have witnessed in the past and Virat Kohli has been at the zenith of it everytime. Let's see what Chiku and his opponents have in store for us!
Right, here we are - the stage is set for an epic encounter. Just to let you know, Afghanistan have stunned West Indies by 6 runs in their last game of the ICC World T20 2016. The focus now shifts to the battle between India and Australia.
Hello and welcome to the live blog coverage and updates of the virtual knockout encounter between India and Australia.
This is Rajarshi Majumdar and I will be bringing you the live cricket score of the cracking clash between the two powerhouses of cricket.