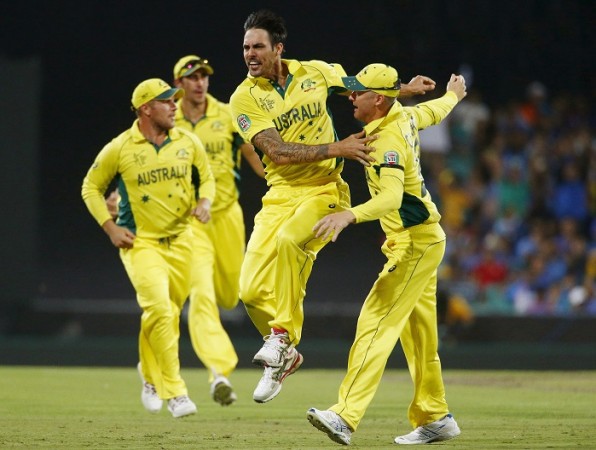 5.11 pm: Australia were just too damn good for India in the end. Steven Smith was the star of the show with the bat, playing another ridiculously good innings, before a final assault from Mitchell Johnson gave the home team the momentum back after India had fought back well.
It looked like India will make a chase of it with Dhawan and Rohit getting off to a good start, but the wicket of Dhawan in the 13th over changed the game with Kohli and Rohit falling quickly, while Raina could not make the kind of contribution expected of him in a chase. Rahane continues to struggle in one-day cricket, with his only good innings coming against South Africa. He was too dot ball heavy this time around and even for the great man Dhoni the chase was too much. Credit should go to Australia, who bowled tremendously well. India's and Dhoni's run of 11 World Cup wins in a row is done, but they will go back relatively satisfied, while also knowing they are not going to be the world champions anymore.
That will be one of Australia or New Zealand, fitting that one of the co-hosts will walk away with the title. The final is on Sunday, join me and IBTimes for the live coverage of the biggest game of them all. Until then, have a great time.
5.08 pm: "Really excited," says Clarke. "Smithy played a brilliant innings. I was really impressed by our bowler, to bowl so well under pressure. Also must thank the Indian team, I hear you asked if it was going to be his last World Cup, I don't think it is.
"The loss to New Zealand was a kick up our backside, and we have improved from there. I still don't think we have played our perfect game yet, but I think the final against New Zealand is going to be a really good one.
"Brendon's done a fantastic job, I think they are playing some fantastic cricket. India are always a great opposition, it is not going to be different in the final."
5.05 pm: "I think overall they played very good cricket," says Dhoni. "I thought over 300 was just over par, but overall we were quite happy with where we were, but we just fell short. We got off to a very good start, Shikhar's dismissal was on the softer side, he was scoring quite freely and he should have batted for a few more overs. There is pressure when you're chasing 320 runs, and pressure makes you do crazy things.
"There was too much to chase by the time I came, especially with the lower order. I'm not sure if this is my last World Cup. I'm 33. I'm still running, I'm still fit. The 2016 World T20, I will know if I can make it for the 2019 World Cup or not.
"I would like to thank the fans over here, both Australian and Indian cricket team fans. So, thanks to the Aussie fans and the Indian fans travelling from all over. A bit disappointing for them, but at the end only one team can win."
4.56 pm: Steven Smith is the man of the match as Aravinda De Silva gives away the honour to the Australian batsman. "It certainly feels fantastic,. We thought 330 was about par, we knew we had to field and bowl well and now bring on Melbourne.
"I was just happy we got over the line in the end. I'm just really happy where everything is at, at the moment and I'm just looking forward to Melbourne.
"I hope I can score another big hundred in the final. To play a World Cup final against New Zealand is going to be a heck of a game, and I can't wait."
4.52 pm: The Australia players go around the ground to thank the crowd. And much of the India supporters have left already. This was an absolutely brilliant performance from Australia and they thoroughly deserve all the applause they are getting.
Get the Live Scorecard of India vs Australia Semifinal HERE
4.49 pm: That is just rubbing salt into the wounds from Starc as a short ball hits Umesh under the chin. The player are concerned, especially Clarke, but Umesh guts it out. Wicket, Umesh gone! Australia win by 95 runs, India are out of the World Cup. Had to beStarc and in a predictable way as well as he bowls that yorker to perfection with Umesh, rattled by the bouncer already, able to do little. India all out for 233 in 46.5 overs.
4.45 pm: The hat-trick ball is a low full toss and Umesh just defends it. India 232/9 in 46 overs.
4.44 pm: On a hat-trick now Faulkner as Mohit goes. A simple ball across the right-hander and Mohit misses it and the ball crashes into the stumps. India 232/9 in 45.5 overs.
4.42 pm: Wicket, Ashwin gone! A cuter from Faulkner and Ashwin, looking to make room to do only he knows what, misses the ball and it hits the stumps. India 232/8 in 45.4 overs.
4.40 pm: The match was done when the top three fell early wasn't it. Dhoni tried, but with little help at the other end, he was always fighting a losing battle with the manner of the run out just symbolising how helpless he was. India 232/7 in 45 overs.
Get the Live Scorecard of India vs Australia Semifinal HERE
4.36 pm: Wicket, Dhoni (65, 65b, 3x4, 2x6) run out and it is done folks! Goes for the quick single to midwicket, but dead-eye Maxwell hits the one stump he can see with Dhoni well out of his crease. That's it for India, not that it wasn't done before. India 231/7 in 44.3 overs.
4.33 pm: Dhoni can't bang Johnson that easily and five runs are all that can be taken from the over, as proactive batting from India is conspicuous by its absence again. India 228/6 in 44 overs, 101 in 36.
4.30 pm: Dhoni gets his six hitting going with a couple off Watson. The first one is flayed over point and the second is straight back, but it has come a little bit too late. A single comes off the third ball and Ashwin plays and misses off the fourth ball. The fifth one is guided to third man for a single, before Dhoni takes one himself to keep he strike. India 223/6 in 43 overs, 106 in 42.
Get the Live Scorecard of India vs Australia Semifinal HERE
4.22 pm: Mitchell Johnson comes in and Dhoni and Jadeja take singles off the first four balls when they need over 14 runs an over. This is just plain ridiculous, it's almost as if India have given up, and as I say that, Jadeja is run out! Nonsensebattingthis from India, and yes, Dhoni as well. The skipper dabs the ball to short third and goes for a quick single, there is hesitation but Jadeja eventually runs to the striker's end and Smith, the unbelievable Smith, hits the stumps direct. The run out while going for a quick single came after India took four ones off the first four balls when they need 14-odd per over. Inexplicable this, India 208/6 in 42 overs, 121 from 48 balls (don't know why I'm even writing that anymore).
4.17 pm: This is just getting irritating now from an Indian fan's point of view and a neutral's as well. Surely there should be some intent at least by now, and as I say that, Dhoni gets a top edge going for a big shot, and Clarke goes haring for it but can't hang on. The next ball is helped to fine-leg for a single. Clarke got to it after a brilliant run, but the ball just popped out having done all the hard work. Jadeja then gets a boundary as he frees his arms to a wide delivery for a four past point. India 204/5 in 41 overs, 125 from 54.
4.13 pm: Am I missing something here? 137 needed from 11 overs, and the two batsmen are dropping and working it around for singles. Nothing from Dhoni and nothing from Jadeja either. India 196/5 in 40 overs, 133 needed off 10 overs.
4.08 pm: Seems all a bit pointless as singles and twos are taken with India needing over 12 an over. Maybe there is a method in the madness for Dhoni. A four comes to Jadeja off a flick to fine-leg. India 192/5 in 39 overs, 137 needed from 11 overs.
4.08 pm: Seems all a bit pointless as singles and twos are taken with India needing over 12 an over. Maybe there is a method in the madness for Dhoni, India 188/5 in 39 overs, 141 needed from 11 overs.
4.05 pm: Faulkner gets in another good over, just four off it, doesn't even feel like a Batting Powerplay this. India 183/5 in 38 overs, 146 needed from 12 overs.
Get the Live Scorecard of India vs Australia Semifinal HERE
4.02 pm: Just a matter of time now surely, as Jadeja comes in. This is beyond even the master Dhoni. India 179/5 in 37 overs.
3.57 pm: It is hit out or get out time for Rahane now as he plays and misses a Starc ball. Hang on, is there an edge, maybe, as Australia review it. There is a slight heartbeat on the snicko, and it is a wicket, Rahane gone! India 178/5 in 36.2 overs.
3.54 pm: Batting Powerplay time. Faulkner comes in armed with his array of slower deliveries and it is too good for Rahane. Dhoni gets the first boundary of the Powerplay with a guide through backward point for a four. India 177/4 in 36 overs, 152 needed in 14.
Get the Live Scorecard of India vs Australia Semifinal HERE
3.49 pm: Looks like Dhoni has decided to stay until the end while Rahane goes. The problem is Rahane just does not look in the kinda touch he was against South Africa. It is a good over from Mitchell Johnson, India 170/4 in 35 overs, 159 needed from 15.
3.44 pm: Rahane finally gets a little proactive and whacks the ball straight back for a four. Goes back to dot ball mode after that, however, for the next two, even if it is not for the lack of trying. Gets a two to third man in the fourth ball from Watson and then a short ball is pulled nearly to Hazlewood at fine-leg with the ball falling short. India 165/4 in 34 overs, 164 needed.
3.38 pm: Mitchell Johnson returns and there is a slip in. Rahane nearly falls to that slip as well, as he gets the outside edge off a wide and full delivery, the ball flies just past the right of Clarke and goes for four, Rahane's first in his 55th delivery. When is that trigger coming, because this is slowing getting to the impossible realm? Batting Powerplay is probably the answer, India 157/4 in 33 overs, another 172 needed in 17 overs at just over 10 an over. And it is drinks.
3.33 pm: Rahane needs to find a way to stop getting stuck, because all he is doing is piling the pressure on his skipper. He's not getting the boundary, nor is he taking the single often enough. Four dot balls off Watson (not Mitchell Johnson or Starc) and he can just take a single off the fifth with an uppish pull shot. India 150/4 in 32 overs, 179 needed.
Get the Live Scorecard of India vs Australia Semifinal HERE
3.29 pm: Hazlewood bowls it up and Dhoni spanks the ball straight back for a four. Picking and choosing the deliveries is the skipper as he takes a single next ball. Rahane, though, continues to struggle to rotate the strike. Always seems to need three or four balls for the two runs and in this situation that just will not do. Dhoni gets a four off the last ball as well, via a thickish outside edge over the slips off a short and wide delivery. India 148/4 in 31 overs, 181 needed.
3.24 pm: Shane Watson into the attack now. When will Dhoni go, or will it be Rahane as the skipper looks to stay until the end? Rahane has struggled to rotate the strike often enough again and he might be better off just going for it, because at nearly nine-and-a-half an over, the required run rate is nearly getting to the impossible mark. India 138/4 in 30 overs, another 191 needed.
3.20 pm: Hazlewood is back and he nearly gets a wicket as Dhoni throws his hands at a wide delivery outside off with the ball falling short of third man. India 133/4 in 29 overs, required run rate well over 9 now.
3.16 pm: All on Dhoni and Raina to at least put up a fight. Happy to take the singles and twos are the duo for the moment as Maxwell gets another over in. India 130/4 in 28 overs.
Get the Live Scorecard of India vs Australia Semifinal HERE
3.14 pm: Faulkner continues and he continued well enough. Rahane takes a single and then Dhoni nearly pulls a ball straight to Warner, but the ball just drops short. Just the four runs taken from the over, India 125/4 in 27 overs, need another 204 runs in 23 overs.
3.10 pm: Singles are coming easily enough, but with the required run rate at over eight and a half, it is not enough is it. Maxwell gives away six singles, India 121/4 in 26 overs.
3.07 pm: Faulkner now with his tail up bowls a nice tight over, India 115/4 in 25 overs, need another 213 in 25 overs at nearly nine an over.
3.04 pm: Dhoni in, but this seems beyond even Dhoni's realm of possibility. The noose is tightening on India and it looks like a matter of when really. Maxwell gets another quick over in, India 110/4 in 24 overs.
Get the Live Scorecard of India vs Australia Semifinal HERE
3 pm: Faulkner, who had a nightmare two overs, is brought back and his first four balls goes for only two singles, before Raina picks one up over midwicket for a boundary. After that, an edge and wicket, Raina gone! Poor shot from Raina, had the four and then he tries to play a dab down to third man, gets the edge off the extra bounce from Faulkner and Haddin takes a nice catch. India nearly out of it, 108/4 in 23 overs.
2.56 pm: Maxwell gets another quick, very-little-runs-scored over in. India 102/3 in 22 overs.
2.53 pm: Starc getting the ball tailing into the left-hander. He swings it in to the right hander with the new ball and out a little later. Just squeezing the game are Australia here, and India have little choice but to take their time, even if, chasing 329, time is not in their favour. Plenty of short and full deliveries from Starc, a couple of those short ones are called wide too. India 98/3 in 21 overs.
2.48 pm: Thought Clarke would give Johnson another over, especially with Raina in the middle. Instead, it is Glenn Maxwell with his off-spinners. India can't really attack him can they? Not at this stage. India 95/3 in 20 overs. Another 234 runs needed in 30 overs with seven wickets in hand. Getting close to the impossible here.
Get the Live Scorecard of India vs Australia Semifinal HERE
2.45 pm: Going for the jugular now Australia as Clarke brings Starc in. A fiery few deliveries at Rahane, and then the right-hander drives straight for a two. A single to finish off the over, India 94/3 in 19 overs.
2.39 pm: Rohit and Rahane looking to settle things down and quell the Aussie momentum. Three singles from four balls and as I write that, Rohit smashes, and he smashes, a short ball to the midwicket boundary for a six. Outstanding shot from Rohit and then, Rohit (34, 48b, 1x4, 2x6) is bowled, wicket! What a way to answer back after being thumped for a six. A cross seam delivery that just comes in a touch, Rohit gets the inside-edge and the ball smashes into middle stump. The top three, one of whom absolutely needed to make a hundred for the chase to go close, are out. India 91/3 in 18 overs.
2.34 pm: How good has Hazlewood been. Another testing over, with absolutely no bad balls. The innings has slowed down considerably as they go for the rebuild. India 82/2 in 17 overs.
Get the Live Scorecard of India vs Australia Semifinal HERE
2.31 pm: Rahane in and Mitchell Johnson greets him with a short ball to the body. Rahane plays it well, though, and takes a single. Australia have fought back and are on top of India since Dhawan's dismissal. India 80/2 in 16 overs.
2.27 pm: Rohit defends the opening ball back at Johnson and he gets a star down in return.
Wicket, Kohli gone! Silence around the ground and no doubt in most Indian houses. A short ball outside off from Johnson, Kohli goes for the pull shot, gets a top edge and Haddin takes a simple catch. The chaser extraordinaire's underwhelming performances since the Pakistan match continues. India 78/2 in 15.3 overs.
2.23 pm: Hazlewood is bowling really well here. Just short of a good length outside off, and he has Kohli playing and missing. Outside off early is the best line for Kohli. Couple of drives for Kohli, but he hasn't been able to pierce the gap on the offside. Hazlewood has been the main man here, another really good over. India 77/1 in 15 overs.
2.19 pm: Johnson to Kohli, should be a good contest. Another wicket and Australia will feel they are on top, especially that of chasemaster Kohli. Kohli is in so Anushka Sharma has to be shown and a big cheer goes across the ground as well. Watchful from Kohli, five dot balls and then a single to get off the mark. India 77/1 in 14 overs.
Get the Live Scorecard of India vs Australia Semifinal HERE
2.13 pm: Hazlewood comes back, and expectedly he is right on the money. A short ball which is pulled just over midwicket gives Rohit a two and that is followed by a single to third man.
Wicket, Dhawan gone! Dhawan looks to take charge against Hazlewood, comes down the track and hits it well to the offside boundary. But Glenn Maxwell is there at sweeper cover and he takes a simple catch. Wicket thrown away, India 76/1 in 13 overs.
2.09 pm: Faulkner went for 16 in his first over, he goes for a four, wide and a four at the beginning of his second over. Two gorgeous straight drives from Dhawan getting the boundaries. India 73/0 in 12 overs.
2.05 pm: Dhawan either walking down the pitch or moving across to take the ball legside. Does the latter and takes a couple. India 60/0 in 11 overs.
Get the Live Scorecard of India vs Australia Semifinal HERE
2 pm: Faulkner's first ball is a no-ball and so Rohit gets a free hit. Goes for the slog to the legside, only gets an inside edge to fine-leg. Dhawan walks down the pitch to Faulkner and the bowler gives him a short delivery. Doesn't deter Dhawan, though, and he comes down again and cover drives perfectly for a boundary. Another drive past the right of mid-off and it is another four. Dhawan is flowing now, as he moves legside and slams the ball over square-leg for a massive six. India 55/0 in 10 overs. Powerplay over.
1.55 pm: Johnson around the wicket to Dhawan, looking to cramp him up/go across him with shortish deliveries. Dhawan stays legside of the ball and takes a couple, before hitting one better for a glorious back-foot push boundary. Johnson comes back over the wicket after that four and spears a couple full and in. India 39/0 in 9 overs.
1.51 pm: Dhawan moving across his stumps ala Smith, just looking to get Hazlewood, who keeps hitting the right spot time and again, to try something different. Another solid over, India 33/0 in 8 overs.
Get the Live Scorecard of India vs Australia Semifinal HERE
1.47 pm: Mitchell Johnson now. Dot ball off a full delivery is followed by a shirt ball, which Rohit throws everything into and the ball sails over fine-leg and into the crowd. Mitchell Johnson bowls full and outside off next two balls, and Rohit, with six off the over already, is happy to let them both go. More on the stumps next, and it hits the splice of the bat as he goes for a straight drive. Another dot ball to finish, India 30/0 in 7 overs.
1.43 pm: A bit of heat coming into this semifinal now. Dhawan goes for a quick single to the striker's end, the ball is dropped near the pitch by Rohit. Hazlewood goes for the ball to try and get a run out, and clashes into Dhawan on the way. There is a bit of a stare down, smiling from Dhawan, not so much from Hazlewood. Nothing in it at all, but the game is just heating up a little. Good solid over from Hazlewood, India 24/0 in 6 overs.
1.39 pm: India need to take their time a little more here, and Rohit gets a three off Starc with a flick to the onside. It was uppish but in between midwicket and mid-on, and the ball doesn't have enough legs to carry through to the ropes. Starc gets Dhawan on strike and bowls a short ball first up, following that up with an in-swinging yorker, which hits him on the pads. Big appeal, but Dharmasena shakes his head, and Australia do not go for the review, with the ball tailing away and missing leg stump. India 20/0 in 5 overs.
Get the Live Scorecard of India vs Australia Semifinal HERE
1.34 pm: First boundary for Dhawan, after Rohit takes a quick single second ball. Hazlewood drops the ball short to the left-hander and he lays into the pull for a boundary to midwicket. After that, dropped! Dhawan comes down the track and goes for the booming drive on the up, only gets the edge and Brad Haddin drops the catch diving to his left. Should have left it for Watson at first slip. India living dangerously, 15/0 in 4 overs.
1.30 pm: Dhawan faces Starc for the first time, and he nearly inside-edges one onto his stumps going for a push outside off. Too early in the innings against such a quality bowler to do that. Gets a leg-bye to get off strike, with Rohit then only managing a single as Starc misses the mark with a wide full toss. India 9/0 in 3 overs.
1.25 pm: Dhawan finds the middle of the bat first ball with a back-foot punch, which Warner does brilliantly to stop a boundary. Gets a single, though, and gets off the mark. Josh Hazlewood keeps it nice and steady outside off to Rohit, and then he gets a little lucky again as a short ball gets him on the glove and loops just above Haddin for a two. Rohit living dangerously here, he needs to calm himself down. India 7/0 in 2 overs.
Get the Live Scorecard of India vs Australia Semifinal HERE
1.21 pm: Rohit gets bat on ball for the first time third ball, and it goes to the offside. Is that an edge, or is it out? Rohit could be gone here, as he gets an edge through to the slips off a full delivery from Starc. Dharmasena talks with Kettleborough and goes to the third umpire. Rohit definitely gets an edge, but the ball does not carry through to Watson, who takes it just as the ball bounces. A near, near miss for Rohit. Brilliant over from Starc ruined a little by a wonderful square-drive from Rohit, who bats that chance away and gets off the mark with a boundary. India 4/0 in 1 over.
1.17 pm: The Australia innings started with a play and a miss and so does the second, as Rohit fails to make contact with a delivery outside off from Starc. He lets go of the second ball.
1.15 pm: Dhawan and Rohit are at the crease, play about to start, Starc to start.
Get the Live Scorecard of India vs Australia Semifinal HERE
1.10 pm: The chase will begin soon, all on the openers – Shikhar Dhawan and Rohit Sharma – to give India a good start, while Australia will bank on a few quick poles from Starc.
12.51 pm: A great comeback from India. Australia looked on course for a minimum 350, nearer 400, when Smith was on song alongside Finch. However, Smith's wicket brought them back a little and then sending Maxwell back early helped. Australia did pretty well despite losing wickets, scoring 57 runs in the final 5 overs, with Johnson playing a gem. This innings was all about Smith, who looks from another planet, though, and had India not dismissed him in the 35th over, this match would have gone out of their hands.
But, having said that 328 is a big total, and India will need to become the first ever team to chase down a score of over 300, let alone near 330 in a World Cup semifinal. The batsmen have a difficult job on their hands, especially with Mitchell Starc and Mitchell Johnson fired up for Australia.
Back in 25 minutes.
Get the Live Scorecard of India vs Australia Semifinal HERE
12.48 pm: "It was a handy little cameo from Johnson," says Smith. "If you get 328 at the start of the innings, you take that. The pitch was a little tucky earlier on, but it got better as it went on, it was a pretty good wicket. Hopefully the boys can back it up in the field now and we can join New Zealand in the final."
12.44 pm: A couple of slower balls from Mohit and a couple and a single are taken as Johnson cannot get the pace to carve it away. Haddin gets on strike and he should have been gone as Kohli drops a sitter at midwicket. Johnsonrubs salt into the wounds with a four over mid-off to take Australia past 320. He is playing a special little innings here as he slaps a slow ball for a flat six over cow corner to take Australia near 330. The last ball of the innings goes for a single. The first innings is over and Australia finish on 328/7 in 50 overs.
12.38 pm: Dot ball from Shami as Haddin fails to hit a wide and full delivery over covers. Looks to clear mid-off second ball, but Haddin hits it straight to Kohli with the batsmen scampering for a single to bring the 300 up. Mitchell Johnson gets a length ball from Shami and he slaps it to cow corner for a four. Shami needs to pitch it up more, because length will be taken to the cleaners by Johnson. Dhoni takes a fielder off offside and brings him to the onside, so Johnson goes over the covers with Yadav unable to stop the ball from trickling to the ropes. Two consecutive fours and the pressure is right back on Shami, who cannot keep bowling length. Everything going for Johnson here. Shami bowls it short and Johnson top-edges it over Dhawan at short third for a four. Big over for Australia 313/7 in 49 overs.
Get the Live Scorecard of India vs Australia Semifinal HERE
12.30 pm: Mohit to bowls the 48th and 50th overs here. Watson starts off with a crisp four through the offside for four. A slower ball completely deceives Watson, but his pull shot, played way too early, just goes away from Rahane at square leg and two runs are taken. Mohit does the cardinal sin and bowls it short, Watson is waiting for it and he slaps it to cow corner for a four. Ten off the first three balls and Mohit is under pressure. Bowls it full and this time Watson can't get away past short third. Wicket, Watson gone! The slower balldoes thetrick for Mohit, Watson goes for the heave to the legside, doesn't time it well enough and Rahane is there again to safely pouch the catch. Australia 298/7 in 47.5 overs. Haddin takes a single off the last ball to keep the strike, Australia 299/7 in 48 overs.
12.25 pm: An in-swinging yorker to Haddin and then another ball that tails in makes it two dot balls. Haddin just powers the final ball, somehow, past mid-on, though, for a four. Australia 288/6 in 47 overs.
Get the Live Scorecard of India vs Australia Semifinal HERE
12.21 pm: Umesh gets away with a short ball first up as Watson smashes the ball straight to midwicket. Goes fuller to Faulkner, and he finds his favourite area -- the gap between midwicket and long-on – for another four.
Wicket, Faulkner gone! The dangerous Faulkner is sent back by Umesh, who bowls it full and straight. Faulkner goes for the big heave to the legside again, misses the ball and the stumps are rattled. Australia 284/6 in 46.3 overs.
12.18 am: Jadeja into his final over, and Faulkner gets the slog-sweep out for a six to cow corner. Big opening to the over, and Jadeja and Dhoni are on the back foot after that. Watson then goes for a big slog as well, but can't make the proper contact. Bowls it wide and well does Jadeja after that, Australia 279/5 in 46 overs.
12.13 pm: Watson is looking to cut loose now, after Faulkner takes a single, Watson makes room by shifting to the legside and carves the ball over the covers. Doesn't get all of it and Australia run three, before Faulkner gets going with a top-edge four over Dhoni while going for a pull shot. Shami digs it short again and this time Faulkner gets it well enough to bisect square leg and fine leg for a second consecutive four. Shami needs to bowl it full, go for the yorker, and he does that with Faulkner only managing a single. Not rocket science, but Shami, who has got a really good yorker in his armoury, refuses to delve into that weapon often enough for some reason. Bowls a yorker again and Watson can do nothing, Australia 271/5 in 45 overs.
Get the Live Scorecard of India vs Australia Semifinal HERE
12.08 pm: Ashwin now in his last over, nice and steady to Watson, three dots to begin with and then a two to the legside, before Watson slog sweeps one for a six. Ashwin finished with excellent figures of 10-0-42-1. Australia 258/5 in 44 overs.
12.05 pm: James Faulkner comes in ahead of Brad Haddin, watchful first few balls, another good over, Australia 250/5 in 43 overs.
12 pm: Wicket, Clarke (10, 12b, 1x4) gone! A shortish ball from Mohit and Clarke looks to play that over midwicket, but can only find Rohit in the infield. Australia 248/5 in 42.1 overs.
11.58 am: Excellent shot from Clarke to open the Jadeja over. Just picks the ball on the pads and guides it past midwicket for a boundary. Three singles after that, Australia 248/4 in 42 overs.
Get the Live Scorecard of India vs Australia Semifinal HERE
11.55 am: Shami replaces Umesh, another wicket Dhoni will be hoping for from his main fast bowler, who hasn't picked up a wicket yet in this match. Outside off to Watson and a single is taken as Jadeja makes a diving stop. Greets Clarke with a really good short delivery, which goes to Dhoni at head level. A single to third man follows, and then Shami bowls another short one, this time to Watson, who would have had flashes of that Wahab spell coming back to him. Australia 241/4 in 41 overs.
11.50 am: Jadeja into the attack, and he needs to bowl well here. Singles on offer and Clarke and Watson take them, Australia 239/4 in 40 overs.
11.46 am: Now that is more like the India bowling we have seen at this World Cup. The heads were dropping and then Smith went, the heads were beginning to drop before Maxwell went and then Finch went to five India further hope. Shane Watson and Michael Clarke at the crease now and they need to settle things down, Australia 235/4 in 39 overs.
Get the Live Scorecard of India vs Australia Semifinal HERE
11.42 am: Wicket, Finch (81, 116b, 7x4, 1x6) gone! The short ball does the trick this time. A pacy delivery from Umesh, Finch goes for the pull shot, gets it high on the bat and Dhawan takes a nice catch on the jump at midwicket. Australia 233/4 in 38.2 overs.
11.41 am: What a huge wicket that is for India, because if Maxwell had faced around 50 balls, the semifinal would have been over as a contest. Ashwin answers Dhoni's call, Australia 233/3 in 38 overs. Batting Powerplay over.
11.39 am: Ashwin to Maxwell. Wicket, Maxwell (23, 14b, 3x4, 1x6) gone! Ashwin does not have a great record against him, but he gets his man this time. Bowls it nice and loopy first, which Maxwell defends with a smile. Onto the pads next ball and Maxwell looks to help it along but can only find Rahane in the deep. Australia 232/3 in 37.3 overs.
11.36 am: Umesh keeps bowling it down the legside, Maxwell hits it for a four and then a length ball from the fast bowler goes for a massive six to midwicket. Maxwell show has begun folks as a four is taken a couple of balls later straight back at Umesh and over him for a boundary. Australia 231/2 in 37 overs.
11.30 am: Short ball from Shami to start and Maxwell goes for the big shot, but only manages an edge which runs down to third man for a couple. Takes a single second ball and then Shami comes around the wicket to Finch, predictable bowls onto his pads which is helped on for a four. Ten runs off the over, Australia 216/2 in 36 overs.
11.25 am: Big wicket from Umesh, but he follows that up with two wides to ease the pressure a little bit. Maxwell gets off the mark with a flick behind square for a four. Not a great sign that for India. Yadav has lost his line, bowling down the leg time and again and with it also comes the third wide of the over. Poor from Umesh, even if he took Smith's wicket. Australia 206/2 in 35 overs.
Get the Live Scorecard of India vs Australia Semifinal HERE
11.18 am: Wicket, Smith (105, 93b, 11x4, 2x6) gone! A short of a length delivery from Umesh and Smith goes for the slog to the legside, doesn't get it well, and Rohit takes a good low catch in the boundary. humongous wicket for India, but Maxwell will now be ready to hit a few out of the park; the work is far from done. Australia 197/2 in 34.1 overs, and it is drinks.
11.15 am: Finch takes off at the other end as well as he slaps a ball through the offside for a six, Smith then takes over, with a pummel straight back for a four after picking up the short ball. Many people forget Smith is a ridiculous T20 batsman, and he is showing it now here. Dhoni looks a little shocked, wondering what to do, as Finch ramps Mohit for a four last ball. Australia 197/1 in 34 overs.
11.11 am: Smith continuing to look unstoppable as the Batting Powerplay is taken. Takes a four to the fine-leg boundary off Shami and them slogs one over cow corner for a six. Smith gets a stunning hundred with a shovel past short-fine for a boundary. Australia are motoring now, and India are going to chase a big, big total here. Australia 181/1 in 33 overs.
Get the Live Scorecard of India vs Australia Semifinal HERE
11.05 am: Dhoni keeps bowling Ashwin in the hope of a wicket, but a wicket comes not. India are also making mistakes in the field as Rohit lets a ball go and concedes two runs when there was none. Australia 167/1 in 32 overs.
11.02 am: A gorgeous straight drives from, who else, Smith opens up Mohit's over and from there it is all about the singles. A big appeal is made as Mohit hits the pads of Finch, Kettleborough gives it not out and with no review left, all India can do is move on. Australia 161/1 in 31 overs.
Get the Live Scorecard of India vs Australia Semifinal HERE
10.58 am: Ashwin bowls a tidy over, gives away just two runs, Australia 155/1 in 30 overs.
10.55 am: Mohit Sharma is brought back in and the seam bowler nearly gets the outside edge of Smith first ball. No edge, though, and Smith carries on his merry way, with singles and twos coming easily enough. Australia 153/1 in 29 overs.
10.51 am: Finch is trying to take Ashwin on with Smith smashing Jadeja at the other end. Goes for the big heave on a couple of occasions but doesn't get it as well as he would have liked, four off the over, Australia 147/1 in 28 overs.
Get the Live Scorecard of India vs Australia Semifinal HERE
10.48 am: Finch gets to his half-century off 82 balls with a drive to the offside for a single. It's been a battle for the opener, but he has hung in there, no doubt helped by Smith's prowess at the other end. Smith taking Jadeja on, dances down the track and helps the ball over midwicket for a delightful four. Australia 143/1 in 27 overs.
10.44 am: Nearly run out is Finch as Smith's straight drive is diverted onto the stumps by Ashwin. Finch gets back in time, though, and Australia are alright. Australia 135/1 in 26 overs.
10.42 am: Another big appeal for a bat/pad catch off Jadeja, but the ball hits only Finch's pads and it is given not out. Smith then lays into Jadeja with a pull/slog to the midwicket boundary for a six. Australia cruising and laying the perfect platform, 132/1 in 25 overs.
Get the Live Scorecard of India vs Australia Semifinal HERE
10.39 am: Runs flowing pretty easily here for Australia, even with the spinners. Australia 124/1 in 24 overs.
10.35 am: A big appeal as Jadeja raps Finch's pads, and Kettleborough gives it not out. India go for the review. Jadeja is convinced it is out, Dhoni not so much, but he goes for it eventually. No bat involved, and the only doubt is if it pitched outside off stump. It is umpire's call on impact and the decision stays with the umpire. India have lost their only review. Australia 118/1 in 23 overs
10.31 am: Two dot balls to start with, and then a short ball gets the treatment as Finch bypasses the fielders behind point for a four. Takes a two after that to the legside, and Finch now looks quite comfortable at the crease as well. Seven runs off the over, Australia 114/1 in 22 overs.
10.29 am: Good solid over from Jadeja, more like him, two off it, Australia 107/1 in 21 overs.
10.26 am: Ashwin not getting much turn here, but he is right on target as Finch nearly gets himself out going for a big shot, getting beaten by a bit of turn. Ashwin gets much more of a turn in the third and fourth balls and Finch gets a three past leg slip for three runs. Five runs off the over, Australia 105/1 in 20 overs.
10.23 am: Jadeja gets a change of ends and replaces Mohit. Better over from the left-armer, just two off it, as Smith gets to his half-century in 53 balls and Australia century with a flick to the legside for a single. Australia 100/1 in 19 overs.
10.21 am: RaviAshwin finally comes in. single off the first ball from Smith, and then bowls it well to Finch, a bit of loop and asking the ball to spin. Not too much spin to begin with, but he hits it right in the first over, two off it, Australia 98/1 in 18 overs.
10.18 am: Ashwin should come in soon, but it is Mohit Sharma still, into his fourth over. Plenty of runs off this over as well, as Finch gets himself a boundary by putting away a short and wide ball. Australia 96/1 in 17 overs.
10.09 am: Jadeja continues and Smith continues taking the runs with a single off the first ball. Finch then gets a ball full and wide and he smashes it past the covers for a four. The runs ain't stopping here, even with the spin bowler in, seven off the Jadeja over. Australia 89/1 in 16 overs. And it is drinks.
10.06 am: Smith batting on a different level, looking ungetoutable and un-stop-him-getting-runs-able. Finch happy to play second fiddle and there have been no false strokes from him, much to his credit, despite not being at his best. Five runs off the Mohit Sharma over, Australia 82/1 in 15 overs.
Get the Live Scorecard of India vs Australia Semifinal HERE
10.02 am: Spin for the first time as Ravindra Jadeja is given a go. Legside line for Finch, so he makes room and hits the ball through the offside for a single to the sweeper cover. Smith, a brilliant player of spin bowling, does not have any issues with Jadeja to start with, comes down the track and takes a single to wide mid-on. Three singles and a three off the over, Australia 77/1 in 14 overs.
9.58 am: Short balls have given India plenty of wickets at this World Cup, but it might not be a good idea to do it on this pitch against this batting side. Mohit Sharma bowls a short ball to Finch and he pummels it to forward square for a four. Takes a single to fine-leg next ball, with Smith doing the same off the next. After a good over from Mohit first up, he gives away seven in his second. Australia 71/1 in 13 overs.
Get the Live Scorecard of India vs Australia Semifinal HERE
9.54 am: Virat Kohli getsa bowl, surprisingly. Decent first three balls, gives away only a single, and then bowls it short to Smith, who helps it along to the midwicket boundary for a four. Seven runs from the over, Australia 64/1 in 12 overs.
9.51 am: Mohit Sharma for the first time. India need a wicket here, preferably of Smith, who is doing what he has done all summer, take the India bowlers for runs. Decent first over from Mohit, at least stems the run flow, giving away just one run, Australia 57/1 in 11 overs.
9.46 am: Yadav continues. Smith just guides the ball past backward point and cover for a boundary to start off the over, before a short ball is punished to the wide long-on boundary for a second consecutive four. Smith is looking ominous here, Umesh Yadav needs to tighten up. Full and swinging a little away next and Smith drives straight back, only to be fielded by Yadav. Bowls it short again does Yadav, and he gets the treatment from Smith, this time to the square-leg boundary. Yadav seems to have lost his head here, as he bowls it short again and Smith does the same, hitting it to square-leg for a fourth four from the over. Poor, poor bowling from Yadav. Australia 56/1 in 10 overs. Powerplay done.
Get the Live Scorecard of India vs Australia Semifinal HERE
9.40 am: Finch gets hurried on the pull again as well and he blind pulls it to the onside for a single. Nice and straight to Smith, who defends the second ball back to Shami. Blocks the third ball as well, and then dabs it to wide mid-on for a single. India bowling well, but Australia are moving the scoreboard along well enough with singles and twos. Australia 40/1 in 9 overs.
9.36 am: Singles taken the first two balls, one to the onside from Smith, and the other to the off from Finch. Smith drives third ball to point, and then takes a single to fine-leg as Yadav bowls it in. Need to keep the ball outside off to Smith early on. A good short ball from Umesh Yadav hurries Finch, who cannot get his pull shot working as well as he would have liked, even if he gets a single. Australia 38/1 in 8 overs.
Get the Live Scorecard of India vs Australia Semifinal HERE
9.32 am: Smith is the key for Australia. He already looks settled, as he has for the entire summer, and he will look to bat out the overs. Shami keeps it outside off for the first two balls, and then hits the stumps, which Smith plays to mid-on. The swing has gone down for Shami, and he bowls it short for Smith, which the batsman pulls to fine-leg for a single. Swings it in, and this time is swings, for Finch, who plays it straight, knowing the threat of the lbw. Shami looks for that in-swinger and gets it slightly wrong as a wide is called, gets it right final ball, though, and Finch blocks it straight. Australia 34/1 in 7 overs.
9.27 am: Yadav, with his extra pace, hits Smith's pads as he walks across the stumps. An appeal is made but Kumar Dharmasena gives it not out. Ball tracker shows umpire's call for the wickets. Good ball from Umesh Yadav sees Smith thick edge it down to third man. Finch hasn't faced Yadav too much so far and he defends a ball on off stump. Bowls a ripper of a yorker next which is angled in and then swings away. Finch can't do much with it as the ball goes to Dhoni. Australia 32/1 in 6 overs.
9.23 am: First boundary for Finch as well and it is also via a straight drive, a gorgeous shot with the full face of the bat. Gets a couple to fine-leg off another delivery coming in after that and Finch looks on his way now. Shami has bowled brilliant, but he just needs that wicket to gee him up a little bit more, keeps it outside off in the next two balls, which Finch negotiates well enough without runs. Takes a single off the fifth ball to third man, and Smith takes a three with a flick to midwicket off a full delivery on the stumps in the final ball of the over. Australia 31/1 in 5 overs.
9.19 am: Smith gets a good ball swinging away from Smith first up, he edges it to the offside and scampers for a two to get off the mark. Starts moving to the offside from the off, and he gets his first boundary as well via a beautiful push past mid-off for a four. Australia 21/1 in 4 overs.
Get the Live Scorecard of India vs Australia Semifinal HERE
9.14 am: Wicket, Warner gone! Umesh Yadav strikes. A cross-seam delivery, Warner goes for the flick to the legside, the ball probably stops on him and it takes a leading edge with Virat Kohli taking a simple catch in the covers. Australia 15/1 in 3.1 overs. Steven Smith now.
9.13 am: Shami swinging the ball in, looking to trap Finch in front of the wicket. Gets it wrong first up and the ball goes down the legside for a wide. Keeps it outside off and Finch misses the ball and it goes past the inside edge of the batsman. Gets it in again and a big appeal for lbw, umpire Richard Kettleborough gives it not out. The ball tracker shows it would have gone over the stumps, so good decision from Kettleborough. Shami really testing Finch here with the ball tailing in. Will he drop that carrot next, and ask Finch to go for the drive outside off? He does and Finch goes for an expansive shot, mistimes it completely but the ball goes harmlessly to square-leg. Final ball of the over is let go by Finch, brilliant over from Shami, Umesh Yadav needs to back him up at the other end now. Australia 15/0 in 3 overs.
9.08 am: Warner looking confident early on, takes another single with a push to the offside. Brings Finch back on strike, and he defends solidly first and then edges one past gully (no gully fielder) for a single to third man. Does MS Dhoni need a gully in there for the thick edge?
First six of the match from Warner as well as he pulls a short ball from Yadav to the square-leg boundary. Australia 14/0 in 2 overs.
9.06 am: First boundary of the match and it is from the bat of Warner, who pushes the ball straight past Yadav for a four.
9.04 am: Second ball is dabbed down for a dot by Finch and then Shami gets one to swing in, surprising the batsman. A big appeal follows, but the umpire gives it not out, with the ball going well down the legside. Warner on strike for the first time, and Shami is right on the mark again, bowling it across the left-hander, and he plays and misses going for a big, booming drive. The fifth ball sees Warner play to the covers and go for a quick single and then Finch blocks the final ball, tailing in from Shami. Australia 2/0 in 1 over.
Get the Live Scorecard of India vs Australia Semifinal HERE
9.01 am: Shami bowls a corker first up, pitched up, swinging away and Finch plays and misses.
9 am: Aaron Finch and David Warner walk in. Mohammed Shami to bowl to Finch, here we go people!
8.58 am: The Australia National Anthem is also sung, and it is almost time for time for play.
8.56 am: A Huge roar after the Indian National Anthem, the crowd is filling in fast and it should be a full house soon at the SCG.
8.54 am: The umpires walk onto the field and are followed by the players with kids hanging onto them. The National Anthems will be sung now, India's first.
8.48 am: Shane Warne expecting runs on this pitch, and cannot wait for the Ashwin vs Maxwell contest.
8.46 am: The crowd is slowly building, and as expected most of them are in blue. Australia, no matter how prepared they are, will find it difficult to play against a hostile crowd at their home ground.
8.40 am: For Australia, it will be about getting a big opening partnership between David Warner and Aaron Finch and then letting their finishers do the rest to try and bat India out of the game. Warner will go for his shots up front, and that will be India's chance of getting through a few as well.
8.38 am: Last time Australia batted first at the SCG, they went run-crazy against Sri Lanka. India have bowled much better at this ICC Cricket World Cup 2015, however, and they will look to keep the batting team to a score well under 300. If they do that, India will back themselves to chase down the total, even if it is a big semifinal.
8.35 am: Here are the lineups: India: Rohit Sharma, Shikhar Dhawan, Virat Kohli, Ajinkya Rahane, Suresh Raina, MS Dhoni (capt & wk), Ravindra Jadeja, R Ashwin, Mohammed Shami, Mohit Sharma, Umesh Yadav.
Australia: Aaron Finch, David Warner, Steven Smith, Michael Clarke (capt), Shane Watson, Glenn Maxwell, Brad Haddin (wk), James Faulkner, Mitchell Johnson, Mitchell Starc, Josh Hazlewood.
8.33 am IST: Runs on the board in a big semifinal is good says Clarke, while Dhoni says he is not too worried about batting second. Clarke adds he expects the pitch to stay the same for the 100 overs.
No changes to either side, so the same teams from the quarterfinals.
8.31 am IST: Damien Fleming talksto the two captains. "It's about enjoying it," says Clarke. "All of us are looking good, the preparation is good," says Dhoni.
Australia win the toss, and will bat first.
8.25 am IST: Five minutes to go for the toss. Sourav Ganguly said it if a flat, bare and rock hard pitch, but he does not expect the wicket to get as much spin as most are expecting (or hoping for). Graeme Smith also believes the wicket will help the batsmen, and bat first should be the decision for the team that win the toss.
8.17 am IST: India vs Australia – the semifinal of the ICC Cricket World Cup, man I am tensed already, the hands are starting to shake and I need to cover the match live. It is going to be an absolute classic (hopefully), and this is IBTimes India's live coverage of the semifinal at the SCG.
Australia go into the match as the favourites, having lorded all over India in the summer gone by, and those results will what they will look to build on and press through to their opponents come game time.
India have moved on from those losses to Australia, going on a seven-match winning streak at this World Cup, and having already made a really good fist at this CWC, when most had written them off, they will want to take that step into the final against New Zealand.
Come what may, this match promises to be a great one, even if it will have to be the match of all matches to best the first semifinal between New Zealand and South Africa.
May the best team win (preferably India, yeah I'm not even going to pretend to be neutral here) and stay right here for everything live this semifinal.
If you are stuck in office and feel the need to live stream the match online, all the information you need, no matter what country, is HERE