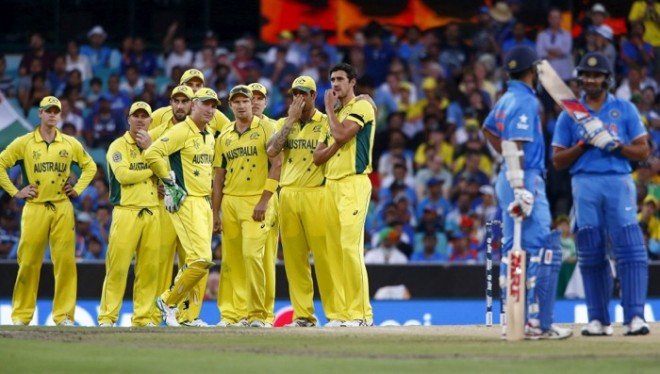 That is all from me (Rajarshi Majumdar) and IBTimes India edition. Have a good weekend ladies and gentlemen. See you soon!
Virat Kohli has been adjudged the man of the match for the second game in a row! This lad is in red-hot form.
5:44: What a dramatic turn around from India we witnessed today. India not only won the 2nd T20 by 27 runs but also won the series. A huge win in India's context ahead of their busy schedule.
It is but clear that India are growing into a powerful T20 side ahead of the ICC World T20 2016 in March which will be hosted in India.
Australia were off to a flier with 95 runs on the board. Indians fielders did let go off three or four chances but they came back really strongly to push the Australians against the wall.
Once again, the spinners have done a terriffic job out there. Jadeja, Ashwin and Yuvraj picked up four wickets. Bumrah finished things off with two wickets in the last over of the innings. Australia lost 8 wickets in a span of 58 runs. At they end they could only manage 158 runs.
It is all over! India have defeated Auatsralia by 27 runs and have also clinched the series!
Bowled! Bumrah knocks Hastings over. Australia 152/7.
Last six balls guys!
5:29: It all looks bleak for Australia. It is briliiant how Indian bowlers and especially the fielders have turned the game in their favour. A series win will give them a major boost to this Indian side ahead of a busy T20 schedule. It has been a good all-round show for India. Australia 151/6 in 19 overs. 34 needed from last 6 balls.
5:24: Looks like MS Dhoni is all set to get his hands on that silverware. Ashwin just bowled his fourth over and just 8 runs came from that. Australia need another 40 runs from the last 2 overs. Australia 145/6 in 18 overs.
The run rate has creeped up to 16.5 per over!
Now Faulkner is OUT! Jadeja gets another. Weird stumping. Struck Dhoni's pad and hit the stump and Faulkner's foot was in the air. Australia 137/6 in 17 overs. 48 more needed from 18 balls.
5:18: The game is not over yet. Matthew Wade and James Faulkner will try hard for Australia and save the series. Jadeja has already bowled his 4 overs. He has bowled well yet again in this match. 11 runs came from that Jadeja over.
5:14: It is all happening out there at the MCG. Amazing shift of the momentum once again just like the 1st T20. Ashwin came back and bowled a superb over. Just 2 runs came from that over and the run out of Aaron Finch. Australia 126/5 in 16 overs. 59 more needed from 24 balls.
Finch seems to be run out here! Yes it is. Big Big break for the Indians.
5:09: Jadeja has come back and bowled a brilliant over. He has also picked up the big wicket of Watson. What a return catch that was from Jaddu. India are in the driving seat here. 5 runs came from that over. Australia 124/4 in 15 overs. 61 more needed from 30 balls.
Unbelievable catch from Jadeja. Watson is gone! Australia 121/4. 64 more needed from 34 balls.
5:04: If Dhoni manages to squeeze out 3 overs from Yuvraj Singh it will be a big bonus for India. Indians are fired up right now. Yuvi has successfully put the pressure right back at the Australians. The run rate is creeping up and has already gone past the 11-run mark. Australia 119/3 in 14 overs. 66 more needed.
5:00: The required run rate has gone above 10 runs an over now. Hardik Pandya is bowling beautifully here. Watson and Finch out there in the middle for Australia and they need to guide their side over the line. Australia 115/3 in 13 overs. 70 more needed.
Surprisingly my last three updates has been about wickets only!
4:56: Australia have now lost three wickets in 11 balls. How quickly the game has turned towards India's favour. What an over from Yuvi. Just three runs and the huge wicket of Glenn Maxwell. Australia 102/3 in 12 overs. 83 more needed.
Yuvraj Singh is in the game! Maxwell is stumped! Oh boy what a funny game this is. Australia 101/3.
Pandya removes Lynn! What a huge wicket for India. Australia 99/2. All of a sudden the momentum has shifted towards India. Dhoni takes a brilliant catch under the lights. 86 more needed.
Marsh is gone finally! Ashwin gets a wicket. India gets that much needed break through. Australia 94/1. 91 more needed.
4:44: Now Finch has been dropped thrice in two overs. India need to hold on to these half chances in order to win this contest. Dhawan, Rishi Dhawan and Umesh Yadav have dropped him in these two overs. India seems to have dropped the trophy.
4:41: Jadeja has also been taken for some runs here. Nothing is working here for Dhoni and his men. India need to break this partnership at any cost. 11 runs came from that Jadeja over. Australia 89/0 in 9 overs. 96 more needed.
4:38: Ashwin has been hit for a six from the very first ball. Finch reached his half-century as well. What a way to start that over! The intention is very clear as Finch does not want Ashwin to settle down.Not a great over from Ashwin as 11 came from it. Australia 78/0 in 8 overs.
4:33: Dhoni missed a stumping chance there. How costly will that be! Jadeja has come out and bowled a very good over here. Ashwin is likely to come from the other end for sure. Just 5 runs came from that over. Australia 67/0 in 7 overs. 118 more needed.
Jadeja is ino the attack now!
4:29: Bumrah got the third over as well. Unfortunately, both the bowlers are have been very expensive. Finch is on a roll here. He is striking at 200. No wonder he is the batsman in the world according to the ICC rankings. The powerplay overs are done. India under pressure here. Finch is looking very dangerous here. Australia 62/0 in 6 overs.
4:25: The ball is skidding through the surface because of that dew. Indian fielders are carrying towels behind their back. Nehra is trying to give no room whatsoever to either of the batsmen. A decent comeback over from Nehra under such circumstances. Australia 48/0 in 5 overs. 137 more needed.
4:20: MS Dhoni will have to find a way to stop this run flow. He has to get his tactics right on the money here. Australia are off to a good start here at the MCG. Bumrah and Nehra are unable to hit the right line and length. Australia 37/0 in 4 overs.
4:16: Australians are making amove here. India needs wickets and nothing else at this moment. They can't offer freebies to either of Finch and Marsh. Nehra has just bowled a very poor over. 16 runs came from that over. Australia 30/0 in 3 overs.
4:10: Indian fielders have looked solid out on the field out there. Kohli and Jadeja saved two certain boundaries. Bumrah is trying to get his line and length right. He has bowled more or less in the right areas but has conceded two fours in his first over. 10 runs came from that over. Australia 14/0 in 2 overs. 171 more needed.
Marsh has dispatched Bumrah's first ball for a boundary.
4:07: That was a good first over from Nehra. He bowled at the right areas to keep the two batsmen quiet. Bumrah will look to bowl similar line and length as well. Just four runs from that over. Australia 4/0 in 1 over. 181 more needed.
Here is the first ball and Finch guides it down to the third man for a single.
Players are out in the middle once again. Ashish Nehra to open the bowling for India.
Don't go anywhere ladies and gentlemen! The run chase will begin in few moments from now.
This is going to be one heck of a run chase if Australia are to avoid a series defeat. They need 9.25 runs per over to reach the target of 185 runs.
3:45: This is a really competitive competitive total. Australia bastmen will need a herculean effort to reach that target. This is also the highest total by any team posted at the MCG in the shortest format of the game.
Rohit Sharma and Shikhar Dhawan yet again gave India a rollicking start to their innings. They added 97 runs in the first wicket.
Kohli came in at No.3 and smashed the balls all around the park. He remained unbeaten on 59 from just 32 balls.
Dhoni also played a little cameo towards the back end of the innings.
Andrew Tye and Scott Boland were the pick of the bowlers for Australia.
Single from the last ball and India finish on 184/3 in 20 overs.
Raina and Kohli runs 2. That was almost an impossible second run. last ball coming up
OUT! Dhoni is gone and a precious dot ball! India 181/3. 2 more balls left
Single from the third ball. Dhoni is on strike now!
Dhoni and Kohli ran 2 in the second ball. India have reached 180 now. 4 balls to go.
Boundary from the first ball. 50 comes up for Kohli as well in just 29 balls!
Excellent from Faulkner, eight runs from that 19th over. India 174/2 in 19 overs.
One more run added to the total. Seven off the over with one more ball to go!
Single again!
Single from the third ball of the penultimate over. Kohli on strike now.
FOUR! Tracer Bullet is slower than that! Dhoni in action.
A dot ball! Gold boys gold.
Last 12 balls and here comes my ball-by-ball updates! are you ready folks?
3:29: Virat Kohli is playing a swashbuckling innings here at the MCG in the 2nd T20. Boland who was economical in his first spell has been hit for quite a lot for his next two overs. Two more overs to be bowled after this. Kohli out of nowhere has almost reached his half-century. Dhoni has joined the party as well. 14 runs came from that Boland over. India 166/2 in 18 overs.
3:24: Andrew Tye has bowled really well out there. Australia will look to slip in some quiet overs as there is a new man out there in the middle in the form of MS Dhoni. India need to go past that 180 run mark to give their bowlers something to play with. 150 comes up for India in 17th over. India 152/2 in 17 overs.
Rohit Sharma is run out here! Terrible confusion in the middle out there! Rohit is gone for 60 off 47 deliveries. India 143/2 in 16 overs.
3:19: Watson bowled the 16th over. With these two batsmen at the crease, India will definitely be eyeing a total close to the 190-run-mark.
3:14: Kohli is looking very very dangerous here! Boland who went for just 4 runs from his first two overs, has just been hit for 12 runs. Five more overs to go after this. India 134/1 in 15 overs.
3:09: Virat Kohli is in the house ladies and gentlemen! He has joined the hitting-boundary-spree as well. Hastings has been very expensive so far. Rohit and Virat will look to power India to a big total. 13 runs came from that Hastings over. India 122/1 in 14 overs.
3:05: Andrew Tye and Scott Boland have been the pick of the bowlers so far. They have managed to keep things quiet whenever these two have come into bowl. The run flow has to continue if India are to reach that big total of 180-plus. They will be aware of the fact that Australia have never won a T20 international game chasing 160+. India 109/1 in 13 overs.
3:01: Oh boy Rohit loves to bat in this ground doesn't he! Yet another half-century for Rohit and it came in just 37 balls. Guess what, Rohit could not get off the mark in his forst 8 balls and now he has crossed the 50-run mark in no time. India 104/1 in 12 overs.
Watson is back into the attack now!
Maxwell gets his man! Shikhar Dhawan is gone! 11 runs came from that Maxwell over as well as the wicket of Dhawan. He is gone for 42 off 32 deliveries. India 97/1 in 11 overs.
2:53: Scott Boland has bowled brilliantly out here at the MCG in the 2nd T20. He has now bowled 8 dot balls in his two overs that he has bowled and that is gold in T20 cricket. Just three runs came from that Boland over. Halfway through the innings now. India 86/0 in 10 overs.
2:49: Decent over from Maxwell under such circumstances. If India continues to go at this run rate, they are looking at a massive score yet again. Six singles came from the Maxi over. India 83/0 in 9 overs.
Maxwell is into the attack.
2:44: Nathan Lyon's first over in T20 international cricket cost 15 runs. This is now the best opening partnership at the MCG for any team. Dhawan and Rohit are going at the rate of knots. This is good batting from both these batsmen and poor thinking from the Aussie bowlers. They must break this partnership in order to get back into the game or these two will take the game away from them in a blink of an eye. India 77/0 in 8 overs.
Nathan Lyon is into the attack now. He is also one of the debutants for Australia.
2:40: Dhawan is continuing with the onslaught. Faulkner is turning out to be very expensive. India havebroken free here. Dhawan all of a sudden is looking very dangerous here. Finch is in all sorts of trouble here. 12 runs came from that over. Faulkner has now conceded 27 runs in his 2 overs that he has bowled so far. India 62/0 in 7 overs.
2:35: The powerplay overs are up. 50 comes up for India after 6 overs. This was a good over from debutant Andrew Tye under pressure. Just 6 runs came from that over. Rohit was struggling a bit with the change of pace delivery. India 50/0 in 6 overs.
Trivia: Dhawan's six off Hastings in the fourth over went for a massive 107m! Well that was huge indeed.
2:29: Clear change of momentum. For the the first three overs, the momentum was with the hosts and now all of a sudden Indian openers are on a roll. They are hitting all the bowlers now. Faulkner will be absolutely gutted as all his good deliveries were dispatched for boundaries. 15 runs came from that Faulkner over. India 44/0 in 5 overs.
Rohit dilscoops Faulkner for a four from the first ball.
2:25: Just the kind of over India were looking for. That Hastings over has gone for 17 runs. the first three overs were rather quiet from India's point of view. Dhawan and Rohit have stepped their foot on the accelarator here at the MCG. India 29/0 in 4 overs.
Hastings to continue and Rohit slashed his bat at it for a four through the covers.
2:21: Australian bowlers have really tightened the screws here. Rohit is struggling to find the middle of the bat. He has been flirting with danger outside the off stump as he has played and missed a number of times. India 12/0 in 3 overs.
Scott Boland is into the attack now.
2:17: Hastings has been Australia's strike bowler for Australia during the ODI series. This wicket has got a nice tennis-ball-like bounce. Indian batsmen will have to be wary of that. Two decent overs from Australia's point of view to start off with. India 10/0 in 2 overs.
John Hastings will share the new ball and Dhawan just guides it past the fine leg for another four from the first ball of the second over.
2:13: This has been an excellent first over from Shane Watson. He has been bowling well with the new ball in this format of the game. However, Rohit did hit for a boundary in the fifth ball of the over. But just five runs came from that over. India 5/0 in 1 over.
Swing and a miss from Rohit. The ball is going to do quite a bit under overcast conditions here at the MCG.
Here is the first ball and Rohit Sharma defends it with ease.
The player are walking out in the middle. Indian openers Rohit Sharma and Shikhar Dhawan will look to give a similar start like the 1st T20.
The live action is just minutes away? are you guys ready for it?
Here are the teams ladies and gentlemen:
I will provide you guys with both the teams soon.
India have not made any changes to their squad. Hardik Pandya gets another chance to prove his worth in that Blue Jersey.
Australia have made six changes to their squad.
Australia have won the toss and will bowl first!
The toss is on its way!
Australia will be without the services of Steve Smith, David Warner, Mitch Marsh, Josh Hazlewood, Adam Zampa, Kane Richardson and John Hastings. That is something India should capitalise on.
Cameron Bancroft, Andrew Tye and Shaun Marsh will make it into the playing XI likely. Glenn Maxwell will also mark his return. That will give a major boost to the Australian squad ahead of the second T20.
The covers have gone off but there are slight chances of showers later in the day as well. We can expect a delayed start here in Melbourne.
India Women have won the their series against Australia earlier today at the same venue. There has been a bit of rain in Melbourne and therefore India Women were handed a victory via Duckworth-Lewis method.
The live action will begin at 2:08 pm IST. You guys stay tuned and grab your lunch because we are up for yet another rollicking encounter.
India have a golden opportunity to take home a silverware after a long wait of seven years. With Aussies fielding a depleted side in the 2nd T20 at the MCG, India will look to come in harder at the hosts, who have their backs to the wall.
This is Rajarshi Majumdar and I will be bringing you the live updates of the action from the second T20 which is being held at the Melbourne Cricket Ground (MCG).
Good afternoon ladies and gentlemen and welcome to the live blog coverage of the second T20 of the three-match series between India and Australia.