4.26 pm: Well, that was that. What a chase from Australia. They were in trouble after losing their openers early, but Bailey and Smith made the chase look easier than a Sunday morning stroll. The match turned when the India spinners – Ashwin and Jadeja – came on to bowl in tandem. In that nine-over spell, Smith and Bailey plundered 76 runs and that was all she wrote for India from there. There just was no coming back and Australia, riding on the 242-run partnership from Bailey and Smith, eventually cruised to victory, giving them a 1-0 lead in the five-match series. If all the wickets in the series are going to be like this one in Perth, batting second might be the better option.
That is it from me, it has been fun. Catch you for the 2nd ODI on Friday. Till then take care and bye bye.
4.22 pm: James Faulkner comes in and Sran bowls a wide to level the scores. Faulkner takes a single to long-on to win Australia the match by five wickets and four balls to spare.
4.19 pm: Wicket, Smith (149, 135b, 11x4, 2x6) gone! No 150 for Smith, as the skipper lobs one up to Kohli at short cover to give Sran his third wicket on debut. What a stunning knock, though. Just plain brilliant. Australia 308/4 in 49.1 overs.
4.19 pm: Umesh into his final over and the penultimate over of the innings. A couple of singles takes Australia to a boundary from victory. Marsh decides against being the man who finishes the match off, by taking a single to allow Smith, on 148, a chance to complete his 150. Only gets a single though to move to 149, with Australia need two runs for victory. Marsh defends the final ball to ensure Smith stays on strike. Australia 308/4 in 49 overs. 2 from 6
4.15 pm: Bhuvneshwar Kumar replaces Ashwin, whose figures read 9-0-68-2. The medium pacer gets a decent over in, starts with a couple of dot balls, but then Smith gets the square drive going for a three. Australia 304/4 in 48 overs. 6 from 12.
4.10 pm: Yadav with the 47th over of the innings. Singles are all Australia need and that is what Smith and Marsh are happy to take, until Marsh tries a pull shot, which finds the top edge and lands safely. Australia 298/4 in 47 overs. 12 from 18.
4.06 pm: Four singles anda two off the Ashwin over and Australia inch ever closer to victory. Australia 293/4 in 46 overs. 17 from 24 balls
4.03 pm: Marsh gets his willow working with a nice glide to third man for a three, before Smith plays another Smith-like shot to backward point. Ridiculous batting this from the Australia skipper, just ridiculous. Australia 287/4 in 45 overs. 23 in 30.
3.58 pm: Mitchell Marsh isthe new batsman, but that is another wicket for Ashwin. Australia274/4 in 44 overs. 36 in 36.
3.56 pm: Ashwin might have finally got a wicket, but the runs just keep coming off him. Maxwell shows he can play the conventional shots with a nice cut, but then he loses his head, goes for a big six over long-on, only manages to find Shikhar Dhawan, who takes a nice catch. Wicket, Maxwell (6, 6b, 1x4) gone! Ashwin wins this mini battle, not that it matters one bit. Australia 273/4 in 43.4 overs.
3.53 pm: Sran again and a good over under the circumstances as Smith and new man Glenn Maxwell struggle to get him away. Australia 269/3 in 43 overs. 41 from 42.
3.47 pm: Wicket, Bailey (112, 120b, 7x4, 2x6) gone! Holes out in the deep and Ashwin gets a wicket. But what a knock this has been from Bailey. Made a difficult chase look ridiculously easy. Australia 264/3 in 42 overs. 46 in 48.
3.45 pm: Jadeja comes in and Smith tees off with a massive six, that nearly goes onto the roof. A four follows and the target is nearly there. Australia 261/2.49 in 54.
3.41 pm: Another ugly shot for a boundary from Smith, this time a flat batted slap straight back – might not look great, but boy is it effective. Just ridiculously good batting from the Australia skipper and his former captain Bailey. Australia 249/2 in 40 overs.
3.38 pm: Consecutive hundreds against India for Smith, who gets to his fifth ODI century overall with a flick to fine-leg for a single. Comes off just 97 balls and then Bailey punishes Umesh Yadav with a wonderful square drive for a boundary.Smithgets in on the act as well with a Smith-like ugly drive straight back for a four. An even uglier one follows as a French cut gets Smith another boundary. Australia 242/2 in 39 overs. 68 in 66.
3.33 pm: Bhuvi continues after drinks and Smith and Bailey bring up the 200-run partnership in just 203 balls. A boundary comes in the over as well, as Smith latches onto a short ball with an effective pull shot. A blow away is Smith now from another hundred against India. Gets a two and then a single to move to 99. Australia 228/2 in 38 overs. 82 from 72 balls.
3.26 pm: Singles and twos again off this Umesh over, even if Smith doesn't cover himself in glory with a couple of iffy shots. Australia 219/2 in 37 overs. 91 in 78 balls. Drinks.
3.21 pm: Bhuvneshwar continues and Smith takes a single first ball to get Bailey, on 98, on strike. The right-hander gets the couple he wants next ball to complete his third ODI hundred, this one coming off just 106 balls. What a knock it has been, boy has he made full use of that life. Australia 213/2 in 36 overs. 97 off 84 balls.
3.18 pm: Three singles and two couples from this Umesh over, means Australia are closing in on victory here, just a matter of when. Australia 209/2 in 35 overs. 101 off 90 balls.
3.14 pm: Bhuvneshwar returns and he bowls a good over, conceding just two runs – a miracle, almost that, at this stage, considering the way the two batsmen have been playing. Australia 202/2 in 34 overs. 108 required.
3.10 pm: Jadeja cannot land the ball in the same area for six deliveries, and one that is dropped short on legstump is helped on its way by Smith. Australia 200/2 in 33 overs. 110 required.
3.07 pm: A top edge off a paddle sweep from Bailey just falls short of Jadeja at short fine as Ashwin returns. Smith then welcomes the offspinner back with a nice cut shot to the point boundary. Australia 191/2 in 32 overs. 119 runs required.
3.04 pm: Jadeja returns, but there is no change in the momentum. Two singles and a three means five runs off the over. Australia 185/2 in 31 overs. 125 required.
3.01 pm: Kohli continues and so do the runs, with Bailey helping himself to another boundary via the pull. Australia 180/2 in 30 overs. 130 required.
2.57 pm: Umesh Yadav again and singles again. Cruising it are the home side. Australia 172/2 in 29 overs. 138 required.
2.53 pm: Desperate times call for desperate measures and Virat Kohli is the man given the ball. Decent over again, but no wicket, just five runs. Australia 168/2 in 28 overs. 142 required.
2.49 pm: Umesh Yadav, who bowled three good overs, is back. Decent over from the fast bowler, five runs off it. Australia 163/2 in 27 overs. 147 required.
2.46 pm: Ashwin continues to struggle. No chance at all for the offspinner as Bailey lofts him for a six first ball of the over, before those singles come again. Smith then gets into the act, with a cut for a boundary and then a smash straight back for a six. So ridiculously easy this, so easy – they are making the best spinner in the world look like a part-timer. Australia 158/2 in 26 overs. 152 required.
2.42 pm: Six balls, five singles and a two. Easy, really. Australia 139/2 in 25 overs. 171 required.
2.39 pm: The reverse-sweep comes out again from Bailey and it is another boundary to go with all the singles. Ashwin is being made to look very ordinary here. Australia 132/2 in 24 overs. 178 required.
2.36 pm: Jadeja is finishing his overs quickly, and so are the batsmen, easing to the target with every growing over. So easy Smith and Bailey are making this look, getting to the 100 partnership as well. Six singles in six balls. Australia 124/2 in 23 overs. 186 required.
2.34 pm: Ashwin continues and the batsmen are happy to pick up the singles, five of them. Australia 118/2 in 22 overs. 192 required.
2.31 pm: Jadeja can't stop the run flow. Easy for the Aussies at the moment, way too easy as Bailey gets to his half-century off 60 balls. Australia 113/2 in 21 overs. 197 required.
2.28 pm: Australia are going at a better rate than India at this stage, albeit with one extra wicket down. If Smith and Bailey continue to bat like this, though, for another 10-12 overs, this game will go to the home team. Bailey gets an unconventional boundary, slapping a reverse-sweep past midwicket. Runs coming too easily against the spinner. Australia 107/2. 203 runs required.
2.24 pm: Jadeja from this end now. With absolutely no spin on offer, the batsmen are playing the slow bowlers quite comfortably here, with Smith's beautiful flick to the deep square boundary the perfect illustration. Australia 98/2 in 19 overs. 212 required.
2.22 pm: And here is India's best bowler now – R Ashwin. A singlefrom Bailey to the onside and then a short and wide delivery is put away to the boundary by Smith. Couple of singles follow. Australia 90/2 in 18 overs. 220 required.
2.15 pm: India are missing a few run out chances here. Another quick single is misjudged, but Kohli, running in from mid-on, cannot hit the timber. Australia 82/2 in 17 overs. 228 required. Drinks.
2.11 pm: Another quick and tidy over from Jadeja. Australia 77/2 in 16 overs. 233 required.
2.09 pm: Umesh is bowling well here, hitting the right lines and lengths consistently, something he has struggled with all his career. Fifty partnership comes up for the third wicket, easily done too. Australia 73/2 in 15 overs. 237 required.
2.05 pm: Just the one over for Rohit, thankfully. Ravindra Jadeja comes in and bowls a quick over. Australia 70/2 in 14 overs. 240 required.
2 pm: Umesh Yadav finally gets a bowl. Good over from Umesh, nice heavy balls on or outside off. hits Bailey's gloves with a ball too, and the batsman is nearly run out going for a quick single as Ravindra Jadeja misses. Australia 65/2 in 13 overs. 245 required.
1.56 pm: Surprise, surprise Rohit Sharma is given the ball. Maybe Dhoni feels it is the opening batsman's day and can steal a wicket? Nope, just a bunch of singles and a massive six from Bailey straight back past the bowler. Strange decision from Dhoni. The momentum is slowly swinging back the home team's way here. Australia 62/2 in 12 overs. 248 required.
1.53 pm: First Powerplay is over, but Sran continues into his sixth over. Gets it wrong second and third ball, as he bowls short for some reason and Bailey dispatches it for a couple of boundaries courtesy the pull shot. One to the left of midwicket and the other to the right. Gets the length right next ball after Dhoni asks Kohli to have a word with the youngster. Drops it short again fifth ball, but Bailey cannot get it to the boundary this time, with a man out at deep midwicket. Australia 51/2 in 11 overs. 259 required.
1.48 pm: Bailey gets his first boundary. Overpitched from Bhuvi, and the former skipper drives it through covers nicely. Australia 40/2 in 10 overs. 270 required.
1.45 pm: On the money is Sran again. Australia 36/2 in 9 overs, 274 required.
1.41 pm: Much better over from Bhuvneshwar, on the mark from the off. Just keeping it on or around off, forcing Smith and Bailey to force a few shots. The moment he steps away from the length and line, Smith pulls it for three. Unnecessary from Bhuvi. Australia 32/2 in 8 overs. 278 required.
1.38 pm: Gets a couple of balls to swing back in to Smith, impressive stuff again from the left-armer. Australia 28/2 in 7 overs. 282 required.
1.33 pm: Bhuvneshwar bowls again, but he isn't really threatening the batsmen. Smith continues to look good, and doesn't look like he is feeling the pressure at all. Needs to bowl better does Bhuvneshwar. Australia 27/2 in 6 overs. 283 required.
1.29 pm: Nearly two wickets in two. Down the legside, there is a sound as George Bailey tries to play it fine, Dhoni takes the catch and an appeal is made. Richard Kettleborough says no, but replays show, it came off the glove. Bailey should have been gone for a golden duck. Australia 21/2 in 5 overs. 289 required.
1.26 pm: Wicket, Warner (5, 10b, 1x4) gone! Sran strikes again! A good length delivery, Warner goes for the loft above mid-off, does not get enough elevation and Virat Kohli takes a nice catch on the hop. Never looked quite himself did Warner. Australia 21/2 in 4.4 overs.
1.23 pm: Decent over from Bhuvneshwar. Smith, though, is already looking good, timing the ball well and looking quite fluent. If he stays, Australia will get close, if not win. Australia 20/1 in 4 overs. 290 required.
1.19 pm: Steve Smith is in and the skipper gets off the mark immediately with a paddle to third man. Warner then gets his first boundary with a fine clip to the onside. Australia 14/1 in 3 overs. 296 required.
1.15 pm: Has a bit of zip does Sran, and is unlucky to give away a boundary to Finch, who sees an inside edge miss the stumps and go onto the fine-leg boundary. Wicket, Finch (8, 11b, 1x4) gone! How about that for a catch off your own bowling. Pitched up, Finch goes for the booming drive, hits the inside half of his bat and thunders towards Sran, low to his right, he gets both his hands out in time and the ball sticks. Brilliant catch and that is the first wicket for Sran in international cricket. Australia 9/1 in 2.3 overs.
1.13 pm: Bhuvneshwar Kumar it is from the other end. Gets the outswing going against Finch. Beats the right-hander's outside edge as well. Solid over from Bhuvi, just a wide and a single. Australia 5/0 in 2 overs. 305 required.
1.09 pm: A flick to theonside against gives Finch another run, bringing David Warner on strike. On line, just outside off to Warner, who defends. Next is pitched up and Warner, with his weight on the back foot, goes for the drive, but doesn't time it. Hurries a little with his next couple of deliveries at the body, a solid over that from Sran. Australia 3/0 in 1 over. 307 required.
1.06 pm: Barinder Sran on his debut with the first ball of the innings – short and Finch pulls it to deep fine for a couple.
1.03 pm: Alright then, almost time for the second innings. Australia will need a strong start, so will India – should be interesting.
HERE are the highlights of India's innings
12.23 pm: What a knock that was from Rohit (171, 163b, 13x4, 7x6). Just plain outstanding. His century and Kohli's 91 means India score their highest ever score against Australia in Australia. It was an outstanding partnership of 207 from the two star batsmen. The wicket is flat and Australia certainly have the firepower to chase down the target of 310. But India should be happy with this total, even if they might feel they could have got 10-15 more in the final 10.
Back in 30 minutes for the chase.
12.19 pm: Last over of the innings to be bowled by Boland. Rohit can do nothing wrong. Even a top edge off an attempted flick over short fine gets him a four, nearly a six, but just short of the ropes for a four. Low full toss again, and Rohit, again, dispatches it straight back for a massive six. Yorker length from Boland next, and Rohit only gets a single to long-off. Jadeja on strike and a single as well to long-on. Rohit gets the final ball of the innings, and he can only takes a single as Boland hits the yorker mark again.
India finish their innings on 309/3 in 50 overs.
12.13 pm: Ravindra Jadeja is the new man in and he takes the first ball for four, flat to wide long-on. Faulkner bowls wide next and Jadeja gets a three to deep backward point. India 295/3 in 49 overs.
12.09 pm: Rohit becomes the fastest to score 1000 runs against Australia in 19 innings, beating Sachin Tendulkar and Brian Lara, who took 20 innings. Wicket, Dhoni (18, 13b, 1x4, 1x6) gone! A short ball is pulled but the captain, but Boland takes a brilliant catch at wide mid-on, diving to his right. India 286/3 in 48.2 overs.
12.07 pm: A good yorker to Dhoni from Boland to start, but he misses his mark next ball and Rohit pumps the low full toss for a six. A single next ball gives Rohit his 150 off 154 balls. Another yorker means, Dhoni gets another single, and then that is followed by another low full toss, which Rohit deposits into the stands over long-on. India 286/2 in 48 overs.
12.03 pm: And there it is. Dhoni muscles his first six of the innings over long-off. Faulkner thought he had the India skipper, because he did not get if off the middle, but the ball clears the ropes comfortably. And the Dilscoop is out as Rohit helps one over the keeper for a boundary. India 269/2 in 47 overs.
11.59 am: Hazlewood and Wade go for an appeal down the legside, thinking Dhoni's strangled one. But off the hip it is and a good decision from Richard Kettleborough. Hazlewood's bowling well, keeping it short and not allowing Rohit and Dhoni to use their hands. India 254/2 in 46 overs.
11.54 am: Outstanding over from Faulkner, just six runs off it, albeit with Dhoni getting his first boundary with a help to fine-leg. India 248/2 in 45 overs.
11.50 am: Rohit goes for the slog after missing the first ball, and is lucky as the ball drops between extra cover and long-off. next ball, Wicket, Kohli (91, 97b, 9x4, 1x6) gone! Goes straight and flat does the vice-captain, but doesn't get enough, and Aaron Finch runs around from long-on to take a smart catch. Faulkner gets a wicket, and India's momentum has stalled over the last few overs. India 243/2 in 44.3 overs. MS Dhoni is in.
11.48 am: Hazlewood keeping it back of a length, and those big shots don't come for four balls. Kohli then gets beaten by an absolute corker from Hazlewood, which rises high off a good length. Brilliant over from Hazlewood, India not able to really get a move on here. India 242/1 in 44 overs. Rohit 133, Kohli 91.
11.44 am: Short and wide from Marsh to start the over, and Kohli spanks it for a boundary. A wide short delivery later, Kohli steps out and lofts one over extra cover for another boundary. A single brings up the 200 partnership for the second wicket, from just 218 balls. India 237/1 in 43 overs. Rohit 131, Kohli 88.
11.39 am: Hazlewood returns and Rohit welcomes him with a touch-guide to fine third for a boundary. Kohli is still happy to try and give the strike to Rohit, who is definitely more of the aggressor now. Good over from Hazlewood, as Australia sneak another decent one in. India 226/1 in 42 overs. Rohit 130, Kohli 79.
11.35 am: Powerplay 3, which means five fielders in the deep and the bowlers are going to need every one of them. Marsh bowls and gets one to rise up, with Kohli unable to get the pull shot to connect. Four singles after that and Kohli misses a pull again. Good over from Marsh. India 220/1 in 41 overs. Rohit 125, Kohli 78.
11.31 am: Mid-on up, and Rohit lofts Boland over the fielder for a boundary. Then the touch comes in, as he flicks one finer than fine for another boundary. Good comeback from Boland, with those yorkers he is supposedly good at coming into play. Next ball is overpitched, instead of yorker length and Rohit helps it to deep square for a boundary. India 216/1 in 40 overs. Rohit 123, Kohli 76.
11.27 am: Justwhen I was wondering when Rohit was going to be post-100-Rohit, he tees-off with a beautiful lofted straight drive for a six off Paris. It brings up India's double hundred. India 204/1 in 39 overs. Rohit 111, Kohli 76.
11.23 am: Boland is a death over specialist, but he is into his seventh over now. Singles taken, no sign of Rohit teeing-off yet, like he so often does after crossing 100. India 196/1 in 38 overs. Rohit 104, Kohli 75.
11.19 am: Poor ball to start with from Paris, down the legside and Kohli just helps it along for a boundary. Single to long-off, brings Rohit on strike and the crowd ramp up the noise. A guide to third man, gives Rohit his ninth ODI hundred, third in Australia, off 122 balls. Outstanding knock from the India opener, needs to carry on now, though. Get a big one. India 191/1 in 37 overs. Rohit 102, Kohli 72.
11.12 am: Maxwell keeps Rohit on 98 with a brilliant stop at point. Moves to 99 next ball with a single to deep cover. Kohli does the same, bringing Rohit back on strike. Defends straight much to the crowd's disappointment and off the last ball of the Marsh over, he defends as well. India 182/1 in 36 overs. Rohit 99, Kohli 66. Drinks.
11.08 am: Joel Paris is back, but no difference in the run-scoring as the singles and twos continue, with Rohit getting a boundary for good measure as well with an absolute smash straight back past the bowler. India 180/1 in 35 overs. Rohit 98, Kohli 65.
11.04 am: Mitch Marsh is back and a bit more pace and bounce helps Kohli slap one over backward point for a boundary. Rohit looking a little nervous in those nervous 90s, as an inside edge nearly goes onto the stumps. India 172/1 in 34 overs. Rohit 92, Kohli 63.
11 am: Faulkner gets a good over in, with Rohit a wee bit watchful in the 90s. India 165/1 in 33 overs. Rohit 91, Kohli 57.
10.57 am: Kohli gets to his half-century off 61 balls with a six to fine-leg, top-edge, but he won't worry too much. The ball sails into the stands and the crowd go crazy. India 163/1 in 32 overs. Rohit 90, Kohli 56.
10.52 am: Short from Faulkner and Rohit brings out the ramp shot. Just helps it along for a boundary, makes it look so easy. India 154/1 in 31 overs. Rohit 88, Kohli 49.
10.49 am: With five pacers, there are plenty of options for Smith to rotate and it is Boland now. Single, single, two, single, dot, single, happy days again. India 149/1 in 30 overs. Rohit 83, Kohli 49.
10.45 am: Three overs for Maxwell and done, and James Faulkner is back. Singles and twos means happy days for the Indians. India 143/1 in 29 overs. Rohit 81, Kohli 45.
10.41 am: Short from Hazlewood in this over, after the right-hander lets one go, he nearly pulls one to midwicket. Doesn't get it at all, and that helps him as the ball drops well short of the fielder. Good back of a length stuff from Hazlewood in the over. India 137/1 in 28 overs.
10.38 am: It was coming, and finally he gets the timing of that hop down the track right. Perfectly lofted straight back off Maxwell for an as-comfortable-as-they-come six. Kohli then gets the sweep shot out for a boundary to deep backward square. India 136/1 in 27 overs.
10.34 am: Josh Hazlewood is in and bowls a decent over, Indians happy to pick the singles without taking any risks. India 123/1 in 26 overs.
10.30 am: Bowling it quick and flat is Maxwell, not allowing those jogs down the track from Rohit. A nice late glide and a sweep shot after that gives him three runs, though. Kohli plays the paddle sweep for a couple. India 120/1 in 25 overs.
10.28 am: A bit of a slog from Rohit, across the line and not perfectly timed off Marsh. But with the mid-on in, the shot was safe enough, and it even carries, with the wind, all the way past the ropes for a six. India 114/1 in 24 overs.
10.23 am: Spin finally, as the only spinner – if you can call him that – in the squad Glenn Maxwell is given the ball. Will India take a risk and attack Maxwell? Nice and flat is Maxy to start, as Rohit tries to use his feet. A good over from Maxwell. India 107/1 in 23 overs.
10.20 am: A single first ball of the Marsh over takes India to 100, and then Kohli brings out his pull shot for a couple. A quick single off the final ball gives India a few overthrows as well. India 104/1 in 22 overs.
10.16 am: A short ball gives Rohit another boundary, albeit off a top edge which flies over the keeper. Tidy over, otherwise, from Faulkner. India 99/1 in 21 overs.
10.12 am: Mitchell Marsh returns and Kohli takes a single first ball to deep cover. Rohit then guides one to third man and gets to his half-century in 63 balls. Well played. India 93/1 in 20 overs.
10.08 am: A not-perfectly-timed pull shot from Rohit for two gets Rohit to 48, before he goes to a run away from the half-century with a single. Kohli takes a single off the fourth ball, and Steve Smith prevents the opener from getting to the mark with an excellent stop at short extra cover. India 90/1 in 19 overs.
10.03 am: Tap, tap singles time. Four of them off this Boland over, which also brings up the 50 partnership for the second wicket. India 86/1 in 18 overs.
9.58 am: Faulkner keeps it tight again. The scoring has just come down a touch in the past few overs, not that Rohit or Kohli will be too concerned. India 81/1 in 17 overs.
9.55 am: Boland opens his third over with a legside short ball, which Kohli lets go. Taken well behind the stumps by Wade. A single third ball to third man gets Rohit back on strike, and the right-hander takes a single to deep square next ball. India 80/1 in 16 overs.
9.52 am: The fifth seamer of Australia's team – James Faulkner – comes in. Tidy five balls from the left-armer to start, and then Rohit spanks one straight back for a boundary. India 78/1 in 15 overs.
9.48 am: First boundary off Boland's bowling in ODI cricket, and what a boundary it is too. On the stumps, and Kohli times it perfectly past the right of mid-on. India 74/1 in 14 overs.
9.44 am: Don't want to jinx him here, but gee Kohli is looking good. First ball from Marsh, pitched up on off is creamed past the left of mid-off for a boundary. Mitchell Marsh bowls well after that opening boundary. India 68/1 in 13 overs.
9.40 am: Debut ball for Scott Boland is straight on offstump, defended by Rohit. Another offstump ball is defended by Rohit, and then Paris saves a boundary with a brilliant stop at mid-on off a gorgeous ondrive from the India opener. Boland is known for his death over skills, but this is a sold start from the right-armer. India 63/1 in 12 overs.
9.38 am: Debut ball for Scott Boland is straight on offstump, defended by Rohit.
9.37 am: First bowling change of the morning as Mitchell Marsh if give the ball. Low full tosses first two balls, and Rohit spanks it for a couple and a boundary through the onside. With no movement, Rohit walks down the pitch and clips the ball to the onside from about fifth stump for a couple, before taking a quick single to mid-on. India 61/1 in 11 overs.
9.32 am: Paris again. All movement's gone, hardly anything there so he is just angling it across the right-hander. Kohli, knowing that, moves to the off-stump and flicks one through front of square for a couple. Next ball it is the shot of the day so far. A gorgeous push through midwicket for a boundary. Final ball of the over, Kohli pushes one straight back fro another boundary. India 52/1 in 10 overs.
9.27 am: Doesn't quite get the pull shot right does Rohit, but he made sure it was kept down. Still three runs though and Kohli comes on strike. Happy to leave them outside off, and it is obvious Australia are going to keep it at sixth stump and beyond to the India vice-captain. As I say that, Hazlewood bowls on the stumps, and Kohli gets his first run with a flick to fine-leg. India 42/1 in 9 overs.
9.24 am: Dhawan had kept Rohit off strike for a while, but the right-hander is still timing them well, even if not finding the gaps as often as he would like. A stead over from Paris. India 38/1 in 8 overs.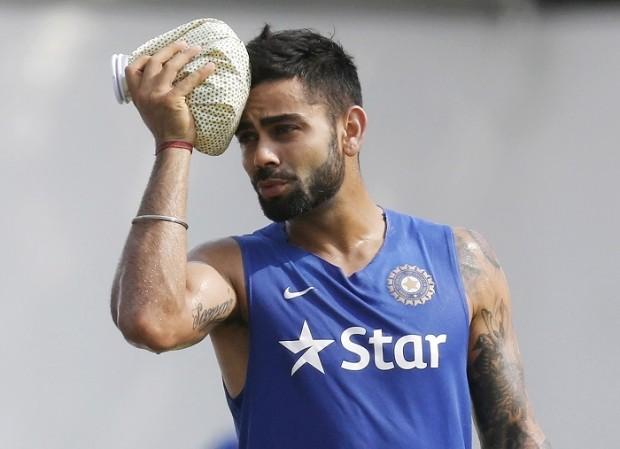 9.20 am: A short ball to greet Kohli from Hazlewood. India 37/1 in 7 overs.
9.18 am: Trap set, and Dhawan falls for it hook, line and sinker. Wicket, Dhawan (9, 22b, 1x4) gone! So easy that, and so daft from Dhawan. The man was placed in the deep for the hook shot, Hazlewood obliges with a good short ball and on this WACA pitch, if you don't get your timing right, it will soar straight up. So it does, and Mitchell Marsh takes a simple catch a deep backward square. Poor shot from Dhawan, a man of his experience should know better, but he just can't curb that instinctive pull shot. India 36/1 in 6.4 overs.
9.14 am: Dhawan finally times one well, but the drive does not go past Warner at wide mid-off. next one, though, does and Dhawan gets his first boundary through extra cover, what a shot that! India 35/0 in 6 overs.
9.11 am: Dhawan in Test mode for now, as he gets his eye in. No problem in that at all, because he has the ability to make up. Just don't throw away your wicket after spending time in the middle. A quiet over from Hazlewood as Dhawan defends. India 29/0 in 5 overs.
9.07 am: An inside edge saves Dhawan first ball, before the left-hander gets off the mark with a quick single to the right midwicket. Rohit is timing the ball well here, as a crisp drive goes straight to cover. Paris drops short after that and there is Rohit spanking a pull for a massive six. Big six that – 84 metres -- got it right off the meat of the bat. India 28/0 in 4 overs.
9.03 am: A couple taken next ball with a clip to fine-leg, and then Rohit plays and misses as Hazlewood gets his line and length right. India 20/0 in 3 overs.
9 am: Near miss. A short ball from Hazlewood first up to the bod, Rohit goes for the pull, gets a top edge and just flies over the wicketkeeper Mathew Wade for a boundary. Lucky Rohit there, quite lucky.
8.59 am: Cracker of a first delivery in ODI cricket from Joel Paris – an inswinging yorker which Rohit just gets down in time to negotiate. It hit the toe edge of his bat and if that had missed the willow, it was bye bye Rohit. Dhawan, after hitting a ball straight to point, gets off the mark next ball with a not-very-well-times drive through extra cover for a couple. Lets the next one go, before smashing a drive straight to cover. Doesn't have great pace does Paris, but he has been on the mark from the off, while getting a bit of swing too. India 14/0 in 2 overs.
8.54 am: Next ball from Hazlewood is better and Rohit just about leaves it outside off. Hazlewood loses his line again next ball, though, with a leg-bye off Rohit's thigh pads giving India another boundary. An opened bat face drive gives Rohit a single next ball to third man and Shikhar Dhawan is happy to let the final ball of the over go. India 11/0 in 1 over.
8.52 am: Next ball is on the pads and Rohit pushes it again through the same spot, this time for a boundary.
8.51 am: First ball is on the stumps and Rohit pushes it past wide mid-on for a couple.
8.50 am: The players are out on the crease. Rohit Sharma on strike to Josh Hazlewood.
8.49 am: The great Rahul Dravid, who celebrated his birthday yesterday. Stay at the crease, and if you are in it for a while, you can score big. The first two games will be crucial, if India can win them, they will go a long way.
8.36 am: Ravi Shastri again: Shikhar has to cast his mind back to the World Cup, he had a great World Cup. But you are playing in Perth, it is a little different. So you have to get your eye in and prepare for that extra bounce. Rohit had a great last year as well. It is all about spending time in the crease.
8.31 am: Nice moment as Barinder Sran gets his first India cap.
8.26 am: Teams: Australia: David Warner, Aaron Finch, Steve Smith (C), George Bailey, Glenn Maxwell, James Faulkner, Mitchell Marsh, Matthew Wade, Scott Boland, Joel Paris, Josh Hazlewood.
India: Shikhar Dhawan, Rohit Sharma, Virat Kohli, Ajinkya Rahane, MS Dhoni (C), Manish Pandey, Ravindra Jadeja, R Ashwin, Bhuvneshwar Kumar, Umesh Yadav, Barinder Sran. Debut for Sran. So three debuts in the match, with Joel Paris and Scott Boland making their for Australia.
8.25 am: Nothing on the India team yet, will get it to you as soon as it is out.
8.24 am: MS Dhoni: It's good to have a few new players in the side. The batting looks settled, one place up for grabs, but it is the bowling that will be new. We were there for over four months last time around, and we love competitive cricket.
Steve Smith: Would have bowled, as there is a bit of tackiness in the pitch. Two debutants, and we have a lot of confidence in these young guys. We have played well in 50-over cricket the last couple of years and we are confident of continuing to play competitive cricket and stay No.1 in the world.
8.21 am: Toss time, the captains are out on the pitch with Mark Nicholas. India win the toss and they will bat first.
8.16 am: Few minutes away from the Toss. Bat first, I would think.
8.13 am: Ravi Shastri on MS Dhoni: He is hungry, he has had time to train, he wants to win and the fact of the matter is he is still hungry and that augurs well, the opposition better watch out.
8.06 am: Ravi Shastri: We are optimistic and realistic (yeah, I know), no matter what Australia team player, it will be a really really good team. But if this team plays to potential, we will have a great series. Start off well, and if you win a game early in the series, you are right in it. India were here last here, and know the bowlers, if the batting clicks, and then I think we will have some fun.
There is no better place to play cricket, because if you play well, you will command respect from the entire country. Doesn't make a difference how many quicks Australia play, they can play 10 for all we care. Get out there and kick butt is the plan.
7.55 am: Ah, here we are again – India cricket is back, and what a New Year of cricket awaits. With the World T20 on the horizon, there will be a fair few matches in coloured clothing, starting with this ODI series against Australia.
The first ODI is here and now in Perth, and what a seven-and-a-bit hour awaits. India will look to make a positive start to this limited-overs series, so will Australia.
Hello and welcome everyone to IBTimes India's live blog and coverage of the first ODI, I am Deepak Vikraman and I will be right here with you for the entire match, taking you through all the ups and downs and thrills and spills (and a few more of those clichés) as it happens..
There are plenty of questions to be answered by both teams, as they try and iron out the chinks in their armour for bigger limited-overs assignments coming up in the near future. The majority of these players, after all, will be in the T20 squads for the World Cup, and the sooner they get into nick in the New Year, the better.
India were thumped by Australia a few times last year, so there is that revenge thingy (you can just imagine Virat Kohli plotting it can't you) in play as well, which should add a bit of spice (there I made it Indian) contest.
If you want to know where to watch the match live on TV and online in various territories across the world, all the finromation you need is HERE.
The key battles and players to watch are also ready to go for your kind perusal. And If you want to take a look at the squads and the entire schedule of the series.