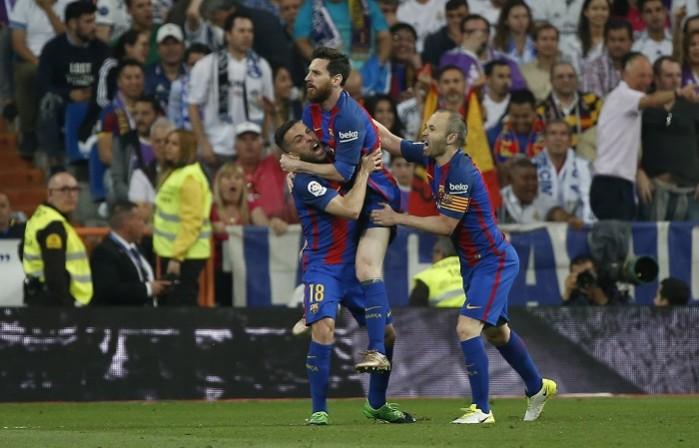 Lionel Messi is regarded as one of the best players in the world, and he proved, once again, with a brace, including a winning goal in the final minute of the match against Real Madrid. Barcelona beat Real Madrid 3-2 in another El Clasico encounter, which will be remembered for years to come, especially by Barca fans.
FINAL SCORE: Real Madrid 2-3 Barcelona
90+2' GOAL - Real Madrid 2-3 Barcelona (Messi)

My, my, my....Messi scores the winning goal in the last minute of the match. Just when one thought that the match would end in a draw, Barcelona break on the counter, with precision, and Messi finds the back of the net with a clean goal.

BIG GAME, BIG PLAYER - Messi.
90' Two minutes of added-time - Any late drama?
88' Rodriguez is having a big say in the final five minutes of the match. He is creating some chances for his team mates too.
86' GOAL - Real Madrid 2-2 Barcelona (Rodriguez)
Masterstroke from Zidane - Super sub Rodriguez scores after some wonderful movement in the danger area. He creates space for himself, and scores a one-touch goal.
85' The game is not yet over. Real are looking for an equaliser while Barcelona wants to kill the game with another goal.
82' Nevas, again. The Costa Rican dives to his left and makes a diving save to deny Messi his second of the night. James Rodriguez on for Benzema.
81' Ronaldo hits it into the crowd, from a tight angle. He wants a corner, ref says no.
80' Navas is keeping Real in the game. He makes another wonderful save to deny Pique.
78' RED CARD - RAMOS

He comes flying in, and catches Messi. Straight red. That was a lunge from the skipper, and he deservedly receives his marching orders.
75' Ronaldo tries to do a Rakitic-like-strike, but he fails at the other end. Stegen saves it easily.
73' GOAL - Real Madrid 1-2 Barcelona (Rakitic)
Rakitic unleashes a venomous shot from 20 yards out, and Navas, who has been brilliant tonight, fails to even touch the ball as it finds the back of the net.
70' Subs: Mateo Kovacic on for Casemiro
Andre Gomes for Paco Alcacer
67' Suarez's shot, at the other end, is saved by Nevas. That was some powerful shot by the forward. End to end stuff at the Bernabeu.
66' Ronaldo misses an easy goal. Asensio passes the ball to Ronaldo, who only has beat the keeper, but his shot is over the bar.
65' Fouls every two minutes or so, as it seems.
63' What a ball from Marcelo, but good defending from Alba, who heads for a corner, which is cleared by Suarez. Marcelo is not happy with his offensive players, as there is no one to meet is quality ball, far post.
58' Top class from Navas, who dives to his left, and saves Pique's header in the corner. This is good football all-round.
56' Barcelona should have been ahead. Navas makes a good save, but Alcacer should have found the net with that strike. He should have laced that shot, not place it. USE MORE POWER MY, BOY.
55' First 10 minutes of the second half has been Real.
54' SAVE!!! Marcelo to Benzema, who heads in from close range, but Ter Stegen denies the Frenchman. How did he make that save?
48' Kroos strikes a left-footer from 20 yards. Ter Stegen manages to save that ball quite easily, but Real are looking a huge threat, early on.
47' Real earn the first corner of the first half, but it is out of danger. Real have started well as they are asking questions to Barca's defence.
SECOND HALF: HERE WE GO....
The first half has been interesting, at times, though frantic too. Real might have looked good, but Barcelona are looking dangerous when Messi has the ball at his feet. He is troubling the Real defenders with his dribbling and movement. If Real started well, Barcelona were better in the closing stages of the first 45 minutes.
FIRST HALF - Real Madrid 1-1 Barcelona
45+3' The first half ends with a miss from Messi. The forward was presented a chance from a corner, but he SOMEHOW managed to miss that from close range.
45' Messi is creating havoc, as always. Casemiro fouls the player and Barca wins a free-kick. That was a good foul as they were looking dangerous, but Casemiro has to be careful. He is on a booking.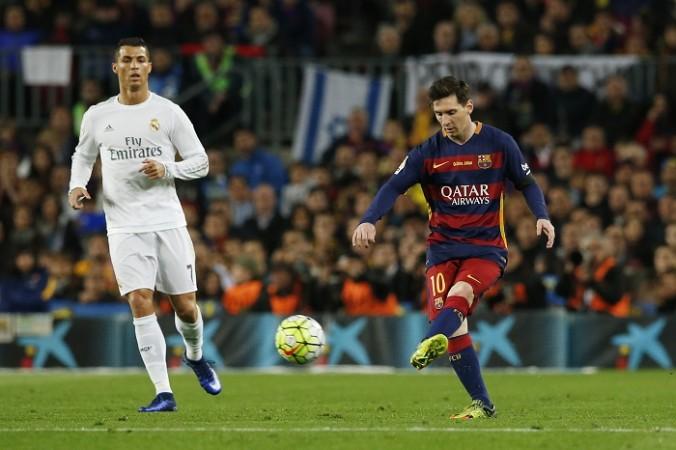 44' Barcelona and their fluid style trouble Real's back four as Suarez crosses the ball from the right to Alba, who slices the ball wide.
38' Umtiti is booked as he fouls Ronaldo.
37' Bale is out of the match. It seems that Real pushed him to be fit, but to no avail. He does not even survive the first half. He is substituted - Marcos Asensio walks in.
36' Modric drills the ball with some power from 20 yards out, and Ter Stegen does well to make that save.
33' GOAL - Real 1 - 1 Barcelona (Messi)
Messi, it is and the star draw level for Barcelona. This is silky from Messi, who just placed the ball past the goalkeeper after beating a few defenders. Three touches and he got past four defenders. What do you call that? Simply magic!
31' Messi is fouled, as he is not given much time on the ball. Two to three players surround the magician as soon as he gets the ball. Is that a surprise? NO.
28' GOAL - Real 1 - 0 Barcelona (Casemiro)
After Ramos' strike hit the post, it defelected to Casemiro, who just tapped the ball in.
26' Ronaldo and Benzema are combining well. The Portugal star finds the Frenchman, who lost control of the ball. Good defending from Barcelona.
24' Marcelo passes the ball from the left flank to Ronaldo, who turns, and goes for goal from distance with his left foot, but Ter Stegen is not worried as it is not on target.
21' Ronaldo cuts inside and shoots, but it is easy for Stegen. Messi is caught on his face, and there is blood from his mouth, it seems. Marcelo and his arm caught the player.
19' It is end to end stuff, and the game is opening up. Suarez goes for spectacular, but fails to connect it first time.
17' Messi, with his magical run and Real players cannot catch him. He splits the Real defence, but his ball does not find any Barcelona player. This is magical from Messi, who burst with full speed.
13' Messi dribbles past Real players, and he is fouled by Casemiro, who receives a YELLOW. That is the first of the match. Messi was ready to use the space upfront and provide a perfect ball to players ahead of him, but Casemiro fouled him.
11' Better from Barcelona as Suarez goes for goal from distance, but does not catch it well. Strikes it wide.
10' Barcelona, finall, gets some ball possession, but are not able to penetrate into the danger area.
8' Real's defence look strong, and are not giving any space to Messi and Suarez.
6' Real on the counter - breaks quickly, Ronaldo goes for a left-footed shot, but strikes it straight to goalkeeper.
5' It is all Real Madrid in the first five minutes, and Barcelona have not even touched the ball properly. Ronaldo has seen some decent ball in the initial exchanges. The same cannot be said of Messi.
2' Drama early on, as Ronaldo goes down inside the box, wants penalty. The referee turns down the request.
1' Here we go.....Real get the first touch of the ball in all white, with Barcelona in red and blue stripes.
12:15: Players from both teams have walked onto the middle, and we will be underway in the next couple of minutes or so. The atmosphere is brilliant, not a surprise there.
12:10 am: This match is of immense importance to both teams, especially for Barcelona. If the visitors suffer defeat on Sunday, Real will have six-point advantage in the title race with a game in hand. So, expect Barcelona players to come all guns blazing to collect three points.
The kick-off is just five minutes away.
11:55: Besides the quality of football, which is expected to be on show, there will be some hasty tackles, some angry moments, complete madness and more. The beautiful game may not always be so, when these two teams meet in the football pitch. This video is a good explainer.
11:45: Big news coming in, Bale is declared fit to start. Real, with BBC, look dangerous while Barcelona's Messi and Suarez will look to exploit Nacho. Can they?
Team news
Real Madrid: Navas; Carvajal, Ramos, Nacho, Marcelo; Casemiro, Modric, Kroos; Bale, Benzema, Ronaldo.
Barcelona: Ter Stegen; Roberto, Umtiti, Pique, Alba; Busquets, Rakitic, Iniesta; Messi, L Suarez, Alcacer.
11:30 pm IST: Real Madrid vs Barcelona - You can check some important information, primarily the stats regarding the two clubs HERE.
What happened when these two teams met last December? It ended in a draw.
What about this time around? Your prediction?
11:15: Welcome to International Business Times, India live blog coverage of El Clascio 2017 - Real Madrid vs Barcelona. It is the mother of all football matches, and I, Ashim Sunam, will bring you all the happenings along with that expected Lionel Messi and Cristiano Ronaldo magic. Not to forget the fouls and drama, which unfurls at the Bernabeu.
Can it get any better than this in the La Liga? With world-class players in both the teams, the match is expected to be top-notch.
Gear up for some brilliant football in the next 90 minutes, and expect goals, goals, and some magical performances from two stars of world football. Ronaldo and Messi are big players, who love such stage.
However, it is not not only going to about the two greats, but other players also need to shine on Sunday. Hold onto your seats. We are an hour away from the mega clash.