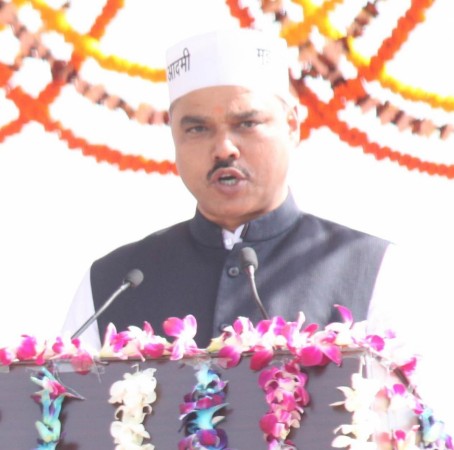 UPDATE: Delhi police on Tuesday took Law Minister Jitender Singh Tomar, who was arrested over his alleged fake law degree, into four-day custody. Following this, the AAP leader submitted his resignation to Chief Minister Arvind Kejriwal late on Tuesday night, IANS reports.
Delhi Police Commissioner BS Bassi said that Tomar was arrested on Tuesday afternoon over his alleged fake law degree. With this, the confusion that started when a police officer said that they had only detained the minister of AAP government has been put to rest.
"He was arrested around 1:30pm, will be produced before the Court", an ANI tweet said quoting Delhi Police Commissioner BS Bassi.
"Action has been taken as per the prescribed process", ANI said in another tweet quoting Bassi.
Some news reports and Aam Aadmi Party leader Sanjay Singh had earlier said that Tomar was arrested from his office on Tuesday morning and taken to the Hauz Khas police station for questioning.
मंत्री जितन्द्र तोमर से बात हुई बगैर किसी नोटिस या पूर्व सूचना के दिल्ली पुलिस ने उन्हें गिरफ्तार कर लिया हौज खास थाने ले जाया जा रहा है
— Sanjay Singh AAP (@SanjayAzadSln) June 9, 2015
However, a Delhi police official later told IANS that Tomar was only detained for questioning based on the compalint by the Bar Council of Delhi.
"Tomar has been detained and not arrested. This is in regard to the complaint by the Bar Council of Delhi in connection to the alleged fake law degree and enrolling himself as an advocate," a police officer told IANS. He had said that the police will release him in a few hours after interrogation.
According to earlier reports, the Delhi police had on Monday night registered an FIR in connection with Tomar's fake law degree and his arrest order was signed by Lieutenant Governor Najeeb Jung.
UPDATES
There is no ques of MHA's interference in any matter,law takes its course: Rajnath Singh on Jitender Tomar's arrest pic.twitter.com/LDTAu8hlv0

— ANI (@ANI_news) June 9, 2015
He was given lots of opportunities to produce original documents&file his reply: KK Manan(Chairman,Delhi Bar Council) – ANI tweet
This college affidavit clearly states that Mr. Tomar has passed his law degree: Deputy CM Manish Sisodia – ANI tweet
Sarkar agar iss tarah ki harkat kar sakti hai, toh saaf hai ki Narendra Modi ko desh ke andar loktantra nahi, taanashaahi chahiye: Ashutosh – ANI tweet
Court should decide whether his papers are forged or not; the police has no business to get into this: Ashutosh ( AAP) on JS Tomar's arrest – ANI tweet
Govt is indulging in vendetta politics: Ashutosh ( AAP) on JS Tomar's arrest – ANI tweet
Taking a moral responsibility of the same, Arvind Kejriwal should step down from his post as Delhi CM: Ajay Maken (Cong) on JS Tomar – ANI tweet
I think it's the first time that a Law Minister's law degree has been found to be a fake: Ajay Maken (Cong) – ANI tweet
Govt is indulging in vendetta politics: Ashutosh ( AAP) on JS Tomar's arrest – ANI tweet
Jitender Singh Tomar arrested to put pressure on Delhi government over the AAP-LG row: AAP
While Bassi will give details on Tomar's arrest after meeting police officials, he had earlier said that he had no updates on the same.
ACP rank officer arrested Law Minister from his office, said AAP sources, according to NDTV.
Delhi police filed FIR against Tomar on Monday night. Jung signed his arrest order.
Tomar claimed to have completed his law education from Bihar's Tilka Manjhi Bhagalpur University, while filing his nomination for the Delhi Assembly polls earlier this year. A case was registered against Tomar for producing a fake degree of law studies.
The affidavit filed by Tomar's counsel said, "...information regarding Tomar is concerned, the records reveal that Jitender Singh Tomar was a student of this college in LLB Part I, II and III in the session 1994-95, 1995-96 and 1997-98, respectively", Zee News reported.
However, the university authorities claimed that the serial number of the provisional certificate mentioned in its records was registered in some other person's name and not of Tomar's.
He has also been accused of producing fake certificate of his graduation studies in science from Dr Ram Manohar Lohia Avadh University (UP).
Ahead of taking Tomar into custody, a team of Delhi police had gone to Bihar to investigate the cheating and forgery charges against him on the direction of Delhi High Court.