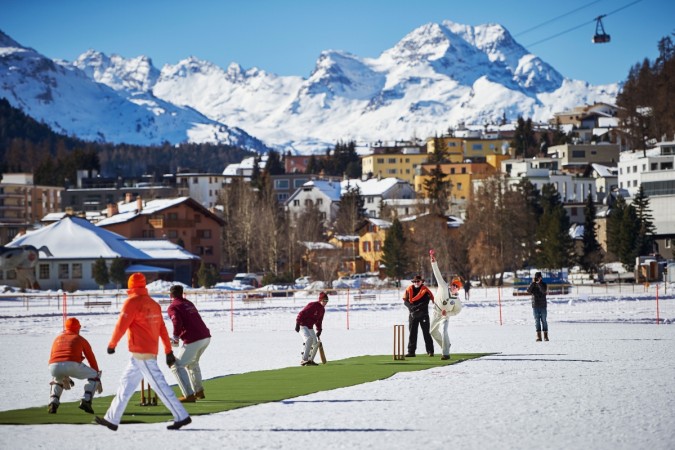 AND THE ROYALS HAVE WON BY SIX WICKETS.

What an innings by Owais Shah...Stays not out scoring 74 runs off 34 balls.
-----
End of Over 15: 160/4
5 runs off 30 balls needed to win the match.
THREE SIXES on the trot by Owais Shah. What an innings so far!
--------
End of Over 14: 139/4
16 runs of the over. The Royals are slowly and steadily reaching their target. Good chase this! Owais Shah and Elliott ruling the shots.
Shah has also got his half century.
--------
End of Over 13: 123/4
--------
End of Over 12: 112/4
------
End of Over 11: 94/4
-------
End of Over 10: 83/4
Great over from Ramesh Powar.
Out...AGAIN! The veteran Mohd Kaif takes a sensational catch. Shahid Afridi heads back for a duck!
OUT! What a catch, Sehwag. Ramesh Powar dismisses the big man Kallis.
--------
End of Over 9: 81/2
HUUGGEEE! Kallis with another big six off a Joginder Sharma delivery. He surely hasn't aged, has he?
------
End of Over 8: 69/2
-------
End of Over 7: 59/2
--------
End of Over 6: 55/2
OUT! Malinga comes on to bowl and dismisses Graeme Smith. Solid catch by Dilshan.
The South African scored 23 runs off 14 balls.
---------
End of Over 5: 47/1
What a quickfire start by the Royals and Shahid Afridi has not even joined the party!
--------
End of Over 4: 39/1
SIX! Massive shot by Smith to take away full attention. Agarkar having a bad day already.
-------
End of Over 3: 26/1
The South African pair of Kallis and Smith are wreaking havoc already.
-------
End of Over 2: 16/1
Jacques Kallis comes on and hits a boundary straightaway.
Out! Prior is dismissed. Good catch from Joginder Sharma. Departs after scoring 8 runs.
Ajit Agarkar comes on to bowl the second over of the innings.
-----
End of Over 1: 6/0
-----
6:30 pm IST: And we are under way for the second half of the match.
Graeme Smith and Matt Prior come on the crease for the Royals team. Zaheer Khan, meanwhile, opens the bowling.
The Royals are chasing 165 runs.
1st innings
End of Over 20: 164/9
Abdul Razzaq has been brilliant. The former Pakistani bowler has taken four wickets, giving away 18 runs in the match.
-------
End of Over 19: 161/8
Out! Joginder Sharma is dismissed by Shoaib after the Indian plays a quickfire innings.
------
End of Over 18: 150/7
Out! Ramesh Powar departs after McCullum dismisses him.
------
End of Over 17: 142/6
What a brilliant over for former Pak cricketer Abdul Razzaq!
Out! Now Kaif is dismissed. Scores 19 off 16 balls.
Out! Symonds is dismissed by Razzaq. He scored 40 off 31 balls.
-------
End of Over 16: 138/4
Huge Six by Mohd Kaif off Nathan McCullum's delivery. That travelled some distance!
-------
End of Over 15: 128/4
There was a funny moment when Afridi shouted for a LBW decision but the umpire didn't entertain. And then, he makes the DRS gesture. If only....
------
End of Over 14: 113/4
-----
End of Over 13: 110/4
----
End of Over 12: 98/4
-----
End of Over 11: 94/4
Mohd Kaif has come on to the crease.
OUT!!! Sehwag has been dismissed by Shoaib Akhtar after scoring 62 off 31 balls. Amazing catch by Abdul Razzaq.
-----
End of Over 10: 87/3
----
End of Over 9: 82/3
Black Caps veteran Daniel Vettori has come on to bowl...and it's a HALF CENTURY! Sehwag scores 54 off 25 balls.
------
End of Over 8: 68/3
SIX!! Sehwag has struck again. Elliott suffers once more.
Behold, the hard-hitter Andrew Symonds has come on!
-------
End of Over 7: 56/3
Michael Hussey comes on.....and he's OUT! It's a RUN OUT. What a memorable over for Team Royals.
Hussey goes back scoring 1 off 1.
OUT! And Afridi strikes in his first over itself. Jayawardene has been dismissed after scoring 7 off 10 balls.
And...one of the best all rounders in the history of cricket, Shahid Afridi has come on to bowl.
--------
End of Over 6: 52/1
HUGE SIX! Elliott comes to bowl and his first delivery is smashed hard over the boundary and out by Sehwag.
------
End of Over 5: Solid over by Razzaq. Sehwag's team are 39/1.
Another Sri Lankan hotshot...Mahela Jayawardene comes on to the field.
OUT! Dilshan is dismissed by Abdul Razzaq. Owais Shah takes the catch!
The Sri Lankan scored 8 runs off 11 balls
-----
End of Over 4: 38/0
The South African veteran Jacques Kallis has come over to bowl over No. 4 of the match!
TWO BACK-TO-BACK SIXES! Who else but Sehwag. Not a very good welcome to bowling for Kallis.
------
End of Over 3: 24/0
Sehwag has scored a quickfire 16 runs off 10 balls.
-------
End of Over 2: 16/0
Abdul Razzaq comes over to bowl the 2nd over.
--------
End of Over 1: 6/0
------
4:50 pm IST: Tillakaratne Dilshan and Virender Sehwag are the openers in the first innings.....and it's Pakistani speedstar Shoaib Akhtar who is set to bowl the first over.
Sehwag welcomes Shoaib with a boundary off the first bowl. What a start by the Nawab of Najafgarh!
4:35 pm IST: Sehwag's team 'Bardutt's Palace Diamonds' won the toss and elected to bat first in this T20 cricket match. All the updates are gonna come you way now, despacito.....
"It's very interesting. We never played on a frozen lake before. It is good for fans also. We practiced well yesterday in the -11 degree celsius conditions. Today it is -7 degress celsius....", says Virender Sehwag.
"I was planing from 2-3 years to visit this country and now I'm finally here thanks to cricket....", says Shahid Afridi.
4:30 pm IST: Okay....so, Sony has already started showing something. But that's not the match. Treat yourself to some scenic beauties from the Swiss Alps first...
4:25 pm IST: We have no option but to wait....and wait....and wait.... till it's 4:30 pm IST and Sony lives up to their promise of bringing the match live. Even deferred live would do, just show the full match, will ya?
Update: We don't know what exactly happened with SONY ESPN in India, but the match was supposed to be broadcast from 3:30 pm IST.
Apparently, in Fox Sports Australia, it is already live. Phew...Epic fail!
Nevertheless, stick by us, we really hope the action comes across on Indian TV live from 4:30 pm, as they are promising.
4:15 pm IST: We are LIVE for the unique Ice Cricket 2018 tournament that will be featuring the legends of the game battling it out at the scenic St Moritz in the Swiss Alps.
Indian cricket legend Virender Sehwag is the captain of the Diamonds Team, while Pakistan cricket legend Shahid Afridi captains the Royals Team.
The first T20 match of the two-day tournament starts off this Wednesday February 8. Catch it on TV and online.
Alternatively, also stay hooked on to this page as we bring you all the live scores and updates from the match...
Playing on the ice is not a cake walk. You need proper instructions before you even think about running there. Here's a small clip of players interacting with organizing authorities to know everything they should know before getting things started on the ice pitch.#Stmoritz pic.twitter.com/dF7ylBH1ai

— Ice Cricket (@IceCricketCH) February 8, 2018