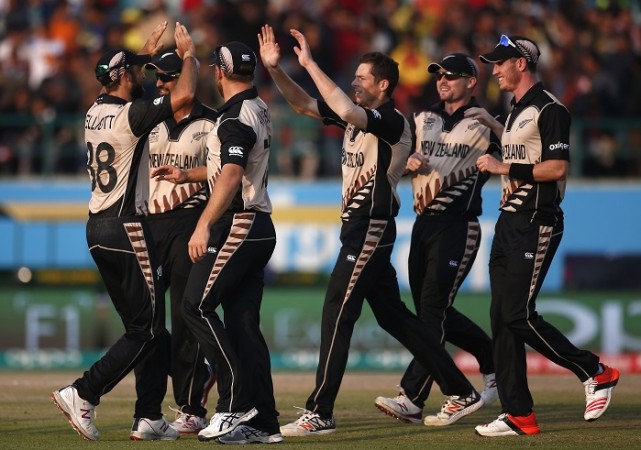 England played some wonderful cricket to defeat New Zealand in the first semifinal of the World T20, by seven wickets at Feroz Shah Kotla Stadium in Delhi, Wednesday. England, who were asked to chase 154 runs to win, achieved their target with 17 balls to spare.
England chased the score with ridiculous ease, thanks to some wonderful attacking display by Jason Roy, who took the attack to the New Zealand bowlers. Roy was ruthless against both the seamers as well as the pacers. He scored 44-ball 78, which comprised eleven fours and two sixes. Jos Buttler and Joe Root also played their hand in the chase with 17-ball 32 and 22-ball 27 respectively.
Though Roy played a significant role in the win, one cannot afford to forget Ben Stokes contribution with the ball, taking three wickets. New Zealand lost five wickets in the last five overs, which got England back into the game, and carried that momentum when they came into bat. Had they not lost such wickets, New Zealand could have scored much more, and the result could have gone either way.
With this victory, England have reached the World T20 final, and will face the winner of the second semifinal between India and West Indies.
10:15: Buttler finishes with a massive six. That is all over for New Zealand. England book their World T20 final berth. England 153/3, 17.1 overs (Root 27, Buttler 32) England win by seven wickets.
10:14: Now Root gets into the act with a reverse sweep, boundary. Root gives the strike to Buttler, who takes the game out of NZ's reach with four, four and six in the next three balls. Buttler, no wonder, is one of the most feared batsmen in world cricket today. England 153/3, 17 overs (Root 27 Buttler 26) need 1 run from 18 balls.
10:08: Elliott gives room to Root, who hits it for a single. Buttler also takes a single in the next ball. The ball is keeping really low. England batsmen have to be careful. Three singles so far. What will Buttler do now? Plays the reverse, and hits a boundary. This boundary was needed. England 131/3, 16 overs (Root 22 Buttler 9) need 23 runs from 24 balls.
10:05: Santner. Can he do a Sodhi? NZ are playing it simple, taking singles. Three singles in the first three balls. They just have to knock it around, the odd four will come. Three dots, good bowling, but they need a wicket. England 124/3, 15 overs (Root 20 Buttler 4) need 30 runs from 30 balls.
10 pm: McClenaghan to Buttler, takes a single, and Root square cuts the ball for another single. England batsmen cannot afford to panic. They have this game in their bag unless they take the suicide pill - give their wickets away. Back of length, and Root plays the pull shot for a boundary. England 121/3, 14 overs (Root 18 Buttler 3), need 33 runs from 36 balls.
9:55: An attacking field for Buttler, who is facing the hat-trick ball. Buttler defends it easily. Buttler takes a single, gets off the mark. Root takes a neat couple with a flick shot, and the right hander hits a boundary this time with a pull shot. England 117/3, 13 overs (Root 16 Buttler 1)
9:52: Roy's wonderful innings comes to an end. He comes down the track to Sodhi, but the ball does not bounce much, is, hence bowled. England 110/2. Sodhi dismisses Eoin Morgan for a golden duck. two balls, two wickets. 110/3.
9:48: Milne back into the attack. Roy attacked him during the powerplay, and will continue to do so as he pulls the ball powerfully for one run. He is middling the ball brilliantly. Root takes a single, and gives the strike to Roy. Root bisects the field on the leg side for a quality boundary. England 110/1, 12 overs (Roy 78, Root 10)
9:44: 100 up for England in 10.2 overs. They have maintained this run rate throughout the game. They are taking easy singles now, and are attacking the loose balls. Tennis-type smash from Roy for a single. Good over for NZ, no boundary. England 103/1, 11 overs (Roy 76, Root 5)
9:40: Root can take his time as he takes a single off Elliott. The duo has the game in their hands. They cannot lose it from here. Roy wants to finish the game in a hurry, as it seems. He picks it up for a wonderful six on the boundary boards in the leg side. He is milking the NZ bowlers. England 98/1, 10 overs (Roy 73, Root 3)
9:35: Roy is still going strong as he places the ball in the leg side for another impressive four, and takes a single, gives strike to Joe Root, who drives beautifully to get off the mark. England 88/1, 9 overs (Roy 65, Root 1)
9:32: Hales GONE. Santner dismisses Hales, who is caught on the boundary line. England 82/1
9:30: Grant Elliott with his gentle medium. He will ball his off-cutters. Hales gives the strike to Roy, who is middling the ball and scoring runs with ease. Ronchi misses the chance to stump out Hales. Good over for NZ, four runs only. England 79/0, 8 overs. (Roy 57, Hales 20)
9:26: Roy reverse sweeps Ish Sodhi for a boundary. They are going at around 11 runs per over. Sodhi's wrong one is taken for a single. England 75/0, 7 overs. (Roy 55, Hales 18)
9: 22: Final over of the powerplay. Roy comes down the track, and tries to hit the ball hard, does not middle. Just takes a single. Two runs from four balls so far by McClenaghan. Roy stands his ground and pulls the ball in the leg side for a boundary. Same shot, just one run. England 67/0, 6 overs. (Roy 49, Hales 16)
9:18: Mitchell Santner set to bowl his first over. Will England attack him as well? 50 runs from 4.2 overs. Roy smashes the slow left-arm for a boundary. Brilliant batting by Roy, who hits back-to-back boundaries, fine sweep. England 59/0, 5 overs. (Roy 42, Hales 15)
9:14: Hales takes a single off Milne's first ball, and Roy plays a straight drive, which is well stopped by the bowler. Milne bowls a slower ball, Roy takes a single. Hales clears his left leg, and smashes the ball in the mid-wicket region for a boundary. England are well on course for a win as Roy smashes a six, straight down the ground. England 49/0, 4 overs. (Roy 34, Hales 15)
9:10: Mitchell McClenaghan to bowl his first over. Can he deliver for NZ? The England batsmen are actually liking the ball coming onto the bat as Hales gives the strike to Roy, who has looked brilliant. Slower ball from the bowler, Roy takes a single. Hales comes into the party, straight over the bowler's head for a maximum. Roy hits another boundary. England have got a solid start. England 36/0, 3 overs. (Roy 27, Hales 9)
9:05: Adam Milne from the other end. He will try to use his pace, but will it work? Roy threads the field in the off-side for his fifth boundary. Roy is looking superb. Milne shows some aggression, bowls a bouncer, dot ball. Roy slashes, ball goes high via top-edge, but falls safe, takes a couple. England 23/0, 2 overs. (Roy 22, Hales 1)
9pm: Corey Anderson with the new ball, beats Roy outside the off-stump. The right-hander slashes in the off-side for his first boundary. Roy gets another boundary, thick edge in the long leg region. Third boundary as Roy again thick edges the ball to the vacant third man. Roy starts brilliantly, as he dabs the ball to third man for his fourth boundary. England 16/0, 1 over. (Roy 16, Hales 0)
8:55: New Zealand players are out in the middle, so are the English openers - Jason Ray and Alex Hales.
NZ have scored 153 runs in their alloted 20 overs. 32 runs were scored in between overs 16-20. The Black Caps lost five wickets in the process. New Zealand's lower-order failed to score, and the Black Caps had to hence settle for 153 runs only. England have come back brilliantly in the game, and the Englishmen should be favourites to win the match from here on.
8:35: Sorry cricket lovers. I apologise. Due to some technical glitch, I could not provide you with the live updates for the last five overs.
8:12: Five overs to go. Taylor slogs the ball in the leg side, takes three runs, one run saved by the fielder. England fielders have saved some important runs in the field already. Two runs in this over alone. Full toss and Anderson sends the ball into the crowd for a massive six. New Zealand 133/3, 16 overs (Anderson 25, Taylor 6)
8:07: Rashid starts the over with a wide. England are getting back into the game nicely. Rashid is mixing his balls well including his wrong one. However, Anderson and Taylor are huge-hitters of the ball.
8:03: Taylor has walked into bat. This over has been brilliant from Plunkett as he has not given much room to Anderson after dismissing Munro. Four runs from the first five balls and a wicket. Taylor gets off the mark with a single straight down the ground. New Zealand 111/3, 14 overs (Anderson 9, Taylor 1)
8pm: Plunkett bowls two dot balls to Munro, who feels the pressure and plays an aggressive shot, but is held out in the third man region. MUNRO OUT. New Zealand 107/3, 13.2 overs
7:58: Ali has been brilliant since he has come onto bowl. Has bowled tight line and length. Anderson powers Ali for his first four, straight down the ground, tennis-like shot from the left-hander. Just seven runs from the over despite the boundary. New Zealand 106/2, 13 overs (Munro 46, Anderson 6)
7:54: Munro hits Rashid for a boundary in the first ball. Meanwhile Anderson is yet to get off the mark, but takes a single in the leg side. This pair is crucial for NZ as they can take the attack to the NZ bowlers. Another decent over for England. New Zealand 99/2, 12 overs (Munro 44, Anderson 1)
7:50: Two left handers at the batting crease. Munro and Corey Anderson. Ali is applying pressure on Anderson. Great over, wicket and three runs. New Zealand 92/2, 11 overs (Munro 38, Anderson 0)
7:48: Moeen Ali replaces Rashid. Williamson takes a single in his first ball, and field changes for Munro, who also takes a single. Williamson GONE, as the bowler runs back for a caught and bowled dismissal. New Zealand 91/2, 10.3 overs
7:46: Munro goes for a massive hit, but inside edges the ball for boundary. Stokes unlucky. NZ have stepped on the accelerator. Slow bouncer from Stokes, and Williamson does not middle it, takes a single. Brilliant yorker from Stokes, but unfortunately, goes for a boundary in the long leg region. Chinese cut, it is!!! New Zealand 89/1, 10 overs ( Williamson 31, Munro 36)
7:42: After a good first over from Rashid, NZ might attack the spinner. Yes, they will as Munro switch hits for a long way in the mid-wicket region. Williamson waits for the ball and cuts for a boundary. Rashid under pressure, but bowl two dot balls. New Zealand 78/1, 9 overs ( Williamson 30, Munro 28)
7:38: Ben Stoke to bowl his first over. After two singles in the first two balls, Williamson times the ball over the bolwer's head for NZ's first six. It was a brilliant cricket shot. Players like Williamson show how T20 can be played without any slogging. 11 runs from the over. New Zealand 66/1, 8 overs ( WIlliamson 25, Munro 21)
7:33: Adil Rashid – spin into action. How will NZ play the spinner?He is going to held the key as England will want him to take wickets. Has only conceded singles so far. There is an stumping appeal, but WIlliamson's bat is well in. NOT OUT. Good over from Rashid, who just gives away 4 runs in the over. New Zealand 55/1, 7 overs ( WIlliamson 17, Munro 19)
7:29: Munro smashes the ball for a powerful boundary straight down the ground, all along the carpet, and follows it with another boundary, thick edge. Plunkett under pressure, as he concedes three fours on a row, with another boundary in the leg side. Plunkett bowls a slow ball, beats Munro, needs to mix it well. 15 runs from the over. New Zealand 51/1, 6 overs ( WIlliamson 15, Munro 18)
7:24: Jordan to Munro, who goes hard at the ball, but misses it, hits the pad. Munro misses another one, against hits the pad, the pair takes a quick leg bye. Jordan bowling well, not giving any room to Williamson and Munro. As I say that he bowls it short and wide in the leg side, helped on its way by Williamson for a four. Jason Roy saves a four with a brilliant dive at point to his left, NZ only takes a single. New Zealand 38/1, 5 overs ( WIlliamson 14, Munro 6)
7:20: Liam Plunkett to Williamson, who leg glances the ball, and a chance goes begging at short-fine leg. The ball was in the air, Rashid dives, but was too difficult to catch. To be fair, it was a boundary saved. But this time, Williamson gets the ball past Rashid for a boundary. Williamson takes a couple in the leg side to finish the fourth over. New Zealand 31/1, 4 overs ( WIlliamson 9, Munro 6)
7:15: Colin Munro replaces Guptill, and the new batsman goes after the bowler, only a single. Willey beats Munro, who goes for a drive. Munro's intent is clear, as he hits a boundary, coming down the track to Willey. New Zealand 23/1, 3 overs ( WIlliamson 2, Munro 5)
7:11: Guptill OUT. Massive wicket for England. Guptill goes hard at the ball, edges the ball to Buttler. Good bowling from Willey. New Zealand 17/1, 2.1 overs
7:10: Chris Jordan to start the second over. Three dot balls. That is good start from Jordan, but expect Guptill to attack now. Guptill has not got much width from Jordan, but the batsman hits for a a wonderful boundary. Good over from Jordan, six runs. New Zealand 17/0, 2 overs (Guptill 15, WIlliamson 1)
7:05: New Zealand openers -- Martin Guptill and Kane Williamson -- are ready.Kane Williamson to face David Willey. Here we go. Guptill slashes, and starts with a boundary in the off-side from the first ball. Willey gets the ball to swing and appeals for a LBW, close call. Guptill scampers for a qucik single, Morgan misfields, would have been close if he had dathered the ball. Guptill hits another boundary in the off-side. New Zealand 11/0, 1 over (Guptill 10, WIlliamson 1)
6:55: Time for National Anthem of both the nations. We are five minutes away from the first ball of the semifinal.
6:53: Root and Guptill will play an important role for their respective teams. Their record in the 2016 World T20 has been similar. But, who will shine in Delhi?
6:50: New Zealand batsmen have had a mixed 2016 World T20 so far, with their lowest score reading 126/7 against India while 180/5 against Pakistan has been their best score. However, NZ's score in this semifinal will primarily depend on how Guptill starts the innings for the Black Caps.
6:43: Teams: New Zealand: M Guptill, K Williamson, C Munro, R Taylor, C Anderson, G Elliott, M Santner, L Ronchi, A Milne, M McClenaghan, I Sodhi
England: J Roy, A Hales, J Root, E Morgan, B Stokes, J Buttler, M Ali, C Jordan, A Rashid, D Willey, L Plunkett
6:34: England have won the toss, and will bowl first, but New Zealand should be happy with it as NZ skipper Kane Williamson says that he would have batted first if they won the toss.
6:30: Both teams are on the field, with their usual pre-match warm up routine. Toss coming up soon. In such crucial knockout games, winning the toss is going to be crucial.
6:20: Key players to watch: New Zealand - Martin Guptill, Mitchell Santner and Corey Anderson
England: Joe Root, Jos Buttler and David Willey
6:15: New Zealand have been the best team in the competition so far, defeating teams like India, Australia, Pakistan and Bangaldesh. England, on the other hand, have been good, but lost to West Indies. However, England emerged victorious against South Africa, Afghanistan and Sri Lanka. With such record behind their back, a mouth-watering clash is on store for cricket fans all around the world.
Hello everyone. Welcome to International Business Times, India live blog coverage. This is Ashim Sunam here, and I will provide you with all the highs and lows from the first World T20 semifinal between England and New Zealand.
New Zealand might have a slight edge in the semifinal due to their unbeaten streak in the World T20, but England have also played good cricket in the competition. A close-contest is one the cards between the two nations.
We are just an hour away from the first ball at the Feroz Shah Kotla Stadium in Delhi.