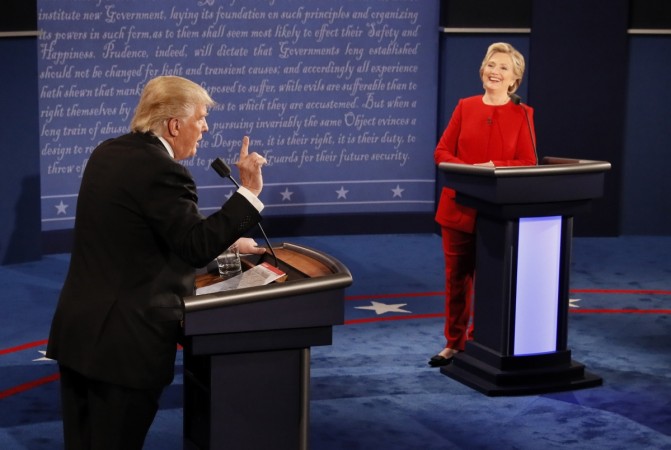 The third and final presidential debate is Donald Trump's final attempt at reversing the widening gap as polls show that Hillary Clinton commands a strong lead over the provocative billionaire. Early voting has already begun.
With just 20 days before Americans cast ballots on November 8 2016, the two candidates are facing off at the University of Nevada, Las Vegas.
The Republican nominee, 70, is looking to bounce back from allegations made by several women of unwanted sexual advances, which came on the heels of the release of a 2005 video, in which he made lewd comments about women.
Trump has been losing support from minorities and women, who have especially been vocal about their support for Clinton.
Here are live updates from the debate, scheduled to start at 6:30 am IST on Tuesday:
8.08 am IST
Clinton gets the first shot at a "surprise" closing statement that neither candidate prepared for. "I've been privileged to see the presidency up close. I know the awesome responsibility of protecting our country and to make life better," she says.
"I hope you will give me a chance to serve as your president," she adds.
Trump used his time to reiterate his campaign's motto: "Make America great again."
Trump then ticked through his campaign top lines: law-and-order in the nation's inner cities and an economic boom that would lift everyone.
Trump punctuated his remarks by pointing at Clinton, saying that she would not be able to help American families as he would.
8:15 am IST
After both candidates' final answers, Hillary Clinton stepped forward and shook hands with moderator Chris Wallace of Fox News. Trump stayed behind his podium and watched, as Clinton then stood on stage and waved to people in the audience. Trump didn't leave the podium until Clinton was too far away for a handshake, stepping off the stage and into the crowd.
8.05 am IST
Clinton gets the grand bargain question on tax increases and benefit cuts that Trump largely ducked: Would she agree to one to save entitlement programs? "I am on record as saying that we need to put more money in the social security trust fund, that's part of my commitment to raise taxes on the wealthy," she says. "My social security payroll contribution will go up, as will Donald's, assuming he can't figure out how to get out of it."
Trump interjected, "Such a nasty woman."
8.00 am IST

Clinton is asked about the national debt question. "I think it's important to recognize that he has been criticizing our government for decades," Clinton says, noting that Trump took out an ad in the New York Times criticising Republican president Ronald Reagan.
"This is the way Donald Trump thinks about himself," she says, that he and only he can solve the problem.
On the issue of debt, she says: "We are going where the money is. We are going to ask the wealthy and corporations to pay their fair share."
She adds that raising taxes will not slow growth
7.56 am IST
Wallace asks how Clinton's idea of a "no fly zone" would work. He asks if the US would be willing to shoot down a Russian plane over a no-fly zone.
She suggests her strategy would be to "strike a deal" with Russia and Syria before the no-fly zone went into place, suggesting she would try to prevent any Russian plane from ever flying over Aleppo.
7.54 am IST
Clinton quickly, and perhaps too cavalierly, says the US should "take back" Raqqa after Mosul is liberated.
It's not that simple. Mosul is in a country - Iraq - that is working closely with the US on military strategy. But Raqqa is in Syria, and the US has tried to push out its leader Bashar al-Assad.
7.51 am IST

Trump said Bernie Sanders, Clinton's primary opponent, said she had bad judgement.
Clinton parries the charges about Bernie Sanders: "You should ask Bernie Sanders who he is supporting for president. He said you are the most dangerous person to run for president."
7.50 am IST
Clinton fires back on Trump's litany of charges on foreign policy.
"Once again, Donald is implying he didn't support the invasion of Iraq," Clinton says. "Google it." She adds: "He has not told the truth on that position. I guess he believes it makes look better because I did vote for it."
She says that the US needs to go after the leader of the Islamic State group, "just like we went after Bin Laden, while you were doing Celebrity Apprentice."
7.45 am IST

Trump says the biggest beneficiary of the liberation of Mosul would be Iran.
This is not a widely accepted view. The Shiite leaders in Iran are closely aligned with many leaders in Baghdad, but the majority of people in Mosul are Sunnis, who are very distrustful of Iran. It's very hard to tell what would happen once Mosul is liberated, which alliances might fray or be created. It's definitely a very fragile area right now.
7.41 am IST
Wallace asks the candidates about current developments in Mosul and how they plan to fight Isis.
Clinton says she opposes boots on the ground. She says that she will continue to push for a "No Fly Zone" in Syria.
There are more than 5,000 US troops in Iraq currently, including 600 that were sent recently to help with the Mosul offensive.
Clinton mentioned moving the fight to Syria and Isis' de facto capital in Raqqa.
Trump says that many of the Islamic State's leaders were in Mosul, but they were able to leave because the US telegraphed its strategy in liberating Mosul.
It's unclear where the Islamic State's top leaders are actually residing. Some believe they were in fact hiding in Mosul, but others believe they were safer hiding near Raqqa, Syria.
7.37 am IST
Wallace adresses Trump's recent comments where he said that election is rigged due to the media and so forth. Wallace asks if he will accept the result of the election and follow the tradition of peaceful transition of power.
Trump says "I will till you at the time. Keep you in suspense."
7.32 am IST
Wallace begins discussion on the Clinton foundation. Trump launches an attack on Clinton saying that lots of donations come from some middle eastern countries that have very poor records for securing civil rights for women. Says it is ironic that Hillary runs on the platform of women empowerment and asks her to return the money.

Clinton says all the money is spent. The discussion then ventures into sourcing of funding for both the candidates.
7.24 am IST
Chris Wallace asks Trump about the allegations of sexual misconduct. Trump says that they are baseless. Call them "lies and fiction," motivated by people who are either seeking fame or doing it based instructions from the Clinton campaign.
Trump accuses Clinton supporters of engaging in violence and starting fist fights. "People could have been killed in Chicago," says Trump
"Nobody has more respect for women than me" says Trump.
7.13 am IST
Donald Trump is highlighting his hard-line immigration strategy as a way to get "bad hombres" out of the United States.
The Republican presidential hopeful reaffirms he would build a wall on the Mexican border and deport "some bad, bad people in this country," then figure out who could be readmitted. He blames some "bad hombres here" for drug epidemics around the country, and he promises "we're going to get 'em out."
Trump's proposal for a wall at the US-Mexico border helped fuel his rise to the Republican Party nomination.
Clinton supports a more lenient policy than Trump. But she still supports a comprehensive immigration overhaul that would include requiring people here illegally to pay back taxes and other penalties.
7.10 am IST
Clinton is pushing back forcefully in responding to Donald Trump's criticism of Clinton's support for women to be able to have late—term abortions.
"This is one of the worst possible choices that any woman and her family has to make, and I do not believe the government should be making it," Clinton said.
Clinton notes that she has travelled to countries where governments have forced women to have abortions or to have children.
The Democratic presidential nominee says that her Republican opponent "exploit(ed) undocumented workers."
Trump is not refuting the charge. He is repeating his promise to deport millions of immigrants in the country illegally if elected. He notes that President Barack Obama has also deported millions of immigrants.
Trump hired a contracting firm that employed immigrants in the country to help build Trump Tower in New York. He settled a related court case out of court.
7.09 am IST
Clinton says current federal law protects "partial—birth" abortion and she would keep it that way as president. She says she has met women undergoing the "heartbreaking" procedure for health reasons.
Donald Trump says, "I think it's terrible." He is likening partial—birth abortions to allowing women to "rip the baby out of the womb" in the ninth month or even on the last day of pregnancy.
7.06 am IST
Clinton slams Trump as Putin's "puppet." Trump retorts by calling her a puppet.
7.00 am IST
Hillary Clinton said Donald Trump's plan for forcible deportations of millions of illegal migrants would rip families and the country apart.
"I don't want to see the deportation force that Donald has talked about," Clinton said. "I think it is an idea that would rip our country apart."
Trump defended his plans, saying there are some "bad hombres" in the country who should be sent to their home countries.
6.50 am IST
Donald Trump says he thinks Roe v. Wade will "automatically" be overturned if he is elected because he will appoint justices who oppose abortion rights.
Trump says he is against abortion rights but did not give a straight answer on whether he personally thinks the landmark abortion case should be overturned or not. He is saying he will appoint justices who would likely do so.
Trump says it would then be up to states to decide whether abortion should remain legal and what restrictions should be placed on it.
6:30 IST
Clinton disagrees with the 2008 Heller decision that found the Second Amendment protects an individual's right to bear arms for self—defense.
Clinton says she supports the Second Amendment but thinks the court prevented a reasonable attempt to make guns safer. It struck down the District of Columbia's requirements for a trigger lock on all guns.
Republican Donald Trump says this is one of the reasons supporters of the Second Amendment don't trust Clinton.