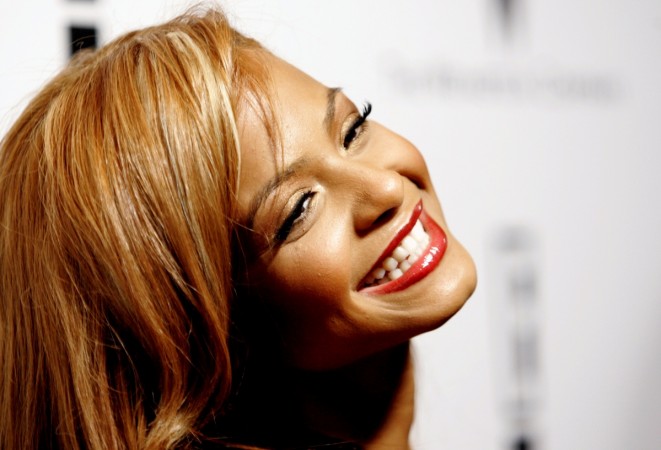 Christina Milian wore a gorgeous bronze sequined gown to the Live By Night premiere in Los Angeles on Monday that turned sheer under the flashbulbs, revealing more than she intended to. The 35-year-old's bare breasts and her Spanx were clearly visible under the long-sleeved gown, but she appeared unaware of the mishap, as she posed for photographs.
Also read: The Bachelor Season 21 spoilers: Liz is eliminated; what happens in episode 3?
The mother-of-one was recently seen in the Rocky Horror Picture reboot on Fox, where she starred as Magenta, the role that was originally played by Patricia Quinn. Talking about her preparation for the role, Milian said the original movie was of great help. "I did definitely study not only the original movie, but also the plays, and the other woman who have played Magenta, and seen where they took it," she was quoted as saying by the Daily Mail. "And I was like, 'You know, I just love their sense of freedom'. 'And that's what - that's what I took from it, and then did my own thing. Got spicy!"
As for Live By Night, the movie is set to hit theatres on January 13. The movie by Ben Affleck is based on the 2012 novel of the same name and follows the story of the son of a Boston police captain who becomes a notorious gangster. The film is set in the Prohibition Era and stars Elle Fanning, Brendan Gleeson, Chris Messina, Sienna Miller, Zoe Saldana and Chris Cooper.
Gleeson recently gushed about the movie and said Affleck really pulled off the gangster flick. "I remember my father watching Edward G Robinson on telly and laughing at all his lines. It makes you wonder, 'Where has all that writing gone?' he was quoted as saying by The Sun. "But then you get a chance to be in an actual gangster movie, and one with a degree of class. It also happened at the end of a year when I was a bit shattered. I was kind of saying, 'Ah, really, I should stop.'
"Then Live by Night comes along. I knew that first night it was going to be something special, and when I saw the finished film, I was so happy because Ben really pulled it off. I'm really proud of this film."