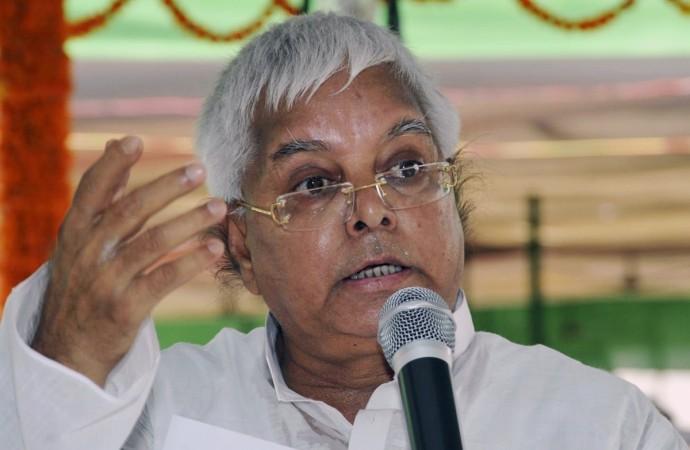 As by-poll vote counting is apparently coming to its end, RJD chief Lalu Prasad Yadav, who has been admitted in Mumbai hospital following heart illness, has expressed happiness over RJD-JD(U) alliance's success in Bihar.
RJD-JD(U) alliance has won six out of the 10 assembly seats in Bihar bypoll. Lalu-Nitish Kumar alliance, together with Congress won six seats—Mohiuddinnagar, Chhapra, Parbatta, Bhagalpur, Jale and Rajnagar.
While BJP won four seats including Narkatiaganj, Banka, Hajipur and Mohania.
Earlier RJD-JD(U) alliance and BJP entered into a tie-up like situation. RJD won three seats—Mohiuddinnagar, Chhapra and Rajnagar, while JD(U) won the Jale assembly seat. BJP has so far won the Narkatiaganj, Banka, Hajipur and Mohania seats.
Congress won Bhagalpur seat after uprooting BJP's 24 year old rule in the assembly.
Ahead of the tie-up, RJD-JD(U) alliance was leading in seven of the 10 assembly seats.
A while back BJP was leading the polls with five of the 10 assembly seats including Narkatiaganj, Hajipur, Banka, Rajnagar and Mohania. While RJD and JD(U) together was leading with two seats each in Chhapra, Mohiuddinnagar and Jale, Parbatta respectively, according to India Today report.
Commenting on their failure in Bihar by-poll, BJP Shahnawaz Hussain said that the Modi'government is in no way responsible for the apparent defeat.
"The results are not to our expectation. We had thought that we would be able to beat the two vote banks of Lalu ji and Nitish ji but we failed to do so. The state leadership takes full responsibility of the defeat and it has nothing to do with Modi ji's government at Centre," Zee News quoted him.

Karnataka
Congress celebrates the victory winning two out of the two assembly seats— Bellary and Chikkodi-Sadalga.BJP led by BS Yeddyurappa's son has won Shikaripura seat.
Punjab
Congress candidate Preneet Kaur has won Patiala seat by 23,836 votes, while Shiromani Akali Dal's candidate has won Talwandi Sabo seat.
Madhya Pradesh
BJP has won Agar assembly seat and it is also leading in two seats including Bahoriband and Vijayraghavgarh assembly seats.
BJP and RJD-JD(U) alliance contested for total of 10 assembly seats in Bihar.
Lalu Yadav to undergo heart surgery
Following prolonged heart problems, Yadav was moved to Mumbai's Asian Heart Institute on Monday morning where he is said to undergo a heart surgery. Two of his valves would be replaced, NDTV reported.