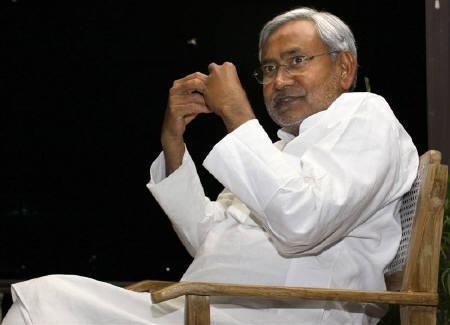 The much-awaited Bihar bypolls saw a 42.27 percent turn out till 4pm on Thursday.
The suspense keeps on increasing as the result will decide the fate of the RJD-JD(U) alliance, which has been challenged by Prime Minister Narendra Modi-led BJP.
The byelections took place in 10 districts - Hajipur, Chapra, Mohiuddinagar, Parbatta, Bhagalpur, Rajnagar(SC), Jale, Mohania (SC), Narkatiaganj and Banka - with a total of 94 candidates contesting the 10 assembly seats.
Although the state government assured to get the people, stuck in flood-affected areas, to reach polling stations through boats, the election turn out was reportedly lower than expected but was peaceful, according to India Today.
As it is the first poll after the 2014 Lok Sabha elections, everyone is keen on the result as it will decide whether Modi's influence in the state still exists or the Lalu Prasad Yadav's RJD and Nitish Kumar's JD(U) alliance has blown it away.
However, despite Nitish's contribution to the state's development from nothing to something during his reign, there are speculations that his alliance with Lalu will affect his chances of winning.
Nitish joined hands with Lalu to prevent Modi's alleged communal forces from entering Bihar but Lalu's reign in the state has not been appreciated much by the people.
Opinion polls are said to have predicted this bypoll to be a "tight contest", with chances of both BJP and JD(U)-RJD alliance getting even results.
"We're all taking it seriously because perception matters in politics. But as things stand, the results will not be a referendum on the complexion of the next Assembly in Bihar. Things will be different. The novelty here is that Lalu and Nitish have come together and everyone is watching this alliance with interest," the BusinessLine quoted a JD(U) leader.
In the absence of any certainty, it will be interesting to see if BJP succeeds in uprooting Nitish's political roots from the state, or the JD(U)-RJD alliance will sweep away Modi's influence and celebrate their alliance.
The bypolls are also expected to give a hint on how the assembly elections of 2015 will do.