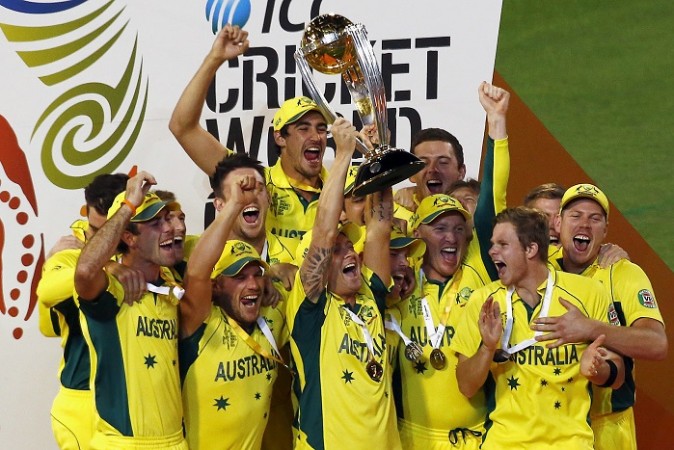 4.20 pm: All about the bowling of Australia wasn't it this final. The first over from Mitchell Starc, when he picked up Brendon McCullum, set the tone, and there was no drop in intensity from there. New Zealand will wonder what might have been, especially had they not lost those three quick wickets in the Batting Powerplay after Ross Taylor and Grant Elliott batted so well to rebuild the innings, but at the end of the day, the Australia bowling was just too good.
The target of 184 was always going to be Australia's, and there was to be no repeat of that famous 1983 final. Aaron Finch fell early, but Warner's quickfire innings inched them closer with Michael Clarke, in his final match on ODI cricket (man, how many times have I written than today!), and Steven Smith taking them home.
Spare a thought for the Kiwis, who have been the most entertaining and arguably the best team at this World Cup, until of course this final. Daniel Vettori also bids goodbye to cricket with this final, and what a servant to the sport of cricket he has been – a true gentleman of the game and a highly underrated cricketer.
That's it from me folks, I'm off to have a beer or five. It has been a great World Cup and it has been a pleasure bringing it to you. The IPL next, don't forget about it. Pause for breath for a few days and come right back here for all the IPL action. Until then, it is bye bye and have a great time.
Get the Full Scorecard of the Final HERE
4.14 pm: The players are walking around the MCG, soaking the atmosphere and the cheers, and a few tears are coming down Clarke's face, or at least he's fighting hard to stop them from doing so.
4.13 pm: The Australian players are getting their medals and Clarke walks in for his interview. "Obviously I'm over the moon. What a tournament. Firstly congratulations to Brendon and New Zealand, they are always a difficult team to beat. To the Australian fans, to all the fans in the game of cricket, I think it has been an amazing turnout. Every cricket supporter out there.
"Most importantly to that amazing team (pointing to his teammates). We played really well tonight, I said after the semifinal I think the guys are ready for the final mentally.
"It has been an honour and privilege to represent my country and my time for one-day cricket is over. Tonight has been extra special.
"The black band around my arm has got PH on it, and I will wear it every game I play for Australia. We played this World Cup with 16 players and it was for my brother and mate Philip Hughes. Hughesy used to party as much as any of them so we will drink a little for him as well."
4.09 pm: Mitchell Starc is the Man of the Series. Tendulkar gives out that award as well and what a deserving winner Starc is. "Don't know what words to use. It is an amazing tournament, some outstanding performances. New Zealand set the benchmark and I think we did well to come and win this final.
"I was a little lucky bowling McCullum. Brendon's been fantastic all through the tournament. The support has been fantastic, to play in front of this crowd and in front of these many people, there is nothing like it."
4.04 pm: James Faulkner is the man of the World Cup final and the award is presented to him by Sachin Tendulkar. "It is an amazing feeling, right in front of 93000 supporters at the MCG to win the World Cup, it is amazing. What a performance today, and it has been an amazing couple of years for the Australian one-day outfit.
"I like bowling in the Powerplay, and today it worked out for us. I'd be lying if I said I didn't think I would be here today, but the physios looked after me very well."
4.02 pm: "It's been one hell of a ride for us," says McCullum. "Unfortunately we ran into a side that continue to set the standards in cricket. Also what a way for Michael Clarke to retire.
"Still at 180, you dare to dream, anything could have happened. But at the end of the day we were the second best team, and credit to Australia.
"We obviously weren't able to lift the trophy, but the brand of cricket we have played is something we are immensely proud of."
3.59 pm: The New Zealand players receive their medallions as the runners-up. How much they would have liked to have seen Australia take the walk.
3.58 pm: Special thanks goes out tothe players that have retired at this World Cup – Kumar Sangakkara, Mahela Jayawardene, Brendan Taylor, Daniel Vettori and Michael Clarke.
Sachin Tendulkar is part of the presentation bandwagon, and he gets one of the biggest cheers of the night – still as popular as ever the Indian legend.
3.45 pm: "The boys have been great they just keep producing time and again," says coach Darren Lehmann. "When you play in a tournament it is all about peaking at the right time and I think the way the boys played here, it was pretty unbelievable."
"Unbelievable feeling you know, we obviously wanted to play out best game towards the end of the tournament. The bowlers really set it up for us, they've done it all tournament," says Smith.
"There were plenty of nerves, but it is nice to see come off," says Starc of the McCullum wicket. "What an occasion you know, it is not every night you win a World Cup, I thought it was a fitting farewell for Pup. I just wish he was there with me at the end there."
"Unreal feeling," says Bailey. "Playing in front of such a crowd must have been phenomenal."
"That was as good as it gets," adds Maxwell. "Just glad I didn't have to come out and bat because I was getting really nervous."
"It's a magical feeling, the boys all did their jobs and it is special," says Warner. "It is a special feeling at the moment and we are going to have a beer with every Aussie supporter out here, so it is going to be great tonight," adds Haddin. "It's been an amazing four weeks. The crowd support has been great and it has just been enjoyable."
"Absolutely special, what I have always dreamed of to be involved in a World Cup final at the MCG," says Watson. "New Zealand have been the form side, and so we had to be at our absolute best tonight and luckily enough we were."
3.41 pm: Clarke bids adieu in the best possible manner, with a contribution with the willow as well. He looked smooth and classy at the crease and that innings would have certainly raised a question or two about whether he really needs to retire. With his hamstring and back problems, though, the decision was inevitable, and what better way to bid goodbye to ODI cricket than with the World Cup title.
3.39 pm: Had to be Smith didn't it, with the right-hander finishing the match off with a four to his favourite legside, while finishing on an unbeaten 56 (71b, 3x4). He will be one of the contenders for the man of the series and so will Starc, and the award should probably go to the bowler in this batting-friendly format.
3.36 pm: The entire Australia team rush to Smith as the team in green and gold celebrate another World Cup triumph, the fifth in their history and fourth in the last five. Man, these guys are good!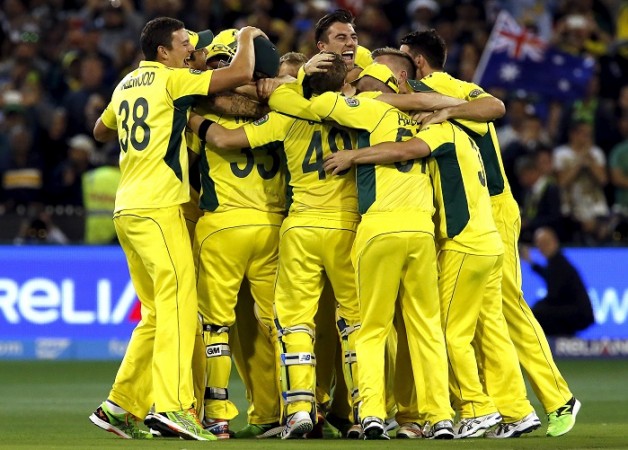 3.35 pm: Smith hits the winning runs and Australia are the ICC Cricket World Cup 2015 champions!
3.34 pm: Watson does not go for that big shot to win the match and the World Cup title the first couple of balls from Southee. He then takes a single to mid-on, which brings the man who deserves to hit the winning runs – Smith – on strike. Fails to take advantage of a ball down the legside as his teammates wait on the sidelines to celebrate. Southee delays the inevitable with a perfect yorker, which Smith can only dig out, and then takes a single last ball. Australia 182/3 in 33 overs, 2 needed.
3.30 pm: Watson is off the mark with a pull to midwicket and then Smith brings the runs needed to six with a guide to wide mid-on. Smith, of course, is still there, because you just cannot get him out you know, with the machine bringing up another half-century with a two to the offside. Australia 180/3 in 32 overs, 4 needed.
3.26 pm: Henry now, and could it be the last over of the World Cup final?
Wicket, Clarke gone! Ah Clarke is not given an opportunity to hit the winning runs to clinch the title, as a dab attempt to third man takes an inside-edge and goes onto the stumps. A standing ovation for Clarke, who scores 74 (72b, 10x5, 1x6) in his final innings in ODI cricket. Brilliant knock, and brilliant captaincy from the 33-year-old. Australia 175/3 in 31.1 overs.
3.23 pm: Clarke is looking to finish it off now, ASAP. A pick up shot off a good length ball from Southee lands just short of the long-on boundary before going over the ropes and then he just uses his hands to throw his bat at a wide delivery which goes through Vettori at short cover for a second straight four. Make that four straight boundaries, as a couple of short and wide balls from Southee are dispatched with disdain and such class by Clarke to the point boundary. Australia 174/2 in 31 overs, 10 needed.
3.17 pm: Boult finishes his ten overs for the final with figures of 10-0-40-1. Five runs off the over, as Clarke gets another boundary to his name. Australia 157/2 in 30 overs, 27 needed.
3.14 pm: Southee returns and Smith's turn to churn out the runs, with a two first ball and then an outer edge to the third man boundary. Smith wants to finish the match quickly it seems as he goes for the slog and only gets an inside-edge to fine-leg for another couple. Clarke then looks for a big shot over mid-off, doesn't get it as well, but gets a two, Australia 151/2 in 29 overs, 33 needed.
3.09 pm: A good over,runs-wise from Boult, but that doesn't matter now does it. The Kiwis need wickets and bucketloads of them. Australia, 140/2 in 28 overs, 44 needed.
3.05 pm: A clip to the onside and Clarke has a half-century in a World Cup final and his last ever ODI match. The crowd stand up in unison to salute a nice innings and then Smith nearly throws his wicket away, driving Vettori to mid-off with the ball just dropping short of Southee. Australia 139/2 in 27 overs, 45 needed.
3.02 pm: Last throw of the dice for McCullum as Boult is brought back in. He needs a hat-trick or a Malinga-like over from the 2007 World Cup for New Zealand to stand a chance. Not happening this over, though, as Clarke plays Boult watchfully for the first five balls and then plays a glorious drive straight back for one of the boundaries of the day. Australia 134/2 in 26 overs, 50 needed.
2.58 pm: It is a matter of when and not if now. Hopefully New Zealand can get a few quick wickets just to put the cat amongst the pigeons, or at least Clarke and Smith can crank it up a little rather than winning this game with singles and twos, plenty of which came from this Vettori over. Clarke does that with a beautiful jump down the track to Vettori and a slam over mid-off for a six. Australia 130/2 in 25 overs, 54 needed.
2.54 pm: Anderson for the first time. Starts with a short ball unsurprisingly, and then Smith, also unsurprisingly, clips one to the legside for a single. Clarke is in the mood now, and he gets another drive through the covers for a three. Smith is happy to just take the singles and twos, absolutely no risks taken from him, he is determined to stay until the end, and with Clarke also desperate to do that in his final ODI game, the signs look ominous for New Zealand. Australia 119/2 in 24 overs, another 65 needed.
2.49 pm: Henryinto his eighth over, and plenty of short balls means easy runs, with Clarke getting another three to his name with a push through the covers, before lofting one over mid-on for another boundary. Australia cruising it, 112/2 in 23 overs, another 72 needed.
2.46 pm: The run rate has come down since Warner's dismissal, but the likelihood of an Australia victory remains pretty much the same. Clarke has settled down now and is looking on course to see his team through to the title in his final ODI match. Vettori cannot get through, Australia 103/2 in 22 overs, another 81 needed.
2.43 pm: Henry into his sixth over, and Clarke is more than happy to block the straight deliveries. The attacking field remains and Clarke square-drives through the gap for a single. Smith takes a single to the onside to bring up his team's century. Australia 100/2 in 21 overs, need another 84 from 29 overs.
2.39 pm: Vettori is back and he is bowling to Australia's two best players of spin. Singles on offer and the two batsmen are pretty adept at taking them. Vettori cannot make the breakthrough either. Australia 98/2 in 20 overs.
2.36 pm: Attacking fields means open spaces, and Henry drops the ball just a touch short and Clarke helps it over the slips for an easy boundary. Short and wide from Henry and Clarke throws his bat at it and the ball flies past Martin Guptill at gully for another four. Australia 95/2 in 19 overs.
Get the Live Scorecard of the Final HERE
2.31 pm: Southee bowls around the wicket to Smith, makes no difference as the right-hander clips him for a single to the onside. Attacking field still for Clarke, and Clarke throws his hands at a full and wide ball, and with no third man, the ball runs away for a boundary. Australia 83/2 in 18 overs.
2.27 pm: With the run rate not even remotely a concern, Clarke is more than happy to take his time. Blocks aplenty, Australia 76/2 in 17 overs.
Get the Live Scorecard of the Final HERE
2.20 pm: Two slips, a gully, a short cover and a short midwicket for Southee, who replaces Boult. Asking Clarke to drive, but just to change it up Southee drops it short third ball which is called a wide, the second straight one of the over after he erred in line outside off. Clarke gets off the strike with a nice push past the left of mid-on for a single and then it is all about Smith who makes batting look ridiculously easy again. Australia 74/2 in 16 overs.
2.14 pm: Such is Smith's luck and New Zealand's lack of it that even when the ball hits the stumps, Smith cannot be dismissed. An inside-edge off Henry trickles onto the stumps, but the bails are not even remotely dislodged and Henry and the Black Caps cannot believe it. Clarke has a hugely attacking field again, with just one fielder outside the 30-yard circle. Can't get the skipper, though. Australia 69/2 in 15 overs.
Get the Live Scorecard of the Final HERE
2.10 pm: Two slips, a gully and a really short cover for Clarke as Boult looks for his second wicket. Gets off the mark via the leading edge, which somehow evades all the cover fielders to allow Clarke to run three. Smith, at the other end, looks as serene as ever. How can you get this man out! Australia 68/2 in 14 overs.
2.06 pm: Clarke, in his final ODI match, is given a rousing ovation by the capacity MCG crowd. Shortish ball to begin with which is played well enough by Clarke, before the Australia skipper straight bats a straight and full delivery. Nice and straight from Henry. Australia 63/2 in 13 overs.
Get the Live Scorecard of the Final HERE
2.02 pm: You do not drop it short to Warner, Henry does that first ball and bang goes a pull shot to the midwicket boundary for four.
Wicket, Warner gone! McCullum puts a fielder at deep midwicket following that four and Henry bowls it short again, Warner goes for the pull, doesn't get it off the middle and Grant Elliott is there to complete a good catch low down. Australia 63/2 in 12.2 overs.
2 pm: Boult into his sixth over, trying to get that breakthrough and he nearly does as well as Warner gets an inside edge with the ball just missing the stumps. Boult would have happily taken that play-on, but even that bit of luck is not going New Zealand's way, with an lbw appeal the following ball turned down by Kettleborough. The runs have come down, but that will not be enough for New Zealand. Australia 59/1 in 12 overs.
1.57 pm: All three Powerplays have been overwhelmingly Australia's with the third one probably sending them on their way to a fifth World Cup title, barring a miracle. With just 128 needed in 40 overs, it looks like a foregone conclusion doesn't it and it is a pity for this amazing New Zealand side, who just seem to have been overawed by the occasion. Let's hope I'm jumping the gun here, and New Zealand still have some fight. A tidy over from Henry. Australia 58/1 in 11 overs.
Get the Live Scorecard of the Final HERE
1.53 pm: Warner is looking in majestic touch. a full delivery from Boult and Warner just lets those hands of his go to work, with the ball hitting the bat right in the middle and flying away through the gap between extra cover and mid-off for four. Boult raps him on the pads next ball, but the ball is sliding down leg. A two to finish the over and Australia are 56/1 in 10 overs. Powerplay done.
1.49 pm: The pace of Matt Henry and Warner takes him on. A hook shot gets him a boundary to backward square-leg with Corey Anderson just unable to get to the ball from fine-leg. The left-hander tries to pump him through the covers after that, gets it in the middle of the bat a couple of times but cannot pierce the field. Better couple of balls to finish with from Henry. Australia 49/1 in 9 overs.
1.44 pm: New Zealandneed to get Smith and Warner here or this match will be over soon. The slips are still in, and Smith gets a two second ball with a cover drive before a quick single is taken to mid-off. The ball is not swinging much anymore and the wicket as flat as they come, something special is needed. Australia 45/1 in 8 overs.
1.41 pm: Southee has not been effective enough and it is Daniel Vettori time. He changes the Australia innings with a terrific spell I the group game, but with the left-armer struggling with a left Achilles problem, you just don't see him having the same effect. A three taken by Smith in the third ball and then that is it as far as the runs are concerned, Australia 41/1 in 7 overs.
Get the Live Scorecard of the Final HERE
1.37 pm: Smith, who got off the mark with a typical flick to the onside, is greeted by Boult with a nice yorker. Full is the line for the left-arm paceman in this over to Smith, but that ball needs to tail in to trouble the seemingly untroubleable right-hander. Doesn't do that, and with Warner scoring runs aplenty already, there is no pressure on Smith to score the runs. And is I say that, Boult drops a ball short and Smith latches onto it to smash the ball to the midwicket boundary for a four. Australia 38/1 in 6 overs.
1.33 pm: Wide and no swing from Southee and that is asking to be hit and Warner obliges with a wonderful punch for four. Southee replies with a short ball and Warner clubs it back past the bowler for another boundary. Five more overs of this and the match could be over. McCullum's taken off the extra slips and put a short cover on, and bang Warner gets the edge and the ball flies just past Ross Taylor, who cannot get his left hand to the ball on the dive, at first slip. Warner off the flier and Australia off the a flier thanks to their opener as well. Australia 33/1 in 5 overs.
Get the Live Scorecard of the Final HERE
1.29 pm: Warner is on his way here, gets another couple to the onside with a flick and then comes out that cover drive of his off an outswinger from Boult which goes all the way for a boundary. plenty of gaps for Warner to exploit with four slips in place, but can Boult find that outside edge?
Get the Live Scorecard of the Final HERE
Not this over, as Warner finishes off the over with a three to fine-leg. Australia 18/1 in 4 overs.
1.25 pm: Southee needs to tighten up here. Bowls wide and Warner takes him for a two, and then down the legside which sees another couple. A third straight two follows with the over finished off by a single. Australia 9/1 in 3 overs.
1.21 pm: All about Steven Smith and Warner now. If those two stay for a while, Australia are the world champions. Two dot balls to finish from Boult, Australia 2/1 in 2 overs.
1.19 pm: New Zealand's best bowler now – Trent Boult. Swing away from Warner to start with and he plays and misses the first couple of deliveries. McCullum brings on four slips and Warner takes a single, which brings Finch back on strike and.... Wicket, Finch gone! The wicket that New Zealand needed, and Boult provides it. An in-swinger, Finch is too far across, gets an inside edge onto his pads which loops kindly back to the Boult who takes a simple catch. Australia 2/1 in 1.4 overs.
Get the Live Scorecard of the Final HERE
1.15 pm: Southee is on off first ball, which Warner defends. Gets a single next ball to bring Finch on strike. Southee is looking for that early swing, gets a touch, but not that much. Finch plays a misses outside off once, but no harm done. Australia 1/0 in 1 over.
1.10 pm: Welcome back, Warner and Finch are at the crease with Southee raring to go. Can New Zealand get early wickets?
12.33 pm: This is what Australia do isn't it. They play the big matches to a T, knowing exactly what needs to be done and never getting overawed by the occasion. The same cannot be said about the Black Caps, who just did not come to the party with the bat, bar Grant Elliott, the only one who looked remotely comfortably against this Australian pace attack. It was all about the left-arm pacers this first innings of the final, with Mitchell Starc, Mitchell Johnson and James Faulkner picking up eight wickets between them.
This should be Australia's game now, and unless the New Zealand pace bowlers can pull off a miracle like Starc almost did in that group game, it is going to be a fifth World Cup title for the team in green and gold. Dinner break now, back in little over half an hour.
Get the Live Scorecard of the Final HERE
12.30 pm: "Obviously pretty good start by the boys, we did pretty well and we now need to chase it down," says Faulkner. "It is a pretty good wicket, a little slow to start with, but it is in our hands now."
12.23 pm: What a pity that New Zealand haven't been able to get their batting right in the World Cup final. Australia have bowled wonderfully well, but it could have been a lot different had one or two things gone differently. For now though, it is all about the swinging and missing and edging and mistiming from Tim Southee as Mitchell Johnson is frustrated at not being able to pick up another wicket, and then Wicket, Henry gone! New Zealand 182/9 in 44.5 overs. Johnson comes around the wicket to Henry bowls a low full toss which Henry tries to plant over the covers, but all the No.10 can do is find Clarke in the covers. Cheap wicket for Johnson, but he'll take it and so will Australia. One more wicket to go.
And, bang goes Maxwell with a ridiculous pick up and throw and Southee is caught out of the crease. New Zealand all out for 183 in 45 overs.
12.19 pm: Dot, dot, dot, dot with plenty of swinging and missing and finally Southee makes contact of a Faulkner ball, gets it over the covers and a three is taken with Clarke just cutting off the boundary. New Zealand 181/8 in 44 overs.
Get the Live Scorecard of the Final HERE
12.16 pm: Tim Southee facing his first ball to Mitchell Johnson and what does he do? Bangs it past straight long-on for a massive six. Not bad that aye. New Zealand need to get as many runs as possible now, need to get past that 200-mark at least. A six and a single from Southee, before Matt Henry is greeted by a nice little shirt delivery which he does just about well to sway away from. New Zealand 178/8 in 43 overs.
12.10 pm: Elliott, who has batted like he is in a completely different game, facing a completely different bowling attack, has no choice now but to take the bulk of the strike and look for as many boundaries as possible, and he does that with a four to midwicket. But..... Faulkner gets his man, Wicket, Elliott gone! I jinxed him didn't I, with all that praise. Goes for a big shot, doesn't pick the slower ball, so he is into the shot too early and an edge follows with the catch taken easily by Haddin behind the wicket. New Zealand nearly done now 171/8 in 42 overs.
Get the Live Scorecard of the Final HERE
12.05 pm: Johnson starts off the final 10-over phase, and it is a good over from the left-armed tyro, with a Wicket, Vettori gone! A solid over from Johnson is finished off by a brilliant yorker, which Vettori just can't dig out, with the ball crashing onto the stumps. New Zealand 167/7 in 41 overs.
12.01 pm am: Australia go for a review. In-dipper from Faulkner and it hits Elliott on the pads, big appeal given not out. Ball tracker says it is hitting the wicket, but it is umpire's call, and so Elliott survives. Elliott answers back with a wonderful glide past short third man for a four. New Zealand 165/6 in 40 overs. Bating Powerplay done, 15 runs scored and three wickets taken, so no prizes for guessing whose Powerplay it was then.
11.56 am: All the strike to Vettori in the last few balls, full and fuller from Starc as expected, and then the odd short one, just two runs taken. New Zealand 159/6 in 39 overs.
11.52 am: Faulkner pumped up here, and he hits the pads of Elliott with an incoming delivery from around the wicket. A leg-bye is taken and then Vettori is lucky not to have his stumps knocked back as he plays around the ball. A shadow has come across the pitch here at the MCG and that has perhaps had an effect on the batting. Doesn't bother Vettori fourth ball, though, as he plays a brilliant straight drive past mid-on for a four. Gorgeous shot that from the veteran. New Zealand 157/6 in 38 overs.
11.47 am: Smash-bang is Starc's idea as he bowls it full and in to Vettori. The left-hander, playing his final ODI match, keeps those spearing ones out before ducking under a short ball to finish the over. New Zealand 151/6 in 37 overs.
Get the Live Scorecard of the Final HERE
11.43 am: Wicket, Ronchi gone! The Starc over starts with a run out chance, with Elliott well out of his crease as he runs a quick one to shirt third. Smith misses the stumps, but it matters not as Starc gets one across Ronchi and a big edge is cleanly pouched by Michael Clarke at first slip. New Zealand 151/6 in 36.2 overs.
11.42 am: Luke Ronchi, the Western Australian, gets a frosty reception from around 90,000 people. Faulkner bowls full and straight from around the wicket first up, and Ronchi sees it off and the next two balls. A double wicket maiden from Faulkner, New Zealand 150/5 in 36 overs.
11.37 am: Wicket, Anderson gone! The first over of the Batting Powerplay is all Australia as Faulkner gets that double strike. A ball bowled full and on the stumps, Anderson plays around it and bang goes the wickets. New Zealand back in trouble again after that rebuild, 150/5 in 35.3 overs.
11.33 am: Wicket, Taylor gone! Or is he? Yup he is gone! A full and wide delivery from Faulkner, Taylor looks to play it down to third man, takes an edge just on the half-volley and Haddin takes a brilliant diving catch down to his right. The on field umpires went upstairs and the replays showed it was clearly out. Taylor with his 40 off 72 balls has struggled all day and this dismissal off an innocuous delivery, just about says it all about his innings. New Zealand 150/4 in 34.1 overs.
11.32 am: Taylor can't get off strike often enough and then he nearly runs his partner out, before a call right on time sees Elliott get back in time as Clarke hares in to try and inflict a run out. Smith nearly catches out Elliott again as he makes a brilliant stop at point. Taylor is getting stuck, and he has done this way too often for comfort at this World Cup. New Zealand of course can't complain considering the situation, but those singles need to flow better. Elliott finally gets on strike and he uses the guide, just past Haddin, for four. New Zealand 150/3 in 35 overs.
11.26 am: Hazlewood is back, with the Batting Powerplay coming in two overs. Beautiful guide from Elliott to the third man boundary to start off the over and then the century partnership is brought up with a single. From there it is about the singles, most of them to third man as Hazlewood bowls it just short of a good length. New Zealand 142/3 in 34 overs.
Get the Live Scorecard of the Final HERE
11.20 am: Taylor has done a good job to stay with Elliott but he still can't find those singles. Plays four dot balls to Watson before finally getting off strike, and as a result it is only two runs off the over, New Zealand 134/3 in 33 overs. Drinks break time.
11.16 am: Elliott starts the Maxwell over with a chip over the covers for a two, and then four more singles are taken. New Zealand 132/3 in 32 overs.
11.13 am: Johnson into his sixth over, and three singles come New Zealand's way of the first three balls, before Taylor just decides to leave a ball wide outside off through to the wicketkeeper. Could have dabbed it down again to third man that ball, but wants to see Johnson off, who will probably be taken off after this one. As I write that, he throws his hands at a wider and fuller delivery and gets a thick outside edge through to third man for a single. Comes around the wicket final ball to Elliott, a single is taken, five runs off the over. New Zealand 126/3 in 31 overs.
11.09 am: Maxwell gets through his sixth over, conceding just three runs, a two and a single, both from Elliott with Taylor still struggling to keep that dot ball count down. New Zealand 121/3 in 30 overs.
11.06 am: MitchellJohnson is brought back as Australia look for this crucial breakthrough. On target from the off, and only three runs taken, one a leg-bye. New Zealand 118/3 in 29 overs.
Get the Live Scorecard of the Final HERE
11.01 am: Maxwell comes back and Taylor laps immediately for a single, before Elliott takes a quick single to short third. A couple more singles off the next two balls, with the second one taking Elliott to 49. A wide and a single gives Elliott the final ball to get to his fifty, which the right-hander does with a mistimed drive to long-off, which falls short of the fielder. Elliott gets his half-century in just 51 balls. New Zealand 115/3 in 28 overs.
10.58 am: A dab down to third man from Elliott brings up New Zealand's 100 and then Taylor gets a boundary, an edgy one past Haddin. Watson gets the short ball in and it is called a wide as it soars over Taylor's head. A singles taken after that and then Elliott outer-edges one to the third man boundary with Faulkner doing brilliantly to cut off the boundary. New Zealand 108/3 in 27 overs.
10.57 am: A dab down to third man from Elliott brings up New Zealand's 100 and then Taylor gets a boundary, an edgy one past Haddin. Watson gets the short ball in and it is called a wide as it soars over Taylor's head. A couple more singles to finish the over, New Zealand 107/3 in 27 overs.
Get the Live Scorecard of the Final HERE
10.54 am: Elliott keeps the runs flowing, this time with an outstanding drive through mid-off and cover for a four, six runs off the Faulkner over. New Zealand 99/3 in 26 overs.
10.49 am: Shane Watson for the first time. Watchful is Elliott first couple of balls and then makes some room to cut it past point for a two, with Starc doing well at the boundary to prevent a four. Elliott gets another two with a cut just over a flying point. New Zealand 93/3 in 25 overs.
10.46 am: Elliott looking really good and goes to a run-a-ball 34 with a nice loft over mid-off for a four off James Faulkner, who replaces Maxwell. Takes a single to bring up the 50 partnership off 69 balls, six off the over. New Zealand 89/3 in 24 overs.
Get the Live Scorecard of the Final HERE
10.42 am: This should be Starc's last over in this spell, with only four remaining after this and Elliott, fends off a couple, including digging out a yorker, before top-edging a pull shot perfectly for a six over fine, fine-leg. Starc replies with a yorker, which he seems to bowl easier than a good length ball, Elliott digs it out and then leaves a ball wide outside off. New Zealand 83/3 in 23 overs.
10.38 am: Rocks back first ball does Elliott and he cuts Maxwell for four. Takes a single second ball and again Ross Taylor plays a couple of dot deliveries before lapping the spinner for a single to fine-leg. Elliott takes a single to finish off the over. New Zealand 77/3 in 22 overs.
10.36 am: Starc is brought back as Clarke look to break the partnership. Taylor gets a leg-bye second ball to get off the strike and then Elliott is lucky not to edge one as he goes for a big drive. Gets the drive going next ball, though, as he finds the gap through the covers for a three. New Zealand 70/3 in 21 overs.
Get the Live Scorecard of the Final HERE
10.30 am: A reverse-sweep with the back of the bat from Elliott and he gets two runs for it. Elliott is definitely moving the scoreboard along as Taylor continues to struggle to do so. That lap sweep is his go-to shot, though, and he gets a single this time.
Wicket, Elliott gone! And he is saved by the DRS. Goes for the sweep, misses and the ball raps him on the pads. Maxwell goes for a big, big appeal. Kumar Dharmasena seems swayed by the appeal more than anything and gives it out after much deliberation. Elliott goes for the review and the ball tracker says it will go down the legside. New Zealand 66/3 in 20 overs.
10.27 am: Elliott gets a two to wide third man and a single, a quick one to mid-off, off the first three balls, and then Taylor struggles to rotate the strike. Dot balls have been Taylor's bane at this World Cup, and that needs to change in this final. Three dot balls to finish. New Zealand 62/3 in 19 overs.
10.23 am: Maxwell is back after a couple of overs for Hazlewood, and Taylor gets that paddle sweep going for a two. Taylor then takes a single to long-on, and Elliott plays a misses a delivery outside off. Playing for the spin are New Zealand for some reason, but this is Maxwell. Five runs off the over, New Zealand 59/3 in 18 overs.
10.20 am: Time for Johnson to take a break after that brilliant spell. It is James Faulkner who comes in. Elliott takes a single to third man first ball. Taylor looking as good as he has all World Cup, the ball is coming off the middle a lot more frequently, just needs to keep that dot ball count down, something he has struggled with at this CWC. Takes a single to fine-leg third ball and then Elliott does the same to square-leg as Faulkner keeps it a touch too straight. A couple of dots follow. New Zealand 54/3 in 17 overs.
Get the Live Scorecard of the Final HERE
10.14 am: Elliott is at least keeping that score moving. Gets three with a nice work to the onside for a three and takes a single next ball off Hazlewood, just the four runs off the over, though. New Zealand 51/3 in 16 overs. Drinks time.
10.10 am: Johnson gets that short ball working as Elliot sways out of the way to one on the offstump line. The pressure is relentless with no signs of it releasing anytime soon. Johnson has been brilliant, he takes wickets, but he is usually on the expensive side. Not in the World Cup final, though, with his first four overs only going for 12 runs. Six runs coming off this over, via a cover drive from Ross Taylor, a single from Elliott and a two, courtesy another cover drive, from Elliott. New Zealand 47/3 in 15 overs.
10.05 am: Just the one over for Maxwell and Hazlewood is back. As always, right on line, and it is a maiden, New Zealand scratching at 41/3 in 14 overs.
Get the Live Scorecard of the Final HERE
10.01 am: Ball was 145km, so Williamson just played a strange shot really, looking to work it to legside and only managing a lob back to the bowler. Grant Elliott, the hero from the semifinal is in, about 20-25 overs earlier than he would have liked. Gets a single to third man to start his innings off, New Zealand 41/3 in 13 overs.
9.57 am: Wicket, Williamson gone! Is that the World Cup already heading to Australia. Williamson, the man who needed to anchor the innings, plays a little lob, probably expecting more pace, straight back to Johnson who hangs onto the dolly. New Zealand, wilting under the pressure, 39/3 in 12.2 overs.
9.55 am: Ross Taylor comes and he gets a low full toss outside off first up from Maxwell, which is driven through the covers for a four. Maxwell's picked up a bonus wicket, New Zealand 38/2 in 12 overs.
Get the Live Scorecard of the Final HERE
9.51 am: Wicket, Guptill gone! Starc and Johnson soften him up and then Glenn Maxwell, of all people, gets the wicket. An innocuous ball, that doesn't turn much, Guptill looks to play it through the offside, plays inside the line and the ball goes onto hit offstump. Poor shot from Guptill, awful start now for New Zealand, 33/2 in 11.2 overs.
9.49 am: Couple of short balls to start with from Johnson and then a ripper, absolute ripper. Rolls his fingers across the ball, gets it to just hold its line and Williamson is lucky not to get an edge. Johnson then follows that up with a similar delivery, which Williamson does again to not edge. A single is taken to the offside fourth ball, and then it is another single, which means another brilliant over from Johnson. New Zealand 33/1 in 11 overs.
9.45 am: A bit of a Test match feel here as Williamson and Guptill just try to survive this Powerplay onslaught from Australia. Hazlewood bowls a good one first up but then Williamson gets that willow of his talking with a wonderful straight drive on the rise for a four. Hazlewood drops it short after that drive and Williamson is ready for it with a pull to square-leg for a two. A guide past backward point gives Williamson his seventh run of the over, and Guptill is happy to dot, dot the next two. New Zealand 31/1 in 10 overs. Powerplay over, and it is Australia's.
Get the Live Scorecard of the Final HERE
9.41 am: Starc has had his four overs and it is Mitchell Johnson to replace him, so no easing of the pressure for New Zealand there. Johnson starts with a perfect short delivery to the rib cage of Guptill, before another one, just towards off is fended away by the opener. Right on line is Johnson, and Australia are just right on top here with Guptill unable to get the express paceman away. Another terrific over, just one run off it, and that is via a wide. New Zealand 24/1 in 9 overs.
9.36 am: Hazlewood, as expected, is also keeping things tight with that line just outside or on offstump. Also throws in a short ball for good measure which has Williamson dancing and swaying away. Williamson eating up the balls here, but crucially he is still at the crease. A stellar over from Hazlewood, keeps the pressure up with a maiden. New Zealand 23/1 in 8 overs.
Get the Live Scorecard of the Final HERE
9.32 am: Short, really short, so short that it is called a wide, from Starc first up and then he follows that up with a full delivery that moves away on the angle. Guptill throws his bat at it, going for the bi booming drive but only catches air. It's just outstanding bowling from Starc this, just relentless attack and any slight loss of concentration and it is gonzo. Australia are primed on the field as well as Mitchell Johnson saves a couple at least with a diving save at wide mid-on. Just that wide from the over, New Zealand 23/1 in 7 overs.
9.28 am: Kane Williamson has not got that "ball onto the middle of the bat at will" feeling so far, but he gets off strike with a single third ball off Hazlewood via a dab/thick edge to third man. Guptill then does the same fifth ball before Williamson gets going just that tad more with a flick to square-leg for a two. New Zealand 22/1 in 6 overs.
9.24 am: Williamson struggling to get off the mark. Starc keeps testing him, a couple in and then that ball that goes away gets a play and a miss, before another perfect outgoing delivery has the same effect. Williamson desperately needs a big score at this World Cup and maybe he can remind himself of that outstanding match-winning innings against Australia in the group stages in Auckland. Perfect over from Starc, and off the final ball Williamson gets off the mark with an outer-edge shot over point for a single. New Zealand 18/1 in 5 overs.
Get the Live Scorecard of the Final HERE
9.20 am: First six of the match and it is to Guptill. A little streak as he gets a top edge on the pull and it goes above Haddin all the way over the ropes. Guptill goes to the top of the leading runscorers chart, above Kumar Sangakkara with that six, New Zealand 17/1 in 4 overs.
9.16 am: Starc getting wonderful shape in to the right-hander, and Guptill survives an lbw appeal, getting his bat down just in time to get a slight inside edge. Pace, swing and accuracy, what more can you ask for from your opening bowler? Just as I write that, Starc bowls full and wide – the carrot delivery looking for the outside edge -- and Guptill lays into it to get his first boundary, with a drive through the covers. A short ball follows, which is played well by Guptill, swaying out of the way, before a ball on legstump is flicked for a single. New Zealand 11/1 in 3 overs.
Get the Live Scorecard of the Final HERE
9.12 am: Guptill gets his second run of the game with a flick to the legside, before Williamson plays and misses. Josh Hazlewood strays down the legside, however, and it hits Williamson's thigh pad before going down for a four. New Zealand 6/1 in 2 overs.
9.09 am: Boy Starc is good isn't he! It was going to be a contest that could decide the final and Starc has won it hands down, sending the New Zealand skipper back. Kane Williamson comes in and he gets an inswinger first up which hits his pads, but the balls is going down leg. New Zealand 1/1 in 1 over.
9.04 am: First ball and McCullum has a big swing, misses and the ball goes through his bat and body to Haddin, with the ball just missing the offstump. Down the pitch goes McCullum after that and he can't make contact again as Starc follows him down the legside. Starc has been on the money from ball one, and the pressure is on McCullum now.
Wicket, McCullum gone! Now that is how you bowl a yorker, and that too first over. McCullum is only going to swing at everything, but he can't get his bat down in time to stop this brilliant yorker, inswinging, from hitting the base of offstump. Stunning stuff from Starc, and the first blow, a telling blow too, has been landed by Australia. New Zealand 1/1 in 0.5 overs.
9.03 am: First run for New Zealand, it is a single down to third man dabbed down by Guptill.
9.02 am: The first ball of the World Cup final is a ball across Guptill from Starc, and the New Zealander lets it go through to Brad Haddin.
9.01 am: The players are on the field, McCullum and Martin Guptill is in the middle, the latter to take strike. Starc to open the bowling, here we go the first ball of the World Cup final is almost upon us.
8.59 am: That's it, the National Anthems are over, it is time for play. Mitchell Starc vs Brendon McCullum – man, that is going to be fun.
8.58 am: The flags of all the 14 participating countries of this World Cup are on the field as the first ball to the final builds up.
8.54 am: National Anthems time, and then it will be start of play in the ICC Cricket World Cup 2015 final. Kumar Dharmasena and Richard Kettleborough will be the two on field umpires.
8.46 am: The lights could help the quick bowlers says Warne. Excellent pitch, though, says the Australian great.
8.37 am: The last time the two sides played, Australia batted first and were shot down for a small score. The bowlers, led by Mitchell Starc, made a game of it as New Zealand faltered in the chase, before the cool Williamson won them the game. How will New Zealand fare batting first this time, I wonder.
8.35 am: New Zealand would be happy to win the toss, but that is only the starting point. They now need to put up a big score and make sure Australia feel the pressure of a World Cup final. For Australia, it will be about getting their bowling going first up and if they pick up early wicket, it could that dream day could begin quicker than expected.
8.33 am: "The wicket looks great and it will be nice to put a total on the board in the final," says McCullum. "Both teams have earned the right to play in the final and I'm sure we will see some outstanding cricket, it is just a pity there will be a winner and a loser in the end."
"I would have batted, yeah," says Clarke. "But the wicket looks fantastic so I don't think it matters too much. We need to continue to play good consistent cricket to win."
8.31 am: Heads is the call from McCullum and New Zealand win the toss and they will bat.
8.29 pm: Toss time, the captains are walking to the pitch with Simon Doull.
8.24 am: About six minutes to go for the toss, no doubt the winning captain will bat first, but who will it be, Michael Clarke or Brendon McCullum?
8.13 am IST: Sourav Ganguly and Shane Warne both agree that it is a bat first day, more because it is a major final than because of the wicket, which both legends believe will offer a bit of turn. Warne thinks the pitch is too hard and it will just skid on, but Daniel Vettori could be key.
8.10 am IST: After one-and-a-half months of non-stop cricket, we are finally at the ICC Cricket World Cup 2015 final, with the two co-hosts – Australia and New Zealand – battling it out for the ultimate prize in ODI cricket.
This is IB Times India's Live coverage of the World Cup final, so stick right here for all updates as it happens.
New Zealand have not tasted defeat yet at this World Cup, and Brendon McCullum and his enthralling side will be determined to not do that in the final of the World Cup, while Australia go into the final again as the favourites, with a huge crowd at the MCG set to back them up.
The Trans-Tasman rivalry has historically been skewed in the favour of Australia, but New Zealand will know if they can stop their neighbours in the final and take the World Cup title away, it will be a huge achievement, and definitely the biggest in their cricketing history.
Australia have an enviable batting lineup, while their bowling has been in ridiculously good form as well. New Zealand also have very few chinks in their armoury, with both the batsmen and bowlers looking really good and it could all come down to which team hold their nerve just that bit better in the end.
Either way, it promises to be a World Cup final that you cannot tear your eyes away from. So, get settled, get that cup of tea/coffee/drink/beer next to you, relax and let IBTimes India take you on a World Cup final journey that, hopefully (depends on the game, you know), will be unforgettable.
If you feel the need to see how the CWC final is going on on TV or via live streaming online, do not fret my friend, everything you need is HERE, irrespective of where you are watching it from.