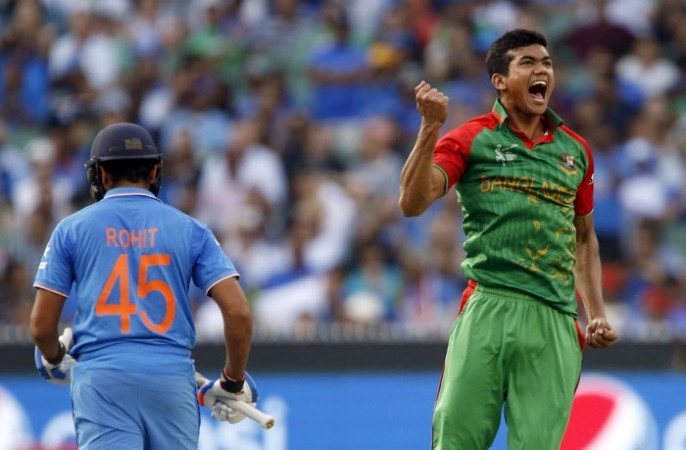 Good night ladies and gentlemen and that is all from me (Rajarshi Majumdar) and will hope to see you soon!
It is all over here at the Shere Bangla National Stadium in Dhaka. India have run riot in this opening game of the Asia Cup 2016 as they thrash Bangladesh by 45 runs.
Rohit Sharma's drop catch cost Bangladesh this match and that too this heavily. A quality player like Shakib Al Hasan should have hold on to that straight-forward catch.
Indian bowlers have bowled wonderfully right from the start. Nehra, Bumrah, Ashwin and Pandya have all been economical.
Bangladesh will look back at this and think about the bowler's line and length, misfields and those reckless shots. Poor performance indeed.
India have points in their kitty ahead of their all-important clash against Pakistan on Saturday.
There is no prize for guessing the man of the match!
10:17: India are looking at a huge win here. MS Dhoni could not have asked for a better start to their Asia Cup 2016 campaign. Superb all-round performance. Almost everyone contributed. Especially, that innings from Rohit Sharma and a cameo from Hardik Pandya. Bangladesh 117/7 in 19 overs.
10:13: This has been a superb performance from this upbeat Indian side. Jadeja bowled his third over and these remaining overs are just formalities. Bangladesh 108/7 in 18 overs. 59 more needed from 12 balls.
Bangladesh are struggling here. The drizzle seems to have gone away and it is letting the match to get over. Bangladesh 102/7 in 17 overs. 65 needed from 18 balls.
GONE! Mashrafe Mortaza this time. Nehra is on a hat-trick.
Mahmudullah is GONE! Nehra picks up his 2nd. Rohit Sharma takes a comfortable catch.
The match has gone out of Bangladesh's hands here. The result is pretty much evident by now. India have run riot here at the Shere Bangla National Stadium in Dhaka. Even if there is a late flourish from Mahmudullah and Rahim is not going to help their cause even if they hit two-three boundaries in an over.
10:02: Jadeja bowled the 16th over. But the task is way too tougher now. Wondering why Mahmudullah and Rahim is doing at No.6 and 7 in that batting lineup. They should have come way ahead of the inexperienced batsmen. This wicket was definitely not a 160 one and it is clear by now. Bangladesh have thrown the match away halfway through the India innings. Bangladesh 96/5 in 16 overs. 71 more needed from 24 balls.
9:58: Mahmudullah is out in the middle now. He has a huge task in his hands now along with Mushfiqur Rahim. The required run rate is touching 15 run an over. It has also started to drizzle there. Oh dear! India are clearly ahead in the D/L. Bangladesh 85/5 in 15 overs. 82 more needed from 30 balls.
SABBIR RAHMAN is GONE! Pandya picks up the huge wicket.
9:53: Dhoni is bowling out Ashwin here. He has bowled wonderfully even in this kind of a wicket. He ha also picked up the wicket of Imrul Kayes. Ashwin finishes of with the figures of 23 for 1 in 4 overs. Bangladesh 82/4 in 14 overs. 85 more needed.
9:50: Terrible terrible moment for Bangladesh there. The ball was going straight to the mid-wicket fielder. There was no run there. The dew played the role of a devil out there and Shakib fell down midway and never could come back. Dhoni takes very little time to move the bails. Bangladesh 76/4 in 13 overs. 91 more needed.
Shakib slipped and is RUN OUT! Big wicket for India.
Sir Ravindra Jadeja has been brought in to do the trick here for India. Bangladesh will have to watch out for his ball that skids through the surface.
9:46: Ashwin is looking to maintain that pressure on Bangladesh. Dhoni is trying to escalate that required run rate. Meanwhile Sabbir Rahman is not holding himself back, he is playing those big shots. A six in the previous over and a six in this over as well. India need to break this partnership here. Bangladesh 71/3 in 12 overs. 96 more needed.
9:42: India were also 52/3 after 10 overs and Bangladesh are in a similar situation. But they have to get more than 100 in the last 10 overs, which is extremely tough while chasing. India still have to be careful about Shakib and Sabbir. They can hit the ball a long way. The last over from Pandya was not a good one from India's perspective. Bangladesh 61/3 in 11 overs. 106 more needed.
9:36: KAYES is GONE! Ashwin strikes. YUVI does not miss many. Bangladesh 50/3 in 9.5 overs.
Bangladesh need to get a move on here. Things are going out of their hands. Ashwin will not offer any width to these batsmen and he is the master at it. The off-spinner has bowled beautifully here so far.
9:31: Pandya has bowled well and used the conditions. The match is slipping away from Bangladesh here. India are off to a brilliant start here. Kayes and Rahman are struggling to time the ball and it is evident from the way they are playing. Indian bowlers are not offering any width to these two batsmen. The required run rate has gone over 10 now. Problem for the hosts here. Bangladesh 48/2 in 9 overs. 119 more needed.
9:26: These four overs from Ashwin will be crucial. Dhoni will have to use him pretty wisely and none can be better in that business than captain cool. After being hit for a boundary of the first ball Ashwin made a good comeback. 6 runs came from that over. Bangladesh 42/2 in 8 overs. 125 more needed.
Ashwin is in the house and he has been reversed for a boundary by Sabbir Rahman!
9:22: The requires run rate is almost hovering around that 10-run-an-over area and that is not a good sign for Bangladesh. The hosts lost the plot in the last 10 overs when India were batting as they gave away 114 runs in those overs. That drop catch cost them 62 runs till the end. Ever since then, they have struggled to get back in the game. However they have a fair amount of batting to come. Bangladesh 36/2 in 7 overs. 131 more needed.
Hardik Pandya is into the attack now.
9:18: The Indian seamers Bumrah and Nehra have given them a wonderful start here with the new ball. The pressure is mounting on Bangladesh here and they will have to keep an eye on the required run rate which is on he climb. Meanwhile Kayes and Sabbir Rahman has struggled with the timing. Bangladesh 31/2 in 6 overs. 136 more needed.
9:13: This has been a superb opening spell from Ashish Nehra. Bangladesh need a partnership here. Kayes and Rahman need to show some resilience. The required run rat has gone above 9 an over now. Bangladesh 27/2 in 5 overs. 140 more needed.
9:07: Imrul Kayes is at the crease now. They have lost their two openers in quick succession here. The extra bounce is doing the trick here for the Indian seamers. Bumrah is definitely not an easy bowler to get accustomed to. Bangladesh 19/2 in 4 overs.
GONE! Soumya Sarkar has been dismissed by Bumrah. Superb bowling from the Indian seamers here. Bumrah fires one in and it hits the deck hard and takes the gloves before it reaches Dhoni behind the stumps.
9:01: This has been an oustanding spell from the left-arm seamer. Bangladesh are living dangerously out there. They cannot afford to lose any more wicket here or else they will be in trouble. The dew can be a crucial factor tonight. Bangladesh 15/1 in 3 overs. 152 more needed.
Huge appeal, but the umpire says not out. Sabbir Rahman survives. Nehra is on fire here.
BOWLED! Nehra strikes. Knocks Mithun over.
Nehra to continue and he squares Mithun up. The ball is still moving after hitting the deck.
8:57: Soumya will be the danger man for India at the top of the order. He is going to go after the bowlers for sure. Bumrah and Nehra will have to be careful about their line and length. A decent over from the youngster under the circumstances. Bangladesh 9/0 in 2 overs. 158 more needed.
Jasprit Bumrah will share the new ball and he has been smashed for a boundary by Soumya.
8:52: Bangladesh have never chased down such a total before. That was an excellent first over from Ashish Nehra. Just what Dhoni wants from him early on. Soumya needs to assess the situation here. Oustanding from the veteran - just 3 runs from that. Bangladesh 3/0 in 1 over. 164 needed.
Plays and misses. Intentions are clear. They want to go after the bowlers right from the start
Here is the first ball and defended by Soumya
Ashish Nehra with the new ball!
The Bangladeshi openers are walking out in the middle! This is going to be a tough run chase here
Dont go anywhere ladies and gentleman! The run chase will begin soon. Till then stay tuned.
India finish on 166/6 in 20 overs. Jeez that is a good total in this ground and on that wicket.
Bangladesh will look back and think that they have somehow let the match slip out of their hands after dropping Rohit Sharma when he was batting on 21. He ended up scoring 83 runs at the end.
Hardik Pandy was the other star of the show. His onslaught from the 15th over proved to be absolutely crucial. He did it against Sri Lanka and he did it today as well.
Bangladesh bowlers were taken for plenty. India initially were looking for a score of 140-145 but they have ended with a good score here.
Bangladesh batsmen will have to bat really well here in order to get those runs.
Last ball coming up and Dhoni finishes it of in style. SIX!
2 runs from the bat of Dhoni!
OUT! Bangladesh are finishing well here. Pandya is gone. India 158/6
Dot ball! Precious.
Gone! Fantastic catch from Sarkar! Oustanding innings from Rohit comes to an end. He goes for 83. India 158/5.
Single from the first ball of the last over
8:29: Mustafizur Rahman's cutters are not working here. Pandya is smashing them easily for boundaries. He is trying to go too hard at the balls and ended up missing out in two deliveries. He was furious with himself. India 157/4 in 19 overs.
150 comes up for India!
8:23: Al Amin Hossain bowled the 18th over. Forget about 150, even 180 is being considered here by these two. Pandya has started with his onslaught. He is watching the ball like a football here. The Mumbai Indians all-rounder is running riot in Dhaka here. 50 partnership from 18 balls. Another huge over for India as 13 runs came from that. India 149/4 in 18 overs.
8:18: Rohit has been dropped again by Shakib here. That was a tough chance. But that cost 6 runs. This is exemplary batting from Rohit Sharma. Last 12 balls have produced 39 runs. This is superb stuff from the hitman. The pressure has suddenly shifted towards Bangladesh. They are struggling on the field. 21 runs from that Mustafizur Rahman - a colossal one indeed. India 136/4 in 17 overs.
Pandya welcomes Mustafizur with a boundary from the first ball of the 17th over. 150 is in sight of India now clearly.
8:13: Hardik Pandya has come out to bat ahead of MS Dhoni. The intention is absolutely clear. You have got take on the bowlers at any cost as Dhoni and Jadeja is still in the shades. Rohit's presence at the crease is equally important. Mortaza's over is turning out to be a big over for India. That drop catch is hurting Bangladesh here. 18 runs came from that over. India 115/4 in 16 overs.
YUVRAJ is gone! India 97/4. Yuvi tried to hit one over the mid-wicket boundary but did not get the required elevation and the ball went straight down the throat of Soumya Sarkar.
8:07: 50 of the partnership between Rohit and Yuvi came up in that over. This is good batting from Rohit and Yuvi. Rohit is not going to hold himself back at this moment. Smart cricket from these two. Bangladesh probably has thrown away their chances of adding pressure on.
50 for Rohit Sharma. Outstanding innings under the circumstances!
8:03: Bangladesh have not fielded well tonight. They have leaked a lot of runs and that has eased the pressure of India. Yuvraj hit one through the line and fielder at mid off let it go through him. That was a bad effort indeed. Rohit is approaching his half-century here. The Taskin Ahmed over helped India to change gears in this match. India 90/3 in 14 overs.
Mustafizur is back into the attack.
7:59: Yet another bowling change. Shakaib back into the attack. The last two overs have produced 24 runs. There is a clear change in tactics from India. Avoiding dot balls is the best option to make that platform to launch in the last five overs. India 81/3 in 13 overs.
7:54: Rohit is on a roll here. There is a clear urgency in the way Rohit is batting here. I have a feeling Yuvi is go after the bowlers as well. Yuvraj Singh becomes the fourth Indian to reach 1000 T20 runs. If these two are there till the end then India are looking at a big score here. India 76/3 in 12 overs.
Mortaza brings himself back into the attack. Things are becoming easy here for Rohit Sharma now!
7:51: Shakib drops Rohit here! How costly will that be in the context of this game? Dear-o-dear, India would have been in shambles yet again just like the Pune game. Rohit makes Bangladesh pay in the very next ball as he smashed one through the cover point for a boundary and a six and another four. How often have we seen this happening - a drop catch and the batsman makes the opponent pay for that mistake! 14 runs came from that over. India 66/3 in 11 overs.
Taskin Ahmed is back into the attack for Bangladesh.
7:46: Mahmudullah conitnued after his successful first over. Mortaza will desperate to dismiss either of these two batsmen and put further pressure on India. Rohit has been around for a while. Meanwhile the spinners are bowling well here. Critics can take the back seat before criticising Mortaza. bringing on spin has actually worked for his side. Singles are not going to hurt Bangladesh. India 52/3 in 10 overs.
7:42: Somehow the spinners have kept the Indian batsmen quiet. Ashwin will be sitting in the dugout and thinking what he will be able to do with the ball. Meanwhile Yuvraj is batting sensibly here. India need a partnership here. Good opportunity for both sides. India 47/3 in 9 overs.
Shakib Al Hasan will roll his fingers as well.
RAINA is gone! Bowled. When the pressure was easing off why on earth will someone play a reckless shot to throw the wicket away! Raina stepped out and tried to play through the line and the ball beat him completely and knocked his middle stumps off. India 43/3.
7:38: There is a lot of bounce on the pitch and therefore Morataza thought about bringing this change. Mahmudullah is just giving singles away and this has eased the pressure off the batsmen.
Mahmudullah has been asked to roll his fingers.
7:34: The captain continued to bowl as he bowled a brilliant first over. Meanwhile Raina and Rohit are batting sensibly here. India will have to re-assess the total that they are looking at. This is surely not a 170-180 wicket. A total of 150 can be very effective on this green wicket. Bangladesh have bowled those odd bad balls also and that has been hit for runs. Decent over for India. India 39/2 in 7 overs.
7:29: It is difficult to Raina quiet for long. Same goes with Rohit too. The bad balls have been dispatched to the boundary. But the Bangladeshi bowlers have bowled well so far. The bounce that they are generating from the surface is causing some trouble for the Indian batsmen. The powerplay overs are gone. India 31/2 in 6 overs.
Boundary for Raina but it was close to that short cover fielder.
7:24: The captain Mashrafe Mortaza introduced himself into the attack and straight away he picks up the priceless wicket of Kohli. This is a superb start for Bangladesh as they have picked up two important early on in the innings. Suresh Raina is out in the middle. A poor shot selection from Kohli as he tried to hit it over the mid off fielder but mistimed it completely. India 23/2 in 5 overs.
Virat Kohli is GONE! Huge wicket
7:19: Virat Kohli is trying to take him on straight away and the intention is quite clear. He has played and missed a couple of times already. This is good bowling from the youngster yet again. But attacking on this pitch is not going to be a good idea early on. Kohli has to be careful. India 19/1 in 4 overs.
Mustafizur Rahman is into the attack now!
7:14: How close was that! Virat Kohli almost played himself down in the third ball of the Ahmed over. The young fast bowlers is bowling sharply. He is too quick as well. just 5 runs from that over. India 16/1 in 3 overs.
7:10: Time for celebration at the Shere Bangla National Stadium. The crowd has erupted here. This is the best chance for the hosts to put more pressure on this wicket. Virat Kohli has come out to bat already in the 2nd over. A peach of a delivery from Hossain and it went through and knocked the top of the off stump. India 9/1 in 2 overs.
BOWLED! Dhawan is gone
Al Amin Hossain will share the new ball.
7:04: Taskin Ahmed has bowled a good over here. A lot of movement can be seen off the deck. India makes a wary start. It will be interesting to see how the rest of the bowlers bowl at these two Indian batsmen. Just 2 runs from that over. India 2/0 in 1 over.
Rohit Sharma somehow manages to deal with the movement. The ball is zipping of the pitch!
Taskin Ahmed will open the bowling for Bangladesh and here is the first ball!
The two openers Rohit Sharma and Shikhar Dhawan are walking out in the middle.
The hosts will have to battle it out against the No.1 team in the world in the shortest format of the game.
The live action will start in a few moments from now. Are you ready ladies and gentlemen? Fasten your seat belts!
Here are the teams for you:
I will just let you know about the teams in a moment and till then stay tuned guys.
A lot has been spoken about Mustafizur Rahman and Mortaza has backed him to do well in this series and tonight as well. He was the bowler who had dismissed Rohit Sharma thrice in the ODI series last year at the same venue. It will be interesting to see how the Indian batsmen tackle this talented young fast bowler.
Bangladesh have opted for four quicks whereas India have made only one change to their side from the one that played against Sri Lanka - obvious one as Virat Kohli comes back in place of Ajinkya Rahane.
The surface has a green tinge on it and the seamers are surely going to get a lot assistance early on the innings. It will be a challenge for the Indian top order as they will have to tackle the Bangladeshi seamers.
Toss Time - Bangladesh have won the toss and they will bat first.
MS Dhoni is playing guys, so the fans can relax!
This is Rajarshi Majumdar and I will be bringing you the live updates of the action from the game between India and Bangladesh.
Good evening ladies and gentlemen. Hello and welcome to the live blog coverage of the opening match of the Asia Cup T20 2016 between India and Bangladesh which is being played at the Shere Bangla Stadium in Mirpur, Dhaka.