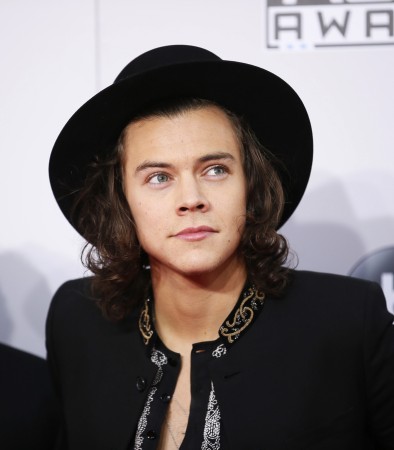 While "One Direction" fans swoon over the curly-haired Harry Styles, "Little Mix" members do not find him that great. In a recent interview, when the members were asked whether they would be interested in Styles's Tinder profile, all of them said 'NO'.
In an interview with Capital FM on Friday, Perrie Edwards played Celebrity Tinder with the rest of her band. When she was asked which way she would swipe for Styles's tinder profile, the blonde beauty replied that she would swipe left, without giving a second thought to it [Watch the video below].
Musicians and stars such as Ne-Yo and Jason Derulo were among the girls' favourites, but when it came to the One Directioner, they weren't so keen on hooking up with him on the dating app. And though Perrie Edwards is engaged to former 1D member Zayn Malik, it looks like they have all taken Taylor Swift's kind words to avoid her ex for good, very seriously.
Meanwhile, fans of the pop band aren't very happy with the girl band dissing at Harry Styles, and have taken to Twitter to get back at them. While some are of the opinion that "Little Mix" fans are mostly "One Direction" fans, the more outraged ones have gone to say that the band's future isn't very bright.
Wonder whose side will Zayn Malik take – his fiancée or his former band member.
Harry's boots are brighter than little mix's future, sooo.

— cass (@tmhcriminals) May 3, 2015
75% of little mix fans are 1d fans so little mix just lost over half of their fanbase

— tara (@miniaturelwt) May 3, 2015