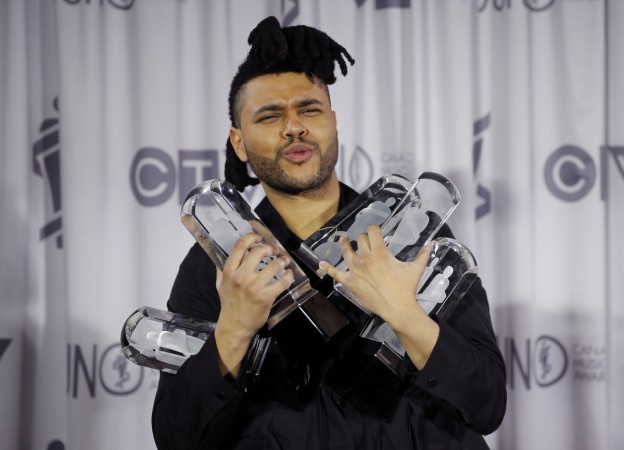 The Weeknd's much-awaited album Starboy has finally arrived. Laced with 18 tracks in total, the Grammy winning artist's most-anticipated album was released on iTunes on November 25.
Weeknd's fourth album Starboy has already been a successful hit with the title track which ranked at number two on the Billboard Hot 100. Weeknd's this album is the follow-up to the Billboard 200 chart-topper Beauty Behind The Madness.
The Canadian artist (real name is Abel Tesfaye) released a short film named Mania earlier this week, which is written by himself. Mania features two previously-released songs from his new album collaborations with Daft Punk and guest slots from Kendrick Lamar, Lana Del Rey and Future.
The Weeknd recently announced his first ever global tour, Starboy: Legend of the Fall 2017 Word Tour.
The singer earlier confirmed to The Wall Street Journal that Starboy is "a thousand percent" inspired by his favourite music icons late David Bowie and Prince.
Referring to the singer also added that the title Starboy was a tribute to the late musician David Bowie's 1972's hit Starman, "I just love Bowie, I think he's the ultimate inventor."
Every Weeknd fan can now purchase or stream The Weeknd's new album on iTunes/Apple Music.
The Weeknd's Starboy Tracklist:
1. Starboy Feat. Daft Punk
2. Party Monster
3. False Alarm
4. Reminder
5. Rockin'
6. Secrets
7. True Colors
8. Stargirl Interlude Feat. Lana Del Ray
9. Sidewalks Feat. Kendrick Lamar
10. Six Feet Under
11. Love to Lay
12. A Lonely Night
13. Attention
14. Ordinary Life
15. Nothing Without You
16. All I Know Feat. Future
17. Die for You
18. I Feel It Coming Feat. Daft Punk