Many parts of the world celebrated Halloween on October 31. Numerous celebrities donned the perfect outfit to mark the occasion. While there were a few mind-blowing costumes, we think Canada took the cake this year.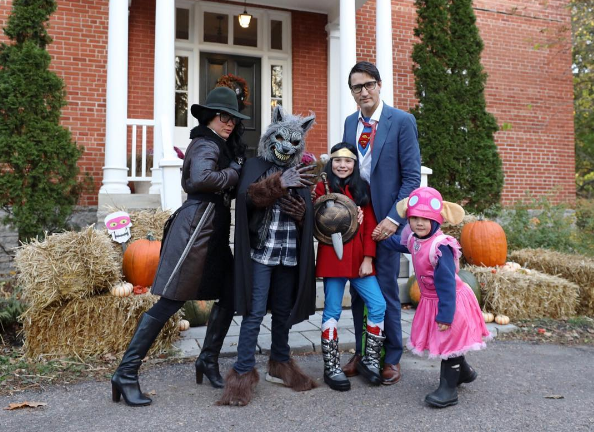 With Superman Henry Cavill nowhere to be seen as yet in the glimpses of Justice League, Canada found their own Superman on Halloween. Canadian Prime Minister Justin Trudeau decided to don the iconic "S" on his chest while using the DC superhero's alter ego Clark Kent this Halloween.
Also Read: Heidi Klum deserves BEST Halloween costume of 2017; here's how she did it again!
A huge fan of Halloween, Trudeau showed up for Question Period at the House of Commons dressed like Clark Kent, wearing the signature glasses, slick gelled hair and the fitted blue suit, just like the comics. Addressing the media before entering the meeting, he opened his shirt to expose the Superman costume hidden underneath.
*Fanning myself right now*
He later went on to share a picture on his official Instagram handle. We are already picturing him ripping his shirt off (please do it for us!) and fly away any moment.
In the photo he shared, Trudeau is seen posing with his family. Giving him some DC company, one of Trudeau's daughters looked dressed like an Amazonian from Wonder Woman while his wife donned Wonder Woman's Diana look on the occasion. What a happy DC family!
However, Trudeau wasn't the only one ringing in the occasion in the cabinet. Many ministers also joined the Canadian PM to mark the occasion. A few photos from the day were later shared online.
Later, he was seen trick-and-treating with his family at Ottawa's Rideau Hall. A few photos were shared online.
While Trudeau turned toward the DC family for his costume this year, last year the leader was seen dressed as a Pilot from Le Petit Prince, a French children's book. In the past, he was also seen donning the costume of Han Solo.