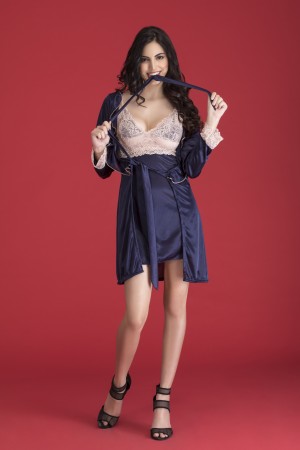 India's $4-billion lingerie market is growing at a significant pace and has attracted many new players, one of them being Clovia, run by Noida-based Purple Panda Fashions Pvt Ltd. It designs, manufactures and sells a range of lingerie and is bullish on growth prospects, hoping to break-even this fiscal. The start-up counts IvyCap Ventures, Mountain Partners, Ravi Dhariwal and Singularity Ventures as its investors.
In an interview with International Business Times, India edition (IBT), Pankaj Vermani, the co-founder and CEO of Purple Panda, shares business plans, dynamics of the trade and impact of GST on the venture.
IBT: How was the year gone by (2016-17) for you in terms of revenues? Your sales in 2015-16 stood at Rs 30 crore, according to RoC filings.
Pankaj Vermani (PV): We managed to grow by around 60 percent in 2016-17, despite the impact of demonetisation in the second half of fiscal 2017.
IBT: Could you manage to break-even, or is it still some time away? What are the growth projections for the current fiscal?
PV: We are confident of breaking even in the next two quarters. We've always been profitable at operating level... as for revenues, we are aiming for 100 percent growth over last financial year.
IBT: What is the profit margin in lingerie business?
PV: Very high... at a post-tax level, it is around 65 percent for us. If we were to look at an operating level, it's even higher, around 120 percent.
IBT: Are women spending more on lingerie these days? What is the average ticket size?
PV: Definitely more... when we started (after rebranding as Clovia in June 2015), it hovered around Rs 650 per customer. As we started offering more premium products, the ticket size grew gradually to Rs 900, now it averages around Rs 1,000.
IBT: What is the size of the lingerie market in India?
PV: At this point of time, it's a $4-billion market, comprising innerwear and nightwear. It's growing at a CAGR of 17-20 percent... the potential for growth is huge.
IBT: Can you share details of your revenue mix, customer profile?
PV: We have our own portal that generates about 50 percent of sales while online marketplaces contribute about 30 percent. The rest comes from the offline segment (shop-in-shops). From an age-group profile, around 35 percent of them are in the 18-24 years group while those in the 25-35 years group account for another 35 percent.
IBT: Where do you source raw material from and where are your manufacturing units located?
PV: We buy from various countries... the under-wires that are used for bras are mainly sourced from the US and Singapore, some also come from China. We source fabric from within the country and also from other places. The fabric for nightwear predominantly comes from China. The stitching is done by our job-workers at 17 units located in the NCR region under our supervision.
IBT: Does data analytics help in predicting buying preferences and design?
PV: Lingerie is a beautiful business to be in. In the context of India, it is not just one market, there are five markets actually. The body types in the Northeast states are different from the rest of India; similarly, colour preferences also vary from region to region. In terms of adoption, those in the Northeast states are the fastest, followed by West, North and South.
Understanding these dynamics is very important to our business in designing products, they are also key to managing inventory.
IBT: Do you, like many other branded apparel makers, face the problem of counterfeit products?
PV: It's definitely there... Our legal team has got many counterfeit brands shut. In a way, that's the pain of growing and people recognising us. In a lighter vein, I would say that given lingerie is such a difficult apparel to imitate, I would rather hire a good counterfeiter on my payroll.
IBT: What is the GST rate applicable to your business?
PV: Well, on fabric it is 5 percent and the same for job-work that we get done. On finished products, it is 12 percent if the value is Rs 1,000 or more, and 5 percent if less than that. Currently, we pay 2 percent CST, 5 percent VAT and also excise duty.
However, compliance is going to be a challenge under GST. Our finance team says that we would have to file four returns in every state. The biggest challenge before us today is inventory lying at various locations... it's still not clear how to avail of input tax credit.