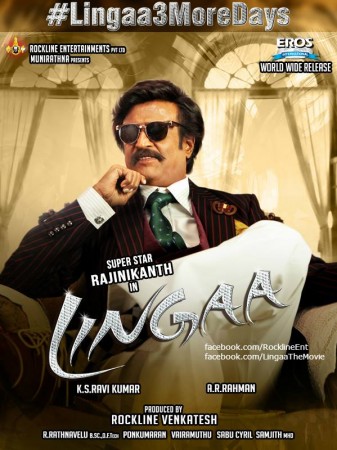 There is no dearth of legal hurdles for Rajinikanth's "Lingaa."
After two legal cases, judgement in one of which is still pending, the film has "courted" a third one, with Balaji Studios Private Ltd alleging that the Rajini starrer is an unauthorised copy of Chiranjeevi's "Indra."
The Chennai-based production house has reportedly filed a petition in the Madras High Court seeking a stay on the release of "Lingaa," which is slated to hit the screens across the globe on 12 December.
In its petition, the production house has claimed that it had purchased the remake rights of Telugu film "Indra" in 2010 and now intends to remake it in Tamil.
"Indra" starring Chiranjeevi and Sonali Bindre in lead roles is a revenge drama. Directed by B Gopal, the movie is about a hero who sacrifices all his property and leaves his village to build a reservoir. But he returns to take revenge on those who had killed his family members.
In its petition, Balaji Studios Private Ltd has appealed to stay the release of "Lingaa" till the copyright infringement issue is sorted out.
The hearing in the case took place in the Madras High Court on 9 December. Justice R Subbiah who heard the arguments, refused to stay the release of Lingaa and adjourned the matter to 12 December, reports The Hindu.
It may be recalled that in November 2014, filmmaker KR Ravi Rathinam had filed a writ petition in the Madurai Bench of the Madras High Court accusing the makers of "Lingaa" of stealing his story that he had written for "Mullai Vanam 999". But the court dismissed his petition.
Later, scriptwriter P Sakthivel filed a plagiarism case against its makers at the Chennai civil court. The case is slated to be heard on 11 December.